Another fire in Imizamo Yethu leaves one dead and 400 homeless
"I have been in this shack for two weeks and again it's burnt"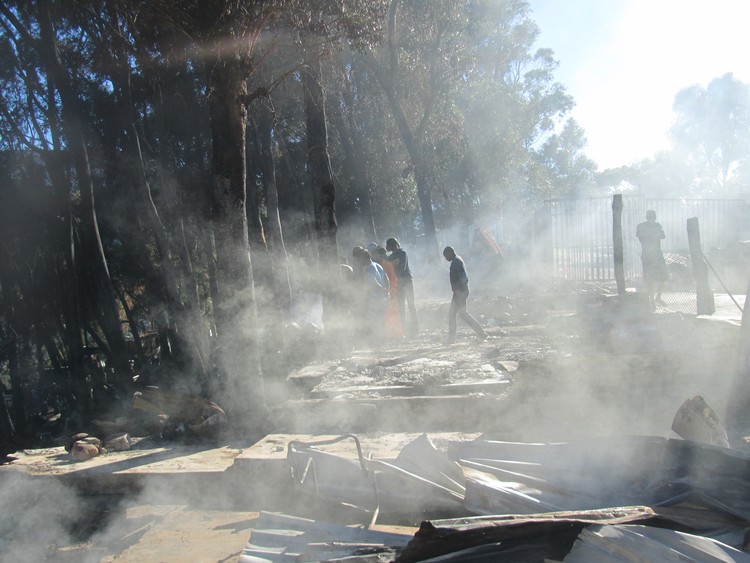 Just over a month after a fire devastated Imizamo Yethu, another fire broke out in the township last night, killing one person, destroying about 100 homes and leaving about 400 people homeless, according to the City of Cape Town.
The cause of the fire is not yet known. The name of the person who died was not been released by the time of publication.
A fire on 11 March left thousands homeless.
Some of the displaced families were also victims of last month's fire, who had been staying with relatives while waiting for help from the City or living in newly built shacks.
"I really do not have any plan now. I have been in this shack for almost two weeks and again it's burnt. I have again lost everything," said Charles Kayambo, 46, an immigrant from Namibia. He said he had spent R7,000 on building material to rebuild his home. "I have no money to buy material. Last time I used all my savings. I have to wait maybe for two to three months then make a plan on my own if the City does not quickly build us houses." He said he had been staying in Imizamo Yethu for 18 years.
Kayambo said he did not want to move to another area, because he worked at a construction company in Hout Bay and his children attended school in the area.
Mondeli Nganga, also a victim of the last fire, was staying with his brother whose shack caught fire last night. He heard neighbours shouting, "fire! fire!" All he could do was to take his children to safety. He says the wind was so strong that he could not take anything from his brother's shack. His wife died last year and he takes care of his two children, aged two and nine.
Olga Kotwana has also been a victim of fire in the past. "I really look forward to the City quickly building us brick houses, because this is my second time after a 2004 fire," she said. She said her food had all been burned.
Another victim Gibson Mbina, 49, told Groundup that after each fire there were community meetings and plans to stop further incidents, but some people did not take the advice seriously. "It is difficult to change one's behaviour but we always advise members to prepare food before going to shebeens," he said. Mbina said most fires in the area were a result of drunk people trying to prepare food in the very late or very early hours of the day.
When GroundUp visited the area displaced people were queuing for food parcels from the City of Cape Town and toiletries from a charity called Thula Thula.
© 2017 GroundUp.

This article is licensed under a Creative Commons Attribution-NoDerivatives 4.0 International License.
You may republish this article, so long as you credit the authors and GroundUp, and do not change the text. Please include a link back to the original article.