Hundreds left homeless by another fire in Hout Bay
Community members suspect arson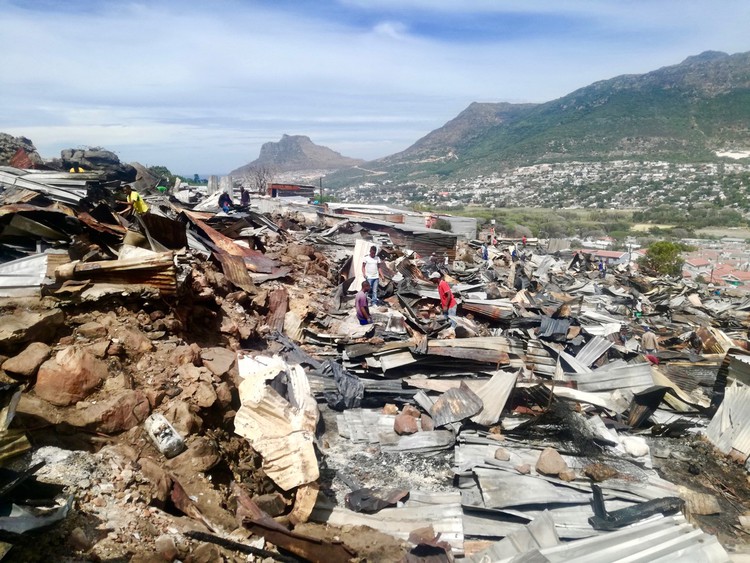 On Monday at around 2am, the third fire in less than a year blazed through the informal settlement of Imizamo Yethu in Hout Bay. Around 350 people have been displaced, according to City of Cape Town Fire and Rescue spokesperson Theo Layne.
On Monday, residents were busy registering their names with officials. Rescued belongings were stacked on pathways and clothes were wrapped in blankets and bed sheets. Victims of the fire picked through the burnt debris.
Layne said the cause of the fire had not yet been determined.
However, the fire is rumoured to have been caused by a fight over taxi routes. The fire started in the shack of Mongezi Makebe, a taxi owner. He told GroundUp his wife woke him when she smelt smoke.
"We had to break the back windows to get out of the house … I could smell petrol," said Makebe. He has opened a case with the police. "I did not fight with anyone. Why they want to kill me and my family I do not know," he said.
Makebe lives with 11 family members and children. One of his children had to go to hospital for burn wounds on his head.
Nomawethu Matiwane, who has lived in the area since 2001, was one of the residents waiting in line to register for assistance with her two-week-old baby. She lives with her two sisters, a few shacks from where the fire started. She managed to save a bag of children's clothing.
"I had to put my child's safety and health first," she said.
Anna Leduma has been affected by four fires since 2010. She lives with her partner and two children. All they managed to rescue were their children's two school bags.
"Things were coming together. We were recovering from the fires from last year, but now all that is gone. We are back to having nothing … It is painful to see things that you have worked hard for be destroyed in minutes by a fire in such a short space of time. My family has lost a lot," said Leduma.
A massive blaze in March 2017 left thousands of people homeless and two dead. A month later another fire claimed one life and left 400 people displaced. Some residents were affected by both fires.
Councillor Bheki Hadebe said building kits would be provided once the number of fire victims was verified.
"We started very late because the community wanted a meeting with us before the verification could happen," said Hadebe.
He said there were three halls that could be used for temporary accommodation.
© 2018 GroundUp.


This article is licensed under a Creative Commons Attribution-NoDerivatives 4.0 International License.
You may republish this article, so long as you credit the authors and GroundUp, and do not change the text. Please include a link back to the original article.