Sand artist makes a living on Port Elizabeth beaches
Siyabonga Duma, 28, wants to inspire other young people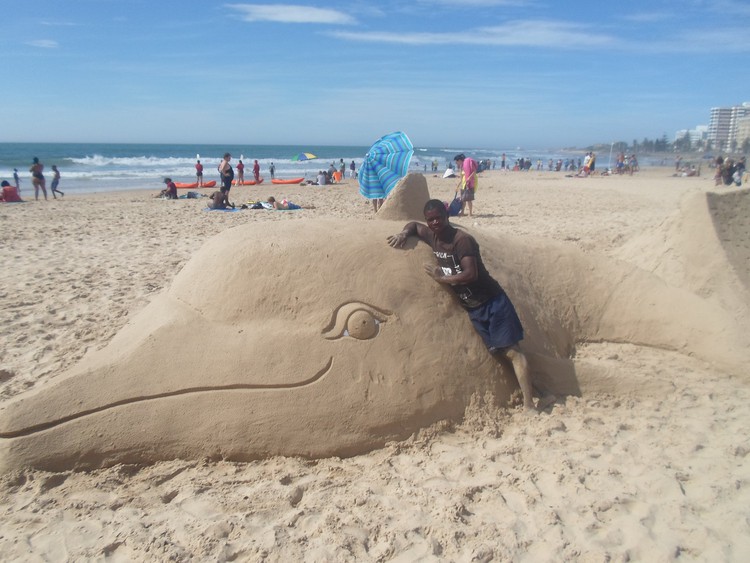 Port Elizabeth artist Siyabonga Duma is making a living by turning beach sand into sculptures.
The unemployed 28-year-old, who moved from Durban last year, displays his work at PE's popular Hobie and Kings beaches.
Every morning he and his 22-year-old brother Sizwe wake up early to collect sand at water at both beaches before visitors arrive. They create anything from the "Big Five" to cars, trees, lettering, and even statues of leaders like Nelson Mandela.
They make new sculptures every day as the previous ones are broken down by wind and water. "This kind of art is unique," says Duma. "To master it you need to be dedicated and committed. I take time and effort to carve these products."
"Port Elizabeth is an amazing place because the people here are friendly and they are willing to learn this skill," he says.
Duma and his brother survive on the goodwill of visitors to the sculptures, who give them money, food and clothing. "That is how we make our living I don't promote begging or soliciting visitors for money and food," he says.
"Some visitors pay a donation to be photographed standing on the sand artefacts that we create. We are getting good responses from visitors. We expect good business during the Easter holiday because many people visit the beaches during that time," Duma says.
He grew up in Ntuzuma, near Durban. His parents died when he and his brother and sister were very young.
"I and my two siblings dropped out of school when we were young after our parents passed on. I dropped out in Standard 8, while Sizwe continued for some years before he abandoned school in Standard 5. There was no money for school fees and uniforms."
"I started to frequent beaches around Durban, where in 2003 I eventually learnt the skill of sand art."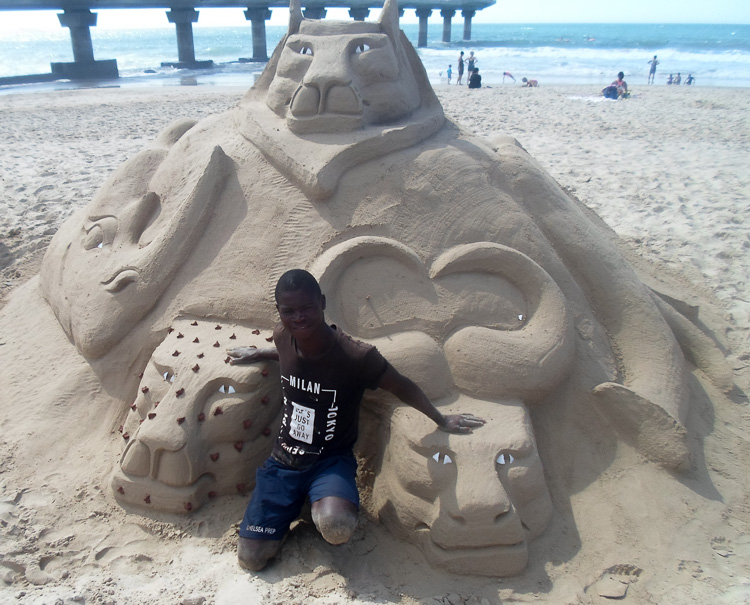 "We came to Port Elizabeth last year and discovered that the beaches around the city offer a great opportunity for sand art, especially in summer time when the weather is good and people flock to the beaches."
"I would like to establish myself here and if possible open branches in Jeffreys Bay and St Francis Bay. I enjoy doing sand art. It is cheaper than any form of art because we don't buy the sand and water. It is a way of making an honest living."
Duma says he doesn't want his background to be a barrier to his progress in life. "Instead I would like to use my poor background to inspire me and my brother to achieve a better future. This will also motivate other youngsters who are in the same situation. People should not only look to government for jobs. Let us try to be creative and make jobs ourselves." The father of three said his art gave him money to feed and clothe his three children, two of whom are at school in Mthatha.
"I would like to pass this skill to young unemployed people of this region so that they can make an honest living by creating and showing their art to the public. I hope to expand this project and if possible open an academy for young people to hone their skills."
© 2017 GroundUp.

This article is licensed under a Creative Commons Attribution-NoDerivatives 4.0 International License.
You may republish this article, so long as you credit the authors and GroundUp, and do not change the text. Please include a link back to the original article.