Brakpan residents march to defend mall
Over 2,000 people have jobs at Tsakane mall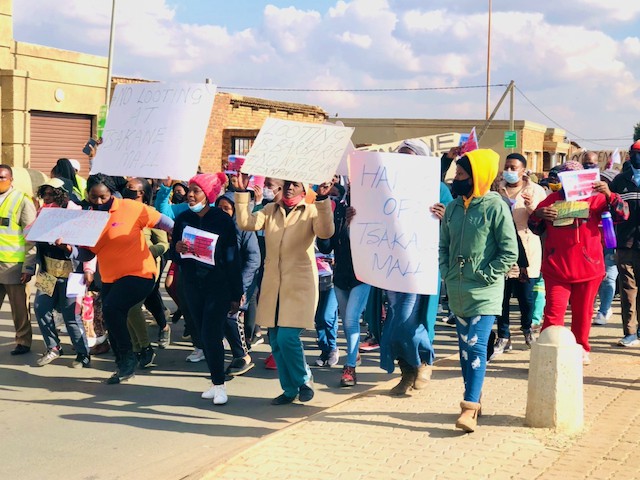 About 50 Tsakane residents marched on Thursday in defence of the only mall left standing in the Brakpan township.
The mall employs 2,000 people. It has been closed for safety since Monday.
A few shops reopened on Friday for people desperate for basic necessities.
---
About 50 residents marched on Thursday against looting at the Tsakane shopping mall, ahead of its reopening on Friday. "Tsakane lets unite, Save Tsakane Mall, Stop criminals, Stop vandalism now, Stop anarchy now" was written on handbills handed out.

First opened in 2008, Tsakane mall is the biggest mall in Brakpan township. It employs over 2,000 people. The mall closed on Monday as a precautionary measure when looting spread to the area.
People desperate for basic necessities flocked to the mall on Friday morning. Four shops opened, including the butcher, food and pharmacy. It is the only mall left in the area. Two smaller malls, located at extensions 8 and 19, were ransacked on Monday. ATM machines were blown open. Shoprite, PEP, Cashbuild, pharmacies and other shops were stripped bare. Their sign boards remain, but little else. Spaza shops and other small businesses in the township were also ransacked.
Residents said the Tsakane mall was targeted day and night since Monday by scores of people intent on looting. The police (SAPS) located directly opposite the mall, metro police, mall security, local volunteers, and later the army, have kept it safe.
"As residents of this township we decided that a shopping mall be built on the old hostel soil, marking an end to an era of bloodshed, violence and strife," said Jabulane Sithole, a resident since the 1980s and one of the march organisers.
"The opening of the mall was a step to bring businesses close to our township [which was] marginalised by the apartheid regime in the 1960s … Encouraging hooliganism against establishments our country worked so hard to build is wrong," he said.
"We saw people being dropped off from quantum taxis during the night," said Sithole, who had been patrolling during the unrest.
Veli Mabena, also one of organisers of the march, said it was about protecting the jobs of their "fathers, mothers, brothers and sisters". "Food and basic commodity shortages have hit our community and we want the mall to be opened … Communities must arise, hooliganism must stop."
"We need a place to collect grants for our children and the elderly. When people vandalise malls do they stand to think how it will affect us? We have been going all the way to Brakpan and Springs town now to buy bread. I am greatly pained," said resident Dolly Koditsang.
Else Sebego said, "I am a bread winner and single mother who depends on odd washing and cleaning jobs. Here at the mall we could get R5 bread in Shoprite which we cannot get anywhere else."
Banks and clothing shops remain closed as management assesses the situation.
Dodgy people are suing us. Please support us by contributing to our legal costs and helping us to publish news that matters.
© 2021 GroundUp. This article is licensed under a Creative Commons Attribution-NoDerivatives 4.0 International License.
You may republish this article, so long as you credit the authors and GroundUp, and do not change the text. Please include a link back to the original article.
We put an invisible pixel in the article so that we can count traffic to republishers. All analytics tools are solely on our servers. We do not give our logs to any third party. Logs are deleted after two weeks. We do not use any IP address identifying information except to count regional traffic. We are solely interested in counting hits, not tracking users. If you republish, please do not delete the invisible pixel.