People queueing for six hours to buy essential goods in KZN and Gauteng
"Law-abiding citizens are now facing the consequences of other people's actions"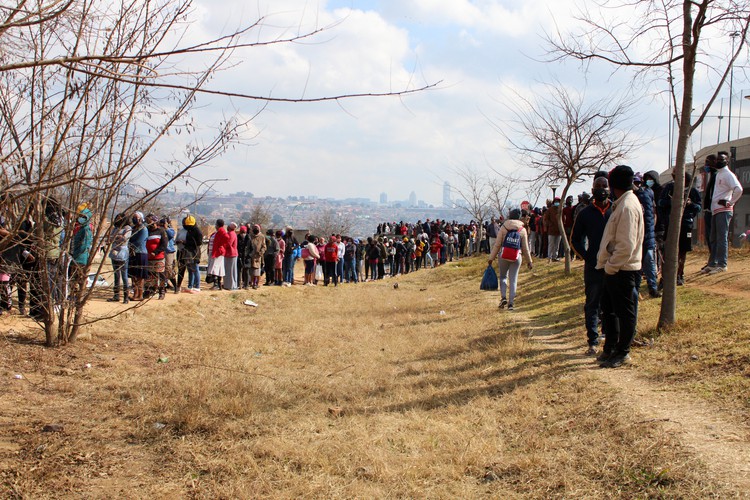 People in KwaZulu-Natal and parts of Johannesburg have been queueing for hours to buy essential items and fill up their petrol tanks amid fears of shortages.
This follows widespread looting and unrest in the past week.
Several petrol stations have reportedly run out of fuel.
Many people are worried about food and medication shortages in the coming days.
---
Residents across KwaZulu-Natal and parts of Gauteng are spending up to six hours in snaking queues to buy essential items and fill up their tanks amid fears of shortages.

People we spoke to in Durban say they are starting to feel the aftermath of unrest and looting as basic items like bread and milk have been in high demand. Those who rely on public transport have also had a tough time getting around the city as most public transport has been suspended.
Sthembile Gumede from Chesterville said the line at the Superspar was already around the building when he arrived at 7am. "I couldn't stay because by the time it would be my turn to go inside, it would be dark and I wouldn't have transport to get home. The queue went around the entire mall. I then saw a cab passing by and asked the driver to take me to the Workshop where the queue was also long but bearable," said Gumede.
Another shopper, Thuba Khumalo, who lives in a flat in Durban central said, "I came to buy everything I can because I can see a possibility of food shortage. I can manage other things but food is something that I cannot do without."
"I fear that the supermarkets will also run out of food supply and what is going to happen to us? Most people are here to stock up because they know what is coming," he said.
In addition to snaking queues for groceries, petrol stations have also been gridlocked. Several stations have reportedly already run out of fuel.
"I have been monitoring all social media platforms and groups to find out where I can buy fuel. I need to fill up but everywhere stations are either closed, vandalised or have run out," said Simphiwe Nxumalo of Umbilo.
"This is so frustrating because we, as law-abiding citizens, are now facing the consequences of other people's actions while they sit at home and enjoy their looted goods. I need fuel to be able to move around," said Nxumalo.
In the queues, people are flouting Covid-19 safety measures such as social distancing, although many people were wearing masks.
In Kranskop, only one petrol garage is operating and people are only allowed R400 worth of fuel in a bid to accommodate everyone. "There is a long queue of cars but people are very patient and grateful that the garage is open. There are also two supermarkets that are operating here. I am a marshal and make sure that people get what they need without any disruptions," said a man who did not wish to be named.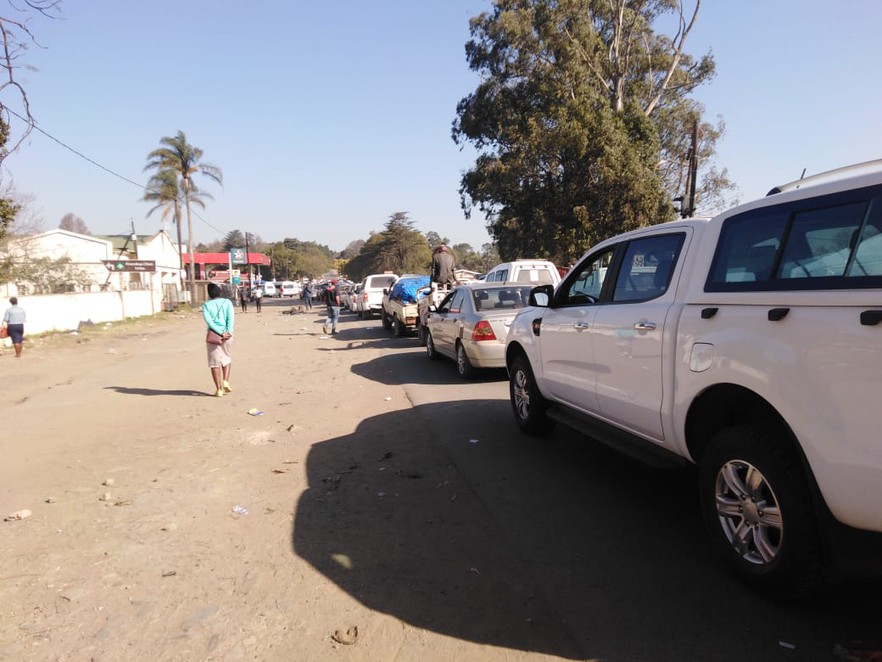 In Alexandra, Gauteng, people stood for hours in a long queue outside Alex Mall on Thursday. The mall is one of the only places open for people to do their shopping. Other shopping centres such as Alex Plaza and Pan Africa Mall, as well as spaza shops, were looted and burnt.
"I came here to deposit money for my children. I have been here since 8am and it is now almost 1pm but I am still waiting to go inside the mall," said Sandile Myeni.
Lucky Mabiletsa, manager of Alex Mall, said, "We can't expect people to travel outside of Alexandra for groceries right now. The added cost of travelling will strain people's already strained finances. There are also elderly people in our community who are too frail to travel."
Mabiletsa said only 50 people were being allowed into the mall at a time. "People collecting medication from Clicks don't have to stand in the queue. They must just show us proof of the prescription and then we let them go through," he said.
Mabiletsa said a private security company had been hired to guard the mall. "We were attacked on Sunday, we fought off people for about four hours … The people who tried to gain entry burnt the fence behind Shoprite and the substation at the bottom of the road," he said.
While they are grateful that the mall is still open, some residents told GroundUp that they are frustrated by the long queues.
"If we had known that this was the situation, we would have organised people to protect our shops like people did in Dobsonville [Soweto]," said resident Augustina Nkwane. "What will we do when the food runs out at Alex Mall? Where will we go because they have destroyed all the other places? They have left so many people without jobs."
Sally Ngozo said, "It makes me upset to see people queueing like this. Some of us are pensioners and it's not okay for us to be standing outside for hours when it is this cold. But, we have no choice because our fridges are empty."
"People who looted more goods than they needed have started selling them. I refuse to buy them because what they did was wrong. They have hurt our community," she said.
Dodgy people are suing us. Please support us by contributing to our legal costs and helping us to publish news that matters.
© 2021 GroundUp. This article is licensed under a Creative Commons Attribution-NoDerivatives 4.0 International License.
You may republish this article, so long as you credit the authors and GroundUp, and do not change the text. Please include a link back to the original article.
We put an invisible pixel in the article so that we can count traffic to republishers. All analytics tools are solely on our servers. We do not give our logs to any third party. Logs are deleted after two weeks. We do not use any IP address identifying information except to count regional traffic. We are solely interested in counting hits, not tracking users. If you republish, please do not delete the invisible pixel.