"When you leave your kids in the morning, you just hope that you're coming back"
Cash-in-transit workers demand improved security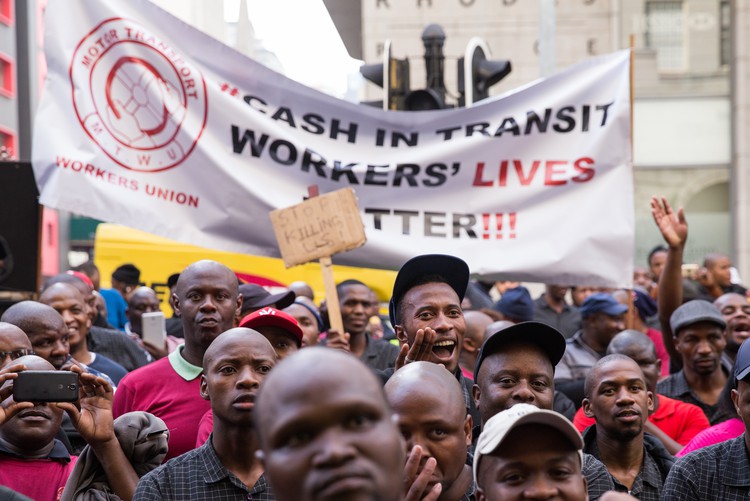 About 300 cash-in-transit (CIT) workers and supporters marched to the Western Cape Legislature in Cape Town on Tuesday to call for better security. CIT workers also protested in Johannesburg.
Western Cape Premier Helen Zille signed and received the protesters' memorandum. She pledged support, saying she had "full sympathy" for their demands.
The memo called for several measures to improve safety for CIT workers, including increased police presence, paid training for employees, safer trucks, and permission for employees to carry weapons. It called for the demands to be addressed within three months. The memo warned that CIT employees would strike if there was not sufficient progress by then.
Members of the Motor Transport Workers Union (MTWU) and the Federation of Unions of South Africa (FEDUSA) marched. Protesters danced, sang songs and held signs saying, "We need our government to protect us, we need our government to protect our cash" and "Workers' lives matter". Police lined the entrance to the provincial government offices.
"The protest is to protect the lives of our members," Dennis George, General Secretary of FEDUSA, said. "They are being killed delivering money, and the government doesn't do anything."
Zille said the number of cash-in-transit heists had "grown alarmingly".
"Your lives and the lives of innocent bystanders are genuinely at risk every day," Zille said. "If you can't do your job, millions of people cannot get social grants … Those are precisely the people that the South African Police Service must do everything possible to protect."
The premier said that the situation was "a very serious one" and said she would be willing to meet with a small group to follow-up. She said the provincial government had limited operational control over the police force, but she called for increased crime intelligence so that the "major syndicates" that coordinated these robberies could be tracked down.
Before Zille came to meet them, the CIT workers rejected two other representatives. They wanted either the MEC for Community Safety Dan Plato, Mayor Patricia de Lille or the premier to receive the memo. Plato could not attend, so Zille came. The CIT employees accepted her response.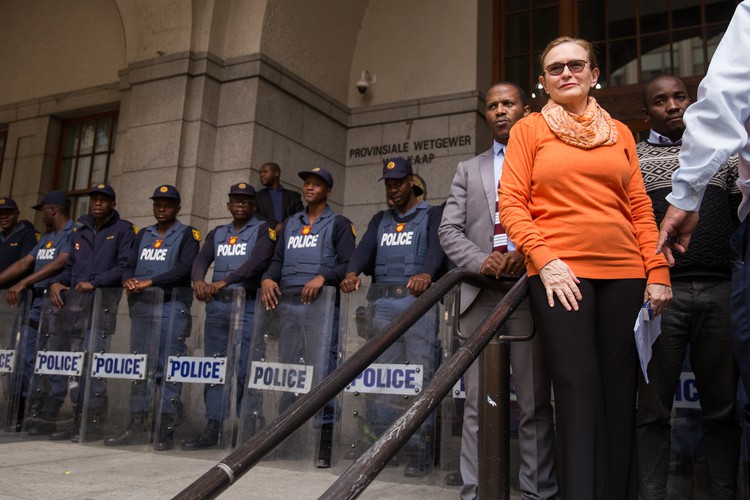 "FEDUSA is pleased to see some commitment to solving the CIT issue in this province," Riefdah Ajan, Deputy General Secretary for FEDUSA, said. "We hope the premier will uphold her promises to meet."
One of the protesters, Mandisa (she withheld her surname) has been a CIT worker for 16 years. She enjoys her job but said that it can get very scary. Three years ago, she said, her vehicle was robbed while she was working. The police saw her as the first suspect, which she said was a "heavy" experience that she could not tell her children about for six months. Mandisa said she wanted the government to address workers' concerns so she can work safely.
"We are here to give a message. We need protection because we are mothers and fathers of children," Mandisa said. "When you leave your kids in the morning, you just hope that you're coming back."
Dodgy people are suing us. Please support us by contributing to our legal costs and helping us to publish news that matters.