Lusikisiki residents demand water
ANC members organise march against ANC politician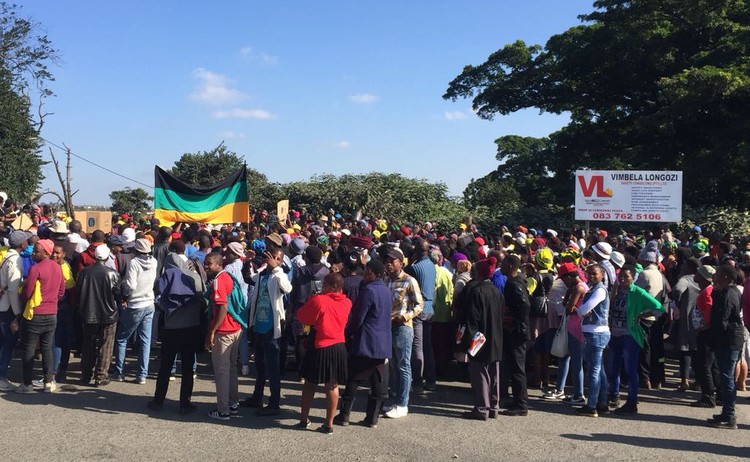 Residents from across Ingquza Hill local municipality protested outside the municipal offices in Lusikisiki on Monday, demanding water. Many rural parts of the municipality do not have running water, though taps have been installed.
The protest was organised by ANC members in the municipality, but it was directed against ANC politicians, in particular William Ngozi. He is Mayoral Committee Member for Water and Sanitation in the OR Tambo District municipality, under which Ingquza Hill falls. Ngozi is also the former mayor of Ingquza Hill.
The protesters claimed that Ngozi is lagging behind on his mandate to sort out water and sanitation in the area.
March co-ordinator Sinethemba Mbendani said residents had been waiting for clean drinking water for years. "We were promised water long time ago. Boreholes were sunk but we have never received a single drop of water. We were told that the Mzimvubu dam in Flagstaff was under construction and would provide us with water. That has not happened."
ANC sub-regional secretary Xolisani Malindi told GroundUp that the water situation in the area is dire. "It's winter now and this area is drought-stricken. Now we are forced to get drinking water from the same rivers and valleys as our livestock." He said the region was facing a huge health hazard.
Malindi said the district municipality had ten days to respond to the memorandum.
OR Tambo District municipality spokesperson Ayongezwa Lungisa said water challenges could not be blamed on one person. He said there had been errors in the installation of taps in Ingquza Hill. Sometimes, he said, taps were installed without a source of water.