Goedgedacht: a South African success story
Social development is a marathon, not a sprint, says Goedgedacht Trust founder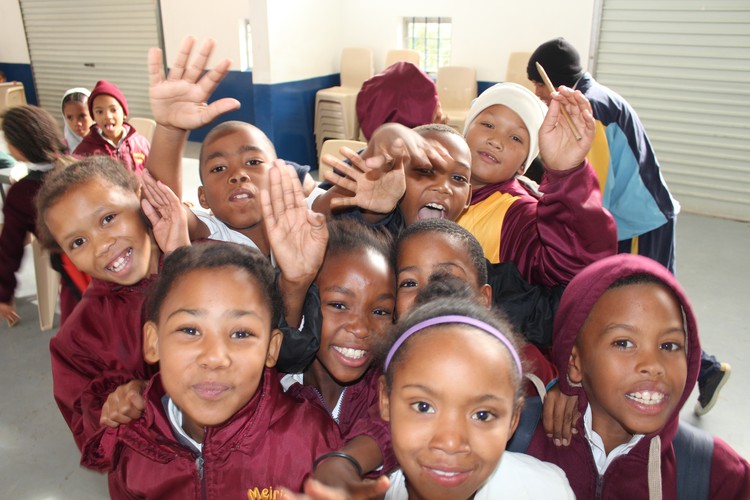 At the foot of the Kasteelberg mountains in the Swartland is an olive grove that is helping to finance a path out of poverty for children of the region.
The grove is on a farm called Goedgedacht — which means "good ideas" — and it was the first income source for the Path Out of Poverty (POP) programme.
The Goedgedacht Trust has created centres where children and young people from the neighbouring farms and small towns can play sport, do homework, improve their social skills and eat a nutritious meal with vegetables from gardens on Goedgedacht.
Elrico Jooste, 20, is an assistant manager at the POP centre in Riebeek Kasteel. He was born in Eerste Rivier, lives in Riebeek Kasteel and started going to the POP centre when he was 13 years old.
"I was very rough as a child before I started coming to POP," says Jooste. "When I started coming my manners changed and I developed a lot of discipline."
"I learned how to be a leader. I can communicate with people now, before I had no self-confidence and could not speak to people."
Jooste has also attended a three-week course at the Youth Leadership college on Goedgedacht.
The 174-hectare farm was bought in 1993 by husband and wife social worker team Peter and Anne Templeton. It was here that in 1998 the POP programme was born out of their concern for the children growing up in poverty on farms around the Kasteelberg.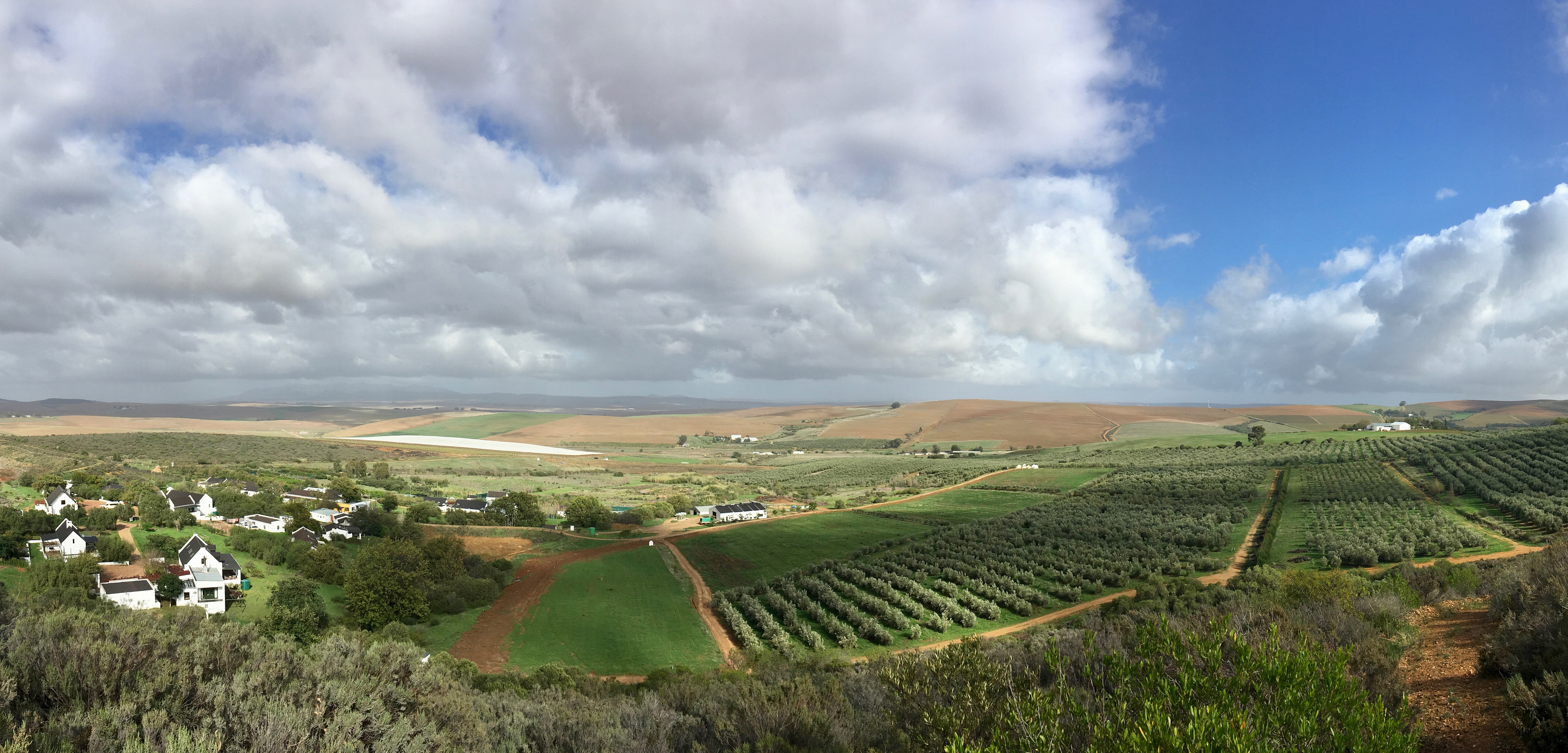 Families of farmworkers have been living on the 32 farms on this side of the Kasteelberg mountain "for 150-200 years", says Peter Templeton, with high illiteracy rates, no papers and "caught in a trap of poverty".
"It was a real example of how poverty can rob you of your humanity," says Templeton. "So we started a project called Path Out of Poverty which is really, if you cut it down to two words, 'surrogate parenting'."
"It's a 25-year programme that starts from conception through until the leadership academy and the first job. And that's just one cycle," says Templeton.
According to the 2016 annual report from the Children's Institute at the University of Cape Town (UCT), over 60% of South Africa's 18.6 million children lived below the upper-bound poverty line of R992 per person per month in 2015.
Statistics South Africa's 2016 South Africa Demographic and Health Survey reported that 27% of children between 0 and 5 years old were stunted, a condition caused by — among other things — malnutrition, poor maternal health and/or nutrition and insufficient feeding during the first two years of a child's life. This affects a child's physical and mental development and capacity for economic involvement later in life.
"Survive and thrive, those two words come up all the time," says Templeton. "You will survive malnourished, but you will never thrive. And it's the thriving that it's all about."
He says in the beginning many parents were not committed to their children's education and wanted them to take over their work on the farm instead, such as harvesting and pruning.
"It's breaking a lot of traditions," says Templeton.
The trust has identified four roads out of poverty: education, health, personal development, and caring for the environment, says Marguerite Holtzhausen, senior manager of development.
"We see ourselves as trying to parent the children out of poverty by putting them on this road," says Templeton. "We had to do a lot of reflection on this."
The first POP centre was on Goedgedacht farm itself. "We discovered that we were on to something that was really quite valuable. But to just do it in the valley would be ridiculous. We had to get into the local communities as well," says Templeton. "So we started to move out to Riebeek Kasteel, Riebeek West, and then we just spread out."
According to Holtzhausen, 3,855 children and young people benefitted from the POP programme from July to December 2017. Of these, 217 were between 0 and 7 years old, 2,998 between 7 and 19 years old, and 640 between 19 and 24 years old.
Young people need a place to gather, be safe, learn and develop, says Holtzhausen. "Goedgedacht has a model that does that."
The trust now has eight centres, in Riebeek Kasteel, Riebeek West, Prince Albert, Riverlands, Chatsworth, Koringberg, and Paarl, in addition to the one on the farm itself. A ninth will be opened in Porterville on 14 June.
Holtzhausen says some children of POP children are starting to come into the centres now, "and we are noticing a completely different kind of child, more confident and chatty and open."
David Harrison, CEO of the DG Murray Trust, and member of UCT's Child Health Unit, wrote in the Children's Institute's 2017 South African Child Gauge that "stunting represents a significant deadweight on the South African economy, and eliminating it would represent a significant boost to employment and gross domestic product".
Nobel Prize-winning economist James Heckman wrote a paper in 2006 on the economic benefits of investing in disadvantaged children. In a summary of this paper he writes, "Investing in disadvantaged young children … promotes fairness and social justice and at the same time promotes productivity in the economy and in society."
"Early interventions targeted toward disadvantaged children have much higher returns than later interventions … Society over-invests in remedial skill investments at later ages and under-invests in the early years," writes Heckman.
These early interventions include proper nutrition, interaction, stimulation, care and education — all aspects covered in Goedgedacht's POP programme.
Templeton says it costs "about R24-million a year" to run all the projects of the Goedgedacht Trust. "We think that it's slightly too expensive. We have to be careful that we don't create a model that isn't suitable for Africa, that is not replicable."
The project has several income streams. The olive groves and olive oil production was the first income stream. Goedgedacht's olive oil is sold to Pick 'n Pay and Woolworths and also exported to America. There are ten "Help the Rural Child" charity shops in Cape Town selling second-hand books and clothing. There is an 86-bed conference centre on the farm. And there are donors, private funders, corporates, trusts and foundations, both local and foreign.
There is a donation system where people can donate an olive tree for R500. "In that way you are making a contribution to the programme forever," says Templeton. "By putting in R500 you've got a tree that produces oil every year, which we then sell."
Mikal Lambert is project manager for Goedgedacht's Care for the Planet programme. He manages all the Trust's gardening and nutrition programmes, including gardens.
"All these rural communities have this food security need. If there's no food in the community, people will leave," says Lambert. "We have a network of 667 home gardens in rural communities in Riebeek Kasteel, Riebeek West, Riverlands, Chatsworth, Koringberg and Prince Albert."
"If we can get more people to grow their own food, then at least in the home there is a little buffer against hunger. It's the beginning."
As the gardens get bigger they become more than just a buffer. People sell their surpluses to their neighbours. "In this way the gardens provide returns to the community, create a culture of self-sustainability and the beginning of an entrepreneurial spirit," says Lambert.
"The environment becomes something to work on practically, while emotionally we are working on something else," says Lambert. "What we are really working on is community cohesion. It's not only empowering communities to grow their own food, it's empowering them to control and dictate what happens in their own space."
Lambert and his team also do "street walks" in the communities where the gardens are. "We walk through the community and chat to people about how their gardens are doing. We take pictures, offer advice and just create a buzz in the community around food and growing vegetables."
There is a bakery at the centre in Riverlands and another will open this week in Porterville.
Holtzhausen says there is still room for improvement. "We need input from other volunteers, we need to become a community centre and work with government departments in a more coordinated way."
Each POP centre is registered with the the Department of Social Development and has a centre manager who is between 20 and 30 years old. "It's in-job training," says Holtzhausen. "It's an opportunity for them to expand their own ability and skill set."
The managers have to work with government officials, the principal of the school, the social worker, the clinic sister, the police officers and the ward councillor. "The centre managers must work with the people in the social sector because they have funds that could supplement what we do," says Holtzhausen.
Ebenay Liebenberg, 11, and Payton Fredericks, 12, are school friends. Both are in grade 6, live in Riebeek Kasteel and go to the POP centre in Riebeek West. "I learn more here because the children at the school are always making a noise and we can't listen to the teacher," says Ebenay. "They are also very rude, they swear and shout."
"We also have computers here where I can find answers to things I did not know in class," says Payton. "We learn good manners here so that we aren't rude like the other children at school."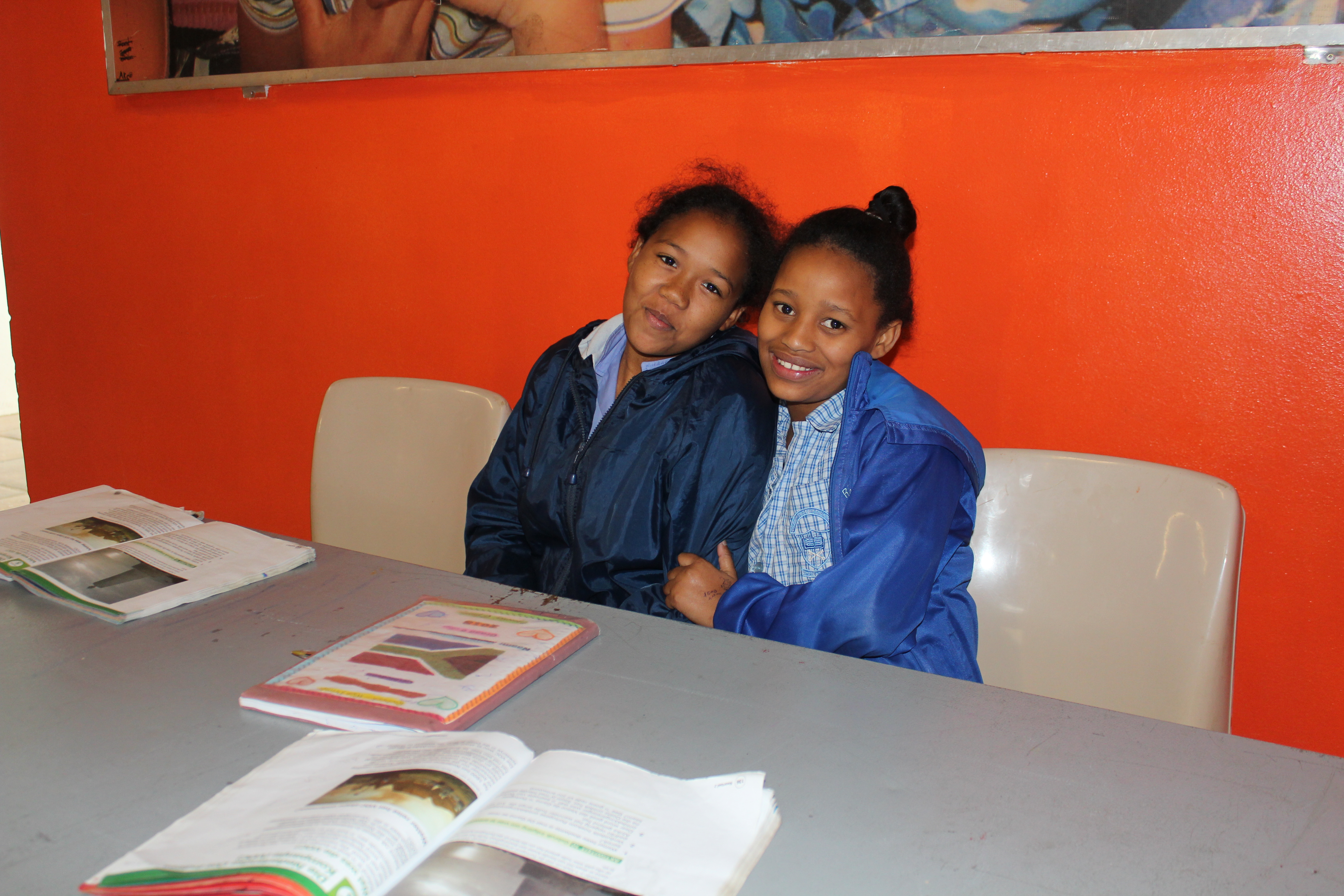 Both girls say their favourite subject is history. "We are busy learning about how presidents all over the world ran their countries," says Payton.
"I like to know what happened before we were here," says Ebenay.
Ebenay wants to be a teacher and hopes to get into Wesbank Secondary School in Malmesbury.
Payton says her mother wants her to go to Schoonspruit Secondary School in Malmesbury. "I want to be a doctor after school so that if my mom is sick I know what to give her," says Fredericks. "She has high blood sugar and has been to the doctor many times."
The smaller children — aged 6 — say what they like best at the centre is the playing and food. For many children it is their only hot meal of the day.
"We learn what we do at school but in a more fun way," says Siyabonga Mtwisha, 9, who attends the Riebeek Kasteel centre after school each day. "We do maths with toys and blocks that makes it easier for me to understand than just writing."
The children have support and resources at the POP centres, but their home circumstances are often challenging. "There are still a lot of young people who suffer because of violence at home and those things come from generations and create inter-generational trauma. It's not something that gets fixed overnight," says Holtzhausen. "But we do see people escaping this tragic cycle of abuse now through the programme."
The centres also host ante- and post-natal classes for mothers. "Pregnant women can come and just talk, have fun and learn how best to look after their baby and themselves through healthy living, eating and exercise," says Holtzhausen.
"In these rural areas pregnancy is mostly not accompanied by celebration, it's a trauma," says Holtzhausen. "She will probably not tell anybody at first, and try hide it, and stress and not eat, and that impacts on the foetus and the baby once it's born."
The centres on Goedgedacht farm and in Paarl have units for children from three months to two years where babies whose parents work full time are nurtured. "The babies are fed, stimulated, talked to, cared for," says Holtzhausen. "We just keep them happy, safe and stimulated." Qualified early childhood development practitioners work at these units.
Harrison wrote in the Western Cape Government's 2016 research newsletter on the first 1,000 days (the first two years of life) that, "Young children's potential economic power comes from their normal physical, emotional and cognitive development, which in turn are founded on basic inputs of love, food, safety and stimulation".
At the entrance to the farm stands a statue of a Kalahari San woman named Maria holding her child up to the heavens. According to the plaque at its base, she is asking the stars to give her child the heart of a star, which the San believe is a hunting heart full of courage and able to find nourishment for life.
The statue was paid for by Templeton as a gift to Goedgedacht. "The bond between the mother and the child is absolutely critical, and mothers in poor communities struggle so hard to make it work," says Templeton. "They really have a desperate urge to give the very best for their children."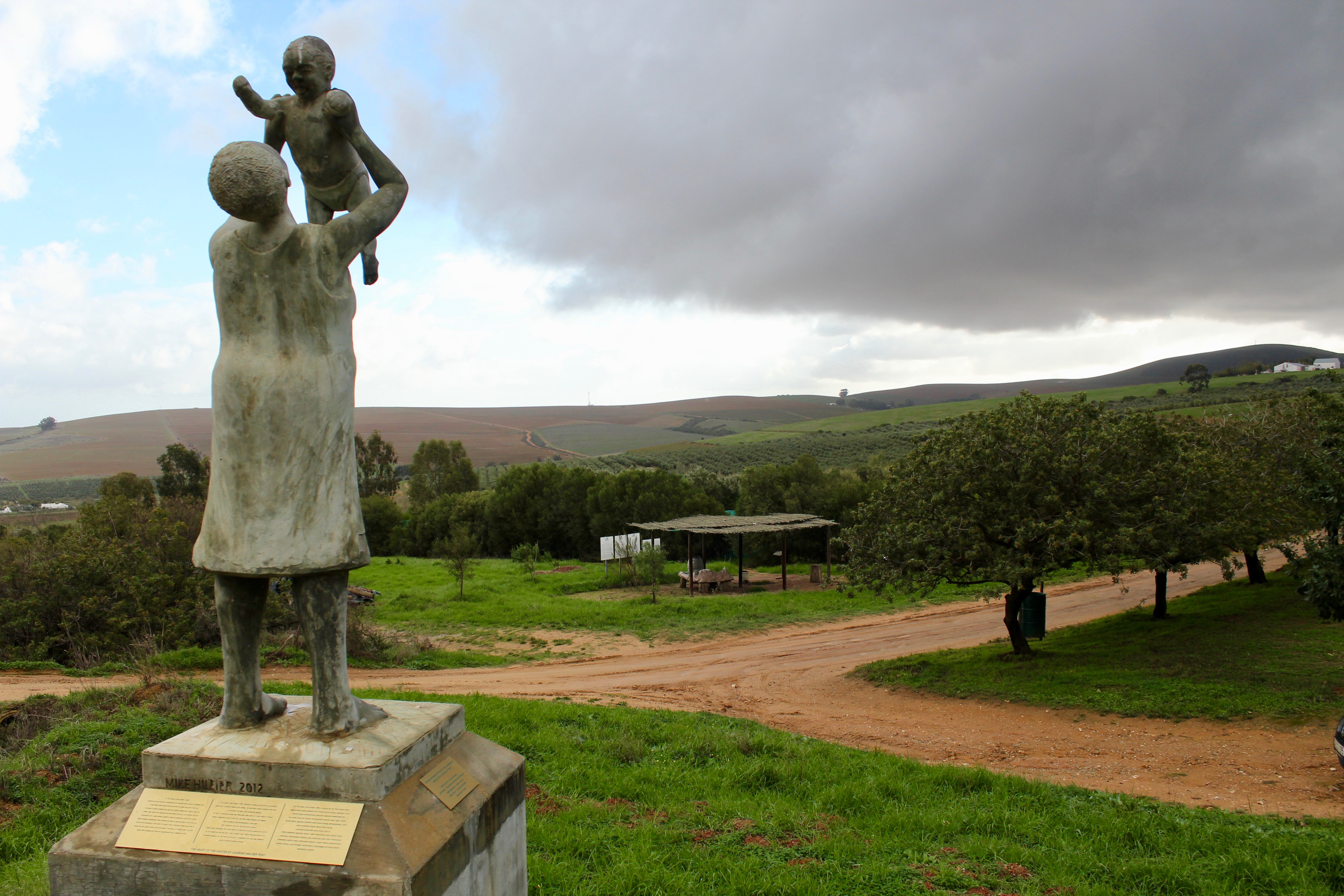 "There's a phrase that Peter keeps saying," says Lambert: "'It's not a sprint, it's a marathon. Pace yourself, commit to doing it for ten years, commit to doing it for 30 years, for 50 years and then you will see the results.'"
This is reflected in the olive trees that cover the horizon, which can last for centuries and still bear fruit.
Templeton says he discourages people in rural communities from moving to the city, where housing, health and crime problems are rife. "It's not going to be an advance … Stay in your village, learn how to grow your own food, survive and thrive."