Shacks demolished for reblocking after Hout Bay fire
Fire victims ask where they are supposed to sleep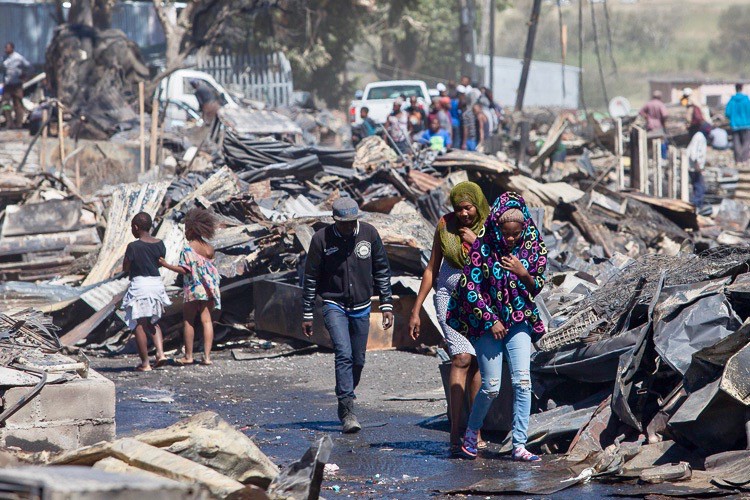 At least three people have died after a devastating fire destroyed 3,500 structures and left about 15,000 people homeless in Imizamo Yethu Informal Settlement in Hout Bay at the weekend.
Residents say the fire started at about 11pm on Friday and blazed until the next day.
When GroundUp visited the area on Monday, some people had started rebuilding their homes while others stood in long lines to register for building materials provided by the City of Cape Town. Others were trying to salvage materials from the piles of debris and burnt shacks.
Trucks with food could be seen in the area, with volunteers giving bread and drinks to the affected residents.
Many people were carting the belongings they managed to save from the flames to places of safety.
Deborah Mkhapuza from the Imizamo Yethu Movement said that the shacks that were rebuilt on Sunday had to be demolished after the City announced its intention to re-block the area.
"There was a lot of fighting because the City just acts without notifying people. They (the residents) do not know what is happening even though they are the ones that have lost their homes," said Mkhapuza.
Residents Chris Shumba and Sphamandla Mdakathana said they were not opposed to the City's plan to re-block the area, but Shumba asked, "They [The City] propose a plan that is only good in writing. Did they think about where we will sleep while they do the roads that they are talking about?"
"We know the pain of sleeping outside. They [City officials] have warm beds and get to think about us from nine to five, if they do," said Mdakathana.
Peter Yasin and Somila Xhanti were among the residents who have been sleeping outside on the mountain above the settlement to keep an eye on their remaining belongings.
Yasin is a Malawian national and has been living in Imizamo Yethu for two years. He works as a gardener and rents his shack for R400 a month.
He said he had not yet been in contact with the owner of the shack. "I do not know if I will have a home or not. I was renting from someone; I have no space of my own," he said.
Since the fire, Xhanti and her partner have built a small shelter for themselves on the mountain as a place to sleep. Her temporary shelter is made out of the old burnt material and her single bed mattress can barely fit inside.
She has been living in Imizamo Yethu since 2010. She said she was lucky that her child was not at home when the fire broke out.
"I am lucky I managed to save our IDs and some of our clothes," she said.
Nomaxabiso Ndude, who is eight months pregnant, said the fire started close to the home she shares with her sister. She said the excitement of welcoming her new baby had gone. She was worried about where she will get money to replace the baby clothes that she lost in the fire.
"I had bought clothes for my child because I had money … But now I have nothing … What is he going to wear? … We need to build a home," said Ndude.
For two days she slept on the mountain, but it was too cold and she was getting stomach cramps. Ndude later managed to get a place to stay in the community hall.
Executive Director for Safety and Security Richard Bosman said the cause of the fire had yet to be determined. Asked about re-blocking, he said a rehabilitation process in the area was underway.
"Debris has been removed by the City's Solid Waste Management Department; the water supply has nearly been completely restored; and the City's Electricity Department is working on re-establishing the electricity supply. Once the site has been cleared and declared safe, rebuilding can commence," said Bosman.
Asked if Mayor Patricia de Lille would visit the scene, he said Xanthea Limberg, the City's Mayoral Committee Member for Informal Settlements, visited the site on Saturday and Sunday, as did Brett Herron, the City's Mayoral Committee Member for Transport and Urban Development.
"Most of the City's senior officials have been and continue to be on site in Hout Bay to ensure that the City's relief efforts proceed as planned," said Bosman.
He said emergency shelter was provided at various community halls in the surrounding areas and marquee tents had been set up at the Hout Bay sports complex for the affected residents.
© 2017 GroundUp.

This article is licensed under a Creative Commons Attribution-NoDerivatives 4.0 International License.
You may republish this article, so long as you credit the authors and GroundUp, and do not change the text. Please include a link back to the original article.