"Tough blow" for sex workers as decrim bill delayed
"It's clear we're not going to achieve decrim in 2024" say activist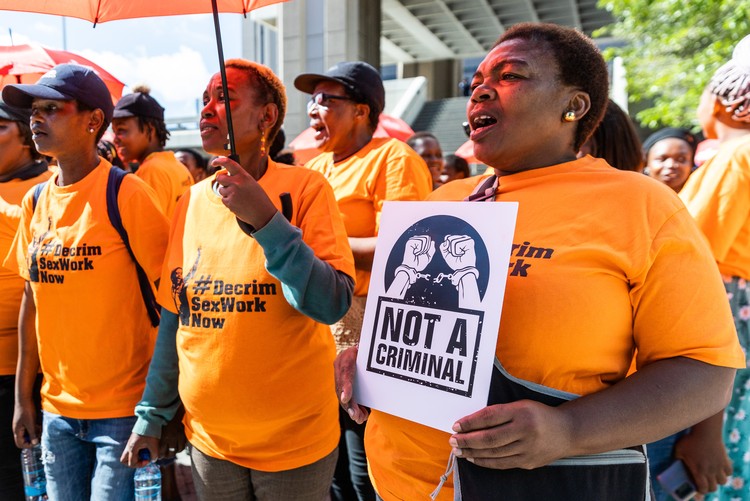 The draft decriminalisation of sex work bill will be revised.
The Department of Justice was advised that the bill needed more detailed regulations on sex work if it is decriminalised.
However, sex worker activist groups are worried that this will further delay decriminalisation, especially with the 2024 elections looming.
Regulations on sex work may include how it will affect municipal bylaws or regulations on brothels.
Parliament's draft bill to decriminalise sex work is to be revised after the state's legal advisors flagged serious shortfalls. They said the bill may not be approved by Cabinet if the necessary regulations were not yet in place. These may include regulations on brothels or how each municipality's bylaws, under which sex workers are often arrested or fined, would be impacted.
The current draft bill, which has been through extensive public consultations, decriminalises sex work to ensure better protection for sex workers from violence, among other things. However, it does not make provisions for how this change in legislation will impact existing regulations.
Deputy minister of the Department of Justice (DOJ), John Jeffery, during the budget debate on 30 May, said that state law advisors raised concerns that the bill "may not pass constitutional muster if it does not also provide for the regulation of sex work".
"The Bill deals only with the decriminalisation of sex work as an urgent step to ensure better protection for sex workers from gender-based violence and femicide, with the intention being to consider regulation as the second stage in the process," said Jeffery.
He said that the DOJ could not "proceed with the bill in its current form" and will need to start "drafting provisions on the regulation of sex work to ensure that a revised bill is ready for introduction at the beginning of the next administration".
However, sex worker activists and advocacy organisation are worried that this revision of the bill only further delays the decriminalisation of sex work.
Emily Craven, director at SWEAT (Sex Workers Education and Advocacy Taskforce) told GroundUp they were not opposed to the addition of regulations on sex work.
"We thought that the DOJ's [original] approach was the right one: to first look at just decriminalisation and then look at regulation later, even though it was needed," said Craven. She said it was "a tough blow to take," realising that the bill would not be finalised before the 2024 elections.
Craven further said that regulations on sex work are needed, including provisions for how it will affect bylaws, regulations around brothels, and also concerns about the legal age of consent and employment in the country.
Constance Mathe, national coordinator at the Asijiki Coalition for the Decriminalisation of Sex Work, said they were surprised and disappointed by the news. "It's clear we're not going to achieve decrim in 2024," she said.
Mathe said that decriminalisation is needed urgently. "Sex workers are not protected. There are no laws in place to protect them," she said. Some are homeless and have their things confiscated by law enforcement and some are vulnerable to abuse and murder by criminals, she said.
"It seems the government doesn't understand what is happening on the ground," said Mathe.
She said the Asijiki Coalition will host workshops before deciding whether to accept or challenge the government's decision to revise the bill.
Meanwhile, groups opposed to the decriminalisation of sex work have welcomed the decision to not table the bill.
The African Christian Democratic Party (ACDP), in a recent statement, stated that the DOJ's decision to decriminalise sex work was "extreme" amid "high levels of crime and violence (particularly against vulnerable women and children), gangsterism, drug abuse and human trafficking". The ACDP also said that sex work was "inherently exploitative" of vulnerable people such as those who are socio-economically marginalised.
DOJ spokesperson Chrispin Phiri said the revision does not mean that the bill process will be restarted completely, but rather that it needs additional measures in place to stipulate what happens after decriminalisation.
He said the bill will then go through another public participation process. The DOJ is studying the state law advisors' recommendations, Phiri said.
During the budget debate, Jeffery reiterated the government's commitment to the bill. "The decriminalisation of sex work and the human rights of sex workers remain high on government's human rights agenda," he said.
© 2023 GroundUp. This article is licensed under a Creative Commons Attribution-NoDerivatives 4.0 International License.
You may republish this article, so long as you credit the authors and GroundUp, and do not change the text. Please include a link back to the original article.
We put an invisible pixel in the article so that we can count traffic to republishers. All analytics tools are solely on our servers. We do not give our logs to any third party. Logs are deleted after two weeks. We do not use any IP address identifying information except to count regional traffic. We are solely interested in counting hits, not tracking users. If you republish, please do not delete the invisible pixel.