Post Office will get deal to pay social grants by Friday
MPs still concerned with timeline of implementing the new payment system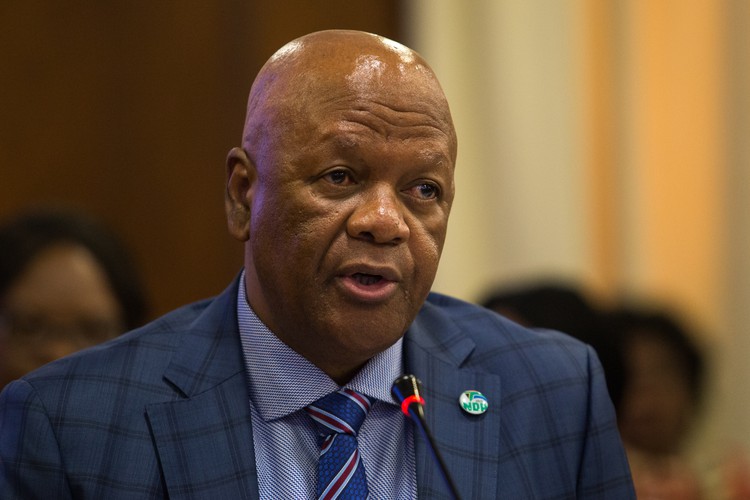 "Subject to cost effectiveness" the South African Post Office will be providing four essential services needed to pay social grants on 1 April 2018. This was the assurance given by Jeff Radebe, chairperson of the Interministerial Committee (IMC) on Comprehensive Social Security, which has also been tasked with overseeing the phasing out of the current service provider – Cash Paymaster Services.
Radebe was speaking at a joint meeting with Parliament's Standing Committee on Public Accounts (Scopa) and the Portfolio Committee on Social Development on Tuesday morning.
Negotiations between the South African Security Agency (SASSA) and the Post Office deadlocked earlier this month when the Post Office was only awarded one of the four services needed to pay social grants. On 2 November Members of Parliament (MPs) instructed National Treasury to intervene and mediate talks between the two state entities. A week later, Radebe, told MPs that by 17 November, they would have signed a "hybrid model" contract which includes SASSA, the Post Office, Home Affairs and the State Security Agency.
On Tuesday, Radebe said that the Post Office would be given preference to provide the four services to SASSA by 1 April. These are corporate control accounts, special disbursement accounts, card production and distribution and opening accounts for new beneficiaries.
"This protocol forms the foundation for the signing of a further detailed collaborative agreement between SASSA and [the Post Office] with the detailed project plan which will be submitted to the IMC by 6 December and to the panel of experts/Constitutional Court by 8 December," he said. Radebe said that once the dedicated team has assessed which functions would be "cost effective" for the Post Office, a final agreement could be signed by Friday.
Radebe said on 10 November, the Financial Institutions and the Banking Council of South Africa "agreed in principle" to create a special account for beneficiaries. He added that more meetings were planned to discuss in detail how these commercial accounts will operate.
"We are all well on course to finding a solution to these problems," said Radebe. He said the Government Communications and Information System (GCIS) developed a new "communications strategy" on 17 November to "keep grant beneficiaries informed".
MPs raise concerns
Most of the MPs welcomed the announcement but raised their concern with the timelines and technical capabilities needed for the new payment system.
DA MP Tim Brauteseth asked, "What is Plan B if it turns out that [the Post Office] is not cost effective?" Brauteseth also had questions about recommendations listed in a report by the panel of experts that was submitted to the Constitutional Court on Monday. He said that the panel recommended that National Treasury investigate SASSA officials to decide if anyone should be prosecuted for criminal conduct. "I also want Scopa to hold [SASSA] to account. We are more hopeful today, but ask that Scopa will not forget its mandate. There's lots of people who brought us to where we are now," he said.
IFP MP Mkhuleko Hlengwa said, "The reality is that the IMC under the president was not functional. As MPs, we must take credit for pushing this until something was done. I also want to know what is the benchmark for cost effectiveness? Does this mean CPS could stay? They are corrupt."
Hlengwa also asked if there would be enough time to test the new system as most grants for December and January are currently being paid. "The next round of payments will only be done in February next year so when will this be tested? It's still my firm belief that people in the Department [of Social Development] and SASSA deliberately engineered this crisis."
EFF MP Ntombovuyo Mente said, "With all four services given to [the Post Office], I want to get their view about their readiness to do all of those four services. I also want to know from the IMC if the talks with the commercial banks considers deductions? If we are experiencing those deductions, won't it be much worse for beneficiaries?"
When told that she was not allowed to question other officials directly in the meeting, Mente said, "If they are just here to sit and look at us then we are engaging in a fruitless and wasteful exercise. This means the rest of the delegation doesn't need to be here."
Responding to questions by MPs, Radebe said they would have a better understanding of the detailed plan by 8 December. He said they were currently studying the expert panel's report and would respond to it soon. "That's why we found it important to meet with the panel of experts on 14 November … We are trying our best to ensure that we deliver on this." He assured MPs that CPS would not be involved in the new system.
Radebe also assured beneficiaries that their SASSA cards have been extended and will not expire on 31 December as printed on the cards.
© 2017 GroundUp.

This article is licensed under a Creative Commons Attribution-NoDerivatives 4.0 International License.
You may republish this article, so long as you credit the authors and GroundUp, and do not change the text. Please include a link back to the original article.