Police and protesters accused of brutality in Hermanus
Cele promises to bring IPID to Zwelihle to investigate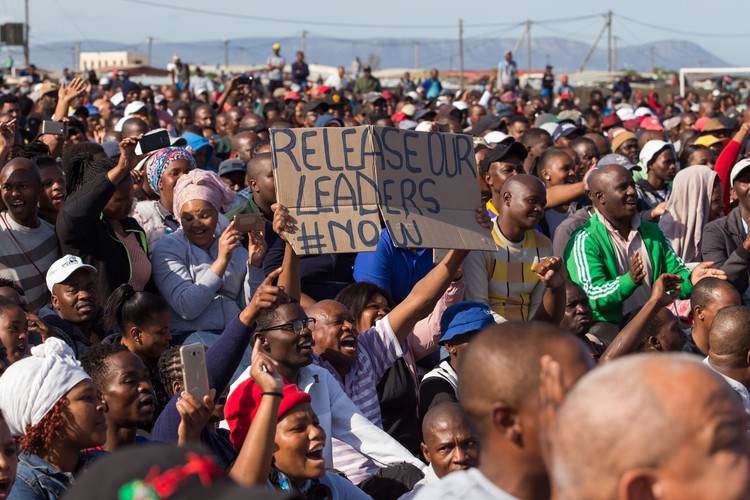 On Tuesday afternoon, thousands of people gathered on the Zwelihle sports field in Hermanus to meet Minister of Police Bheki Cele. Many complained about police brutality when quelling recent protests. They also accused police at the Hermanus station of racism. They told Cele officers used racist language, called them hooligans and used the k-word.
They said this has been the case since the first violent housing protest that led to the torching of the police station.
Cele was visiting the area for the second time in a week. Speaker after speaker complained to the minister about "your police". About 60 injured people were presented as evidence. Among the injured was an 11-year-old child with an arm in a sling, an old man whose leg was in a plaster cast, and two people who had each lost an eye. Protest leaders told GroundUp some of the injured people are still in hospital.
Zwai Skhosana, a leader of the Zwelihle Renewal group, said the protests were sparked by Overstrand Municipality and the Department of Human Settlements failing to meet agreed deadlines and time frames to develop Schulphoek, a piece of land promised for housing.
The community had also not received feedback. People were worried that history would repeat itself, said Skhosana, referring to the 2010 controversial land deal involving land that was meant to benefit Zwelihle backyarders but was sold by the municipality to property developers Rabvac.
But earlier this month, Overstrand municipality told GroundUp it would take about 24 months before building started in Schulphoek.
Skhosana accused the DA and the ward councillors of wanting to break their promises to the community. "Last week on Friday, when we asked why they are shooting they say they want the document [the Schulphoek agreement signed by the Zwelihle leaders when the government agreed to purchase Schulphoek]."
Skhosana said the community wanted Gcobani Ndzongana and Theron Mqhu to be released. He claimed that police had targeted these community leaders driving the housing campaign in order to stop the protest.
But Sergeant Noloyiso Rwexana of SAPS Western Cape said Mqhu was arrested for possession of an unlicensed firearm. Ndzongana was arrested for malicious damage to property and inciting violence.
Protesters accused of intimidation
GroundUp received an email from a reader in Hermanus who said people were being intimidated by the protesters and stopped from going to work or school. Residents have been kept away from work since 12 July. They are too afraid to leave their homes. Those who went to work had their possessions torched, the reader said.
Skhosana denied the claims. "It's not true … No one is forced to stay. We are all suffering here and in need of houses," he said.
When protests happened in the area in May residents refused to speak to the media. This time GroundUp met a young couple who said they had been absent from work for two weeks because of the protests. GroundUp also met a family whose belongings were burnt last week, because they were told they had disobeyed the order to stay away from work. The family said residents were being monitored and GroundUp should leave.
A restaurant manager told GroundUp that an employee's furniture was burnt while she was at work, but she was too scared to talk. He said he was operating with skeleton staff.
At KFC, only the drive-through was working. The main shop was "closed due to shortage of staff", stated a notice on the wall.
Allegations of police brutality
Rethabile Maseti told the minister: "Young children have died here. A two-week-old infant died because of teargas. If teargas smoke can suffocate adults, how can a baby survive it?"
Nonesi Nomapelana said, "Our children have been killed by your police. What do you say about that? I am in pain. While one police officer was injured, there are more than 50 victims here, Mr Cele. There are lives that have been lost."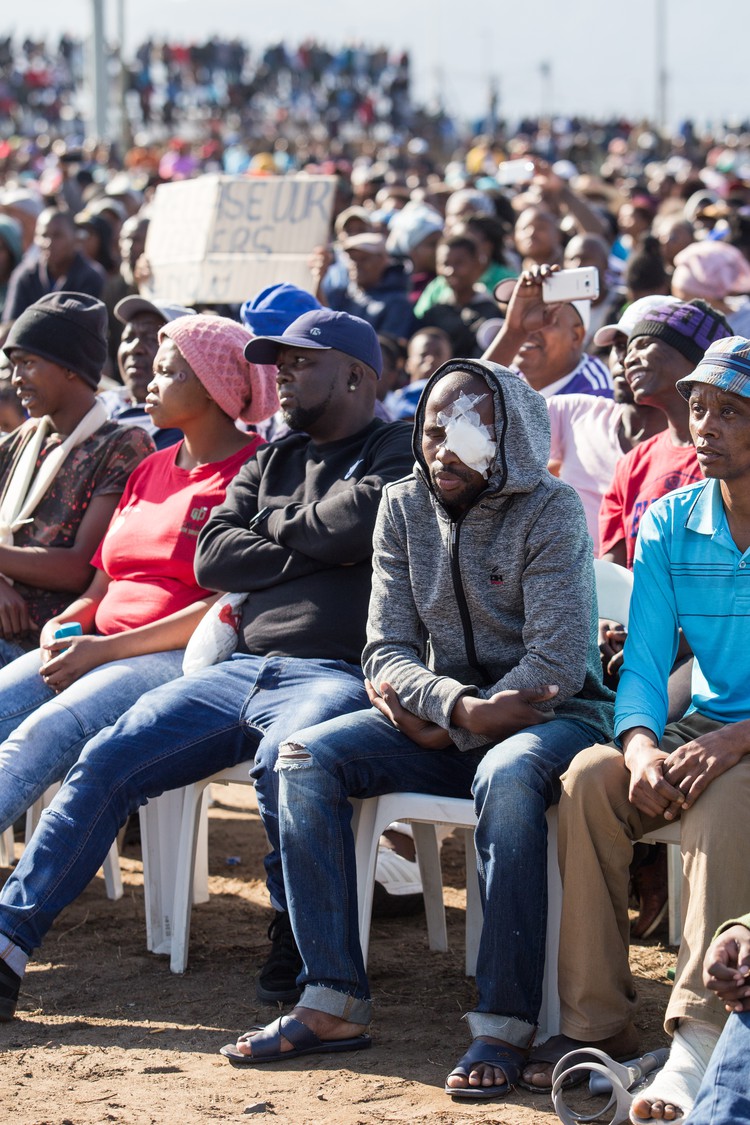 One of the men who had lost an eye, Sivuyisiwe Dyani, said, "I was on my way from Spar to withdraw some money. On my way back, I got mixed up with a group of protesters coming towards me … A rubber bullet then hit my eye."
Sandiso Nkomo said he was sleeping inside his shack when he heard a knock. When he opened the door, police asked if he was one of the people who were protesting outside. When he said he was not, they got angry and shot him with a rubber bullet, he said.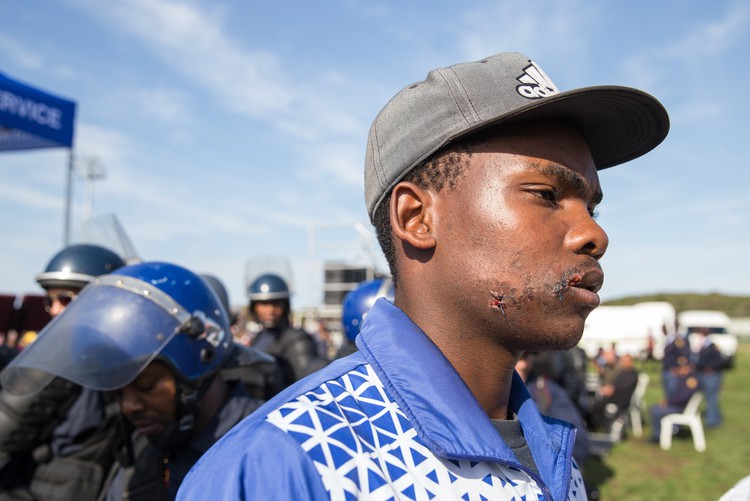 The mother of the 11-year-old with the broken arm said she did not open a case because she is scared that she will be arrested. She claimed that police were arresting injured people, alleging that they were participants in the protest.
Sicelo Gxamesi said, "Overstrand Municipality has turned us against the police. We are now afraid of police. They have beaten us. We have never had problems with the police … We are not fighting with the police. They are not our enemies. Our struggle is housing and service delivery."
Cele said he would invite the Independent Police Investigative Directorate (IPID) to investigate the claims. He agreed to coordinate a meeting with other government departments to address service delivery issues, including the departments of labour, SAPS, human settlement, education and health.
"It saddens me that things have turned this way because the police are sent to fight things that do not involve them. The war here is about service delivery and the land. We will talk to our police to be careful, but the community should also protest peacefully. The problem starts when the community start to damage property … burning police stations and libraries. I desperately need these policemen to go to places like Cape flats where there are gangs shooting at each other. When they have left here, do not give me a reason to bring them back," he said.
Cele went on to say he could not intervene in the release of the leaders because the matter is now before the courts. He said the minister of police cannot command the police not to make arrests. All he can do is to advise the police to follow the right procedures when arresting people. He said he had ordered the police to kick down the doors and find the guns stolen from police. Three guns had been taken; two were returned, and Cele wanted the third gun back.