Masiphumelele residents frustrated after De Lille visit
Residents say mayoral pop-up office left housing questions unanswered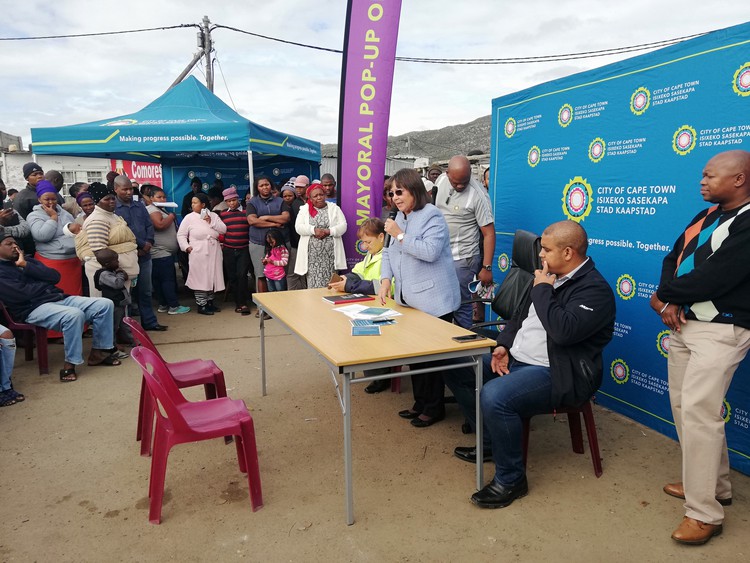 Residents of Masiphumelele Wetlands informal settlement said they had hoped Mayor Patricia de Lille's pop-up office on Wednesday would resolve their concerns over the City-owned land identified for housing.
De Lille held the event — the fifth in five weeks — to engage in face to face talks with residents on issues related to service delivery. She was joined by ward councillor Felicity Purchase and Mayoral Committee Member for Area South Eddie Andrews.
The land is erf 5131 and is part of the Phase 4 housing project. Informal settlement residents and backyarders who have built shacks on the wetlands hoped they would be moved to this land this year.
"Erf 5131 is the main priority. People do not have places to stay. We are saying we want one plot, one toilet and one electricity box for all," said community leader Tshepo Moletsana.
Ward Councillor Felicity Purchase said the City has revised its design for housing on Erf 5131. Purchase said the City would build around the "wetland section and the plants that are very valuable". She said national government is currently looking at the new design and they are hoping it will be approved.
She told GroundUp the process could take up to two years and could provide housing for people that have been on the housing database for too long.
"We have the Phase 4 housing development which is well on its way. We have the taxi rank which is well on its way. The upgrade that has been done on the ablutions and wash houses … And the fire station that is being built," said Purchase.
Resident Nomonde Koni has been living as a backyarder in the informal settlement since 1998. "What they said here is not new. Phase 4 project has been in the pipeline for too long now. They talk about new projects when there are old projects that have not been done yet," said Koni.
"I thought that today because we have been hearing rumours about City-owned land around the area, they would be coming to us to say they have obtained land and another housing project will be done, because Phase 4 doesn't even accommodate a quarter of the backyarders in Masiphumelele," said Koni.
Moletsana asked De Lille and Purchase to address the cleaning up of the informal settlement, especially the water canals that divide the settlement, and the issue of street lights in the community.
De Lille said she had done an inspection in the area of what the City can do to improve the living conditions of people. "We have also money aside to do upgrades in Masiphumelele," said De Lille. She said R13.8 million had been put aside for the taxi rank and R27 million towards the construction of the fire station.
"The City has 36 housing projects across the city where we are going to spend R2.1 billion, and the housing project in Masiphumelele is included."
"There is a great need for housing in Masiphumelele. We all know this. Masiphumelele is overcrowded. It is congested. There is a big need for housing but you must go and put your name on the waiting list. If you are not on the waiting list you are not going to qualify for a housing opportunity," said De Lille.