Mother of three left with R20 a month after illegal deductions from her social grant
Problem has gone viral, says Black Sash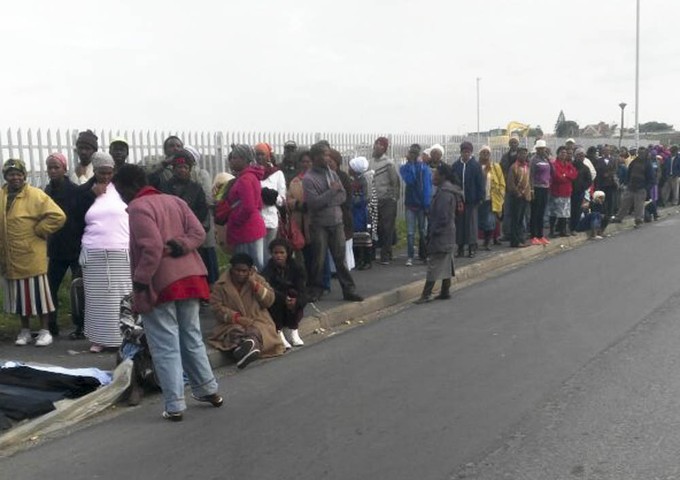 Neliswa Maso gets a disability grant of R1,500 a month. But this month she got R1,080, after R200 was deducted for electricity and R220 for airtime. "I don't even know what electricity or airtime they are referring to," she says.
Near her in the long social grants queue outside the Ikwezi Sport and Recreation Centre in Gugulethu is a woman who identified herself only as Kholiswa. She was supposed to get R1,050 from three children's grants, but only found R20 in her account.
When GroundUp visited the centre last week, a number of beneficiaries, some of whom who had been queuing outside the centre since 5am, had similar stories. One man said he thought the deductions were normal and were supposed to happen.
Thousands of grant beneficiaries go home each month with less money than they should be getting because of unauthorised or illegal deductions from their social grants, for loans, airtime, electricity and other services.
A "Hands off our Grants" campaign run by the Black Sash has exposed the extent of the problem. The SA Social Security Agency (SASSA), supported by the Black Sash, has taken on the Net1 group, which runs the payment system through its company Cash Paymaster Services, in a lengthy court battle which is still running.
Maso says she has been to the SASSA offices in Gugulethu to find out where her money went. "They said they did not know. Then I was given a print out of my SASSA slip, that's where I saw that the deductions were for airtime and electricity. I disputed this at the office and all they did was give me a fax number for another SASSA office, then told me to go and do an affidavit at the police station stating my complaint, then fax it through to the number they gave me. I doubt I will get any response."
Maso has been receiving a social grant since 2013 and says deductions started this year. She says the only deduction she is aware of and is supposed to have on her grant is that of her SASSA funeral plan, which is R150.
For Kholiswa, the problem started in July when she was offered "a green card".
"When I went to get my children's grant in July, I got offered a green card and I was told that it would work like my SASSA card. That is where the social grant would be paid and I could also get a loan using that card should I need one. Last month I only got R250 and this month I only got R20. I don't know where the money went."
Minister for Social Development Bathabile Dlamini has explained that the "green card" or Easy Pay card "is a bank account issued by Net 1 associate Grindrod Bank. In a statement in May, she warned that some beneficiaries had been told they had to open an Easy Pay account to get loans from Moneyline – another company in the Net1 group – only to find that their social grants were then paid into this account, without their authorisation, and deductions made for airtime and other services they had not bought.
She said grant beneficiaries had become victims of "predatory practices".

"The beneficiaries should receive the full value of the grant unencumbered. It is very easy to take the money of social grant beneficiaries without proper consent and controls. However, it's very difficult for them to get their money back."
Dlamini said the department was "deeply disapointed" in Cash Paymaster Services, which seemed to be "profitably participating in these questionable activities through subsidiary companies", under the umbrella of parent company Net 1.
Net1 has argued that the law allows the Minister of Social Development to regulate deductions made directly from social grants, but not deductions from beneficiaries' bank accounts.
Elroy Paulus, National Advocacy Manager at the Black Sash, said the deduction issue had "gone viral" and as an organisation they were "extremely angry" about it. "This is an opportunity taken to extract money from the poorest of the poor and it is saddening."
Paulus said the next hearing in the court battle would be on 17 and 18 October.
© 2016 GroundUp.

This article is licensed under a Creative Commons Attribution-NoDerivatives 4.0 International License.
You may republish this article, so long as you credit the authors and GroundUp, and do not change the text. Please include a link back to the original article.