Joe Slovo High: parents back students on fines
Parents demand to be involved in investigation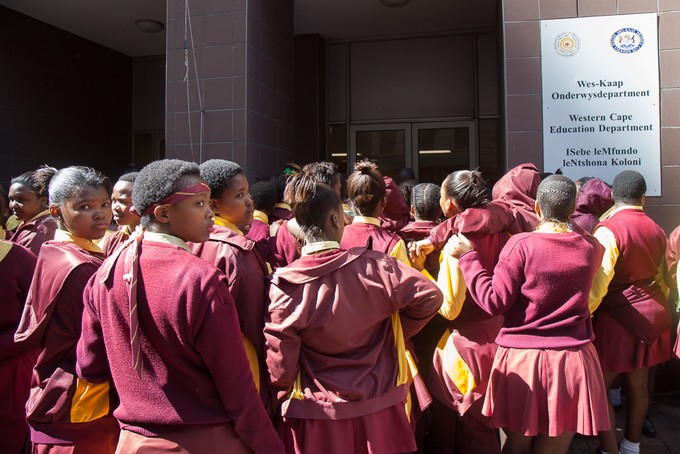 Parents of students at Joe Slovo High School in Khayelitsha have sided with the students on the issue of fines imposed by the school.
Earlier this week students embarked on violent protests, burning storerooms and classrooms and breaking windows. They also marched on the offices of the Western Cape Education Department to deliver a memorandum in which they complained about fines imposed by the school. The students say they have to pay fines of R5 for arriving late and R100 or more for missing school. Pregnant girls have to pay a fine of R850, they say.
A meeting between parents, teachers, students, the department of education and the school governing body was held at the school today. At the meeting parents had asked to be involved in any investigation of the fines paid by students, parent Vuyiswa Matubela told GroundUp after the meeting.
She said it was wrong for students to vandalise or burn the school, but it was also wrong for fines to be imposed on students.
Matubela also complained that the school principal, Majiet Parker, had failed to explain what he had done with the money from the fines. "The payment of fines from students will be investigated," she added.
Education MEC Debbie Schafer said yesterday it was not acceptable to impose fines on students and promised a full investigation.
Today's meeting was attended by very few parents. Matubela said work commitments had kept most parents away.
Another parent, Mlungisi Nombula, said his son had been fined R200 for the possession of a cellphone in class last year.He had not paid the fine and his cellphone was still at the school.
The school was quiet today, with police monitoring the situation. According to one teacher, fewer than 300 out of 1,200 students attended school. Grade 12 students, whose matric prelim exams were disrupted by the protests, were able to write today.
Jessica Shelver, spokesperson for Schafer, said the rest of the prelims would be written in a nearby church hall. Exams that had been missed would be rescheduled.
Police spokesperson Noloyiso Rwexana said eight students had been arrested yesterday. They had appeared in the Khayelitsha Magistrate's Court today and been released into the care of their parents.
"Cases of public violence and arson have been opened for investigation," she said.
Dodgy people are suing us. Please support us by contributing to our legal costs and helping us to publish news that matters.
© 2016 GroundUp.

This article is licensed under a Creative Commons Attribution-NoDerivatives 4.0 International License.
You may republish this article, so long as you credit the authors and GroundUp, and do not change the text. Please include a link back to the original article.