Hermanus residents come out in support of arrested protesters
Scores in court, charged with public violence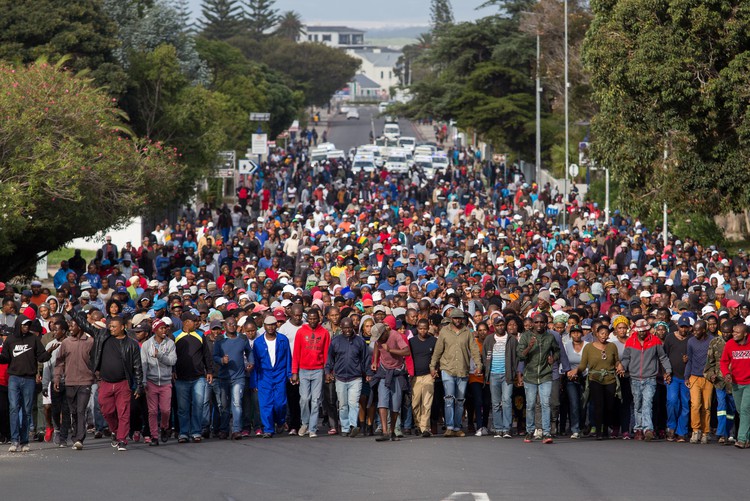 Hundreds of people marched from Zwelihle to the Magistrates' Court in Hermanus on Tuesday to support the 69 community members arrested during protests in late March.
The crowd filled the intersection of Main Road and Harmony Lane near the court, carrying placards, singing and dancing, as they awaited the court's decision on whether to grant bail to arrested community members.
Police blocked off the R43 and redirected vehicles to allow the protesters to occupy the street. The young and the old sat on the pavement or stood in large groups from morning until early evening to show their solidarity with the arrested, even when it started to rain.
"We are here to show that they must be released," Masibongwe Sihlahla said. "We need to come and explain that we want our people back."
Nine shops, a police station, a house and numerous vehicles were stoned or torched in late March. People were arrested for looting, public violence and property damage, some unjustly, say community members. Housing was at the centre of last month's protests. Backyarders — people who rent shacks on the properties of formal house owners — are demanding houses from the state. Calm returned to Zwelihle on 27 March when MEC for Human Settlements Bonginkosi Madikizela told the residents that land had been identified on which to build RDP houses.
"The law has to take its course," Theron Mghu said. "But we know that some of our leaders that were there — and some of us — were just taken by the police without any reason. So we want them to be released."
Two of those arrested were released with their charges dropped, but the court postponed the hearings for the others. Eleven will appear in court either Wednesday or Thursday depending on whether there is access to a translator.
Another 29 arrested community members sat in court Monday. Their bail hearing was postponed, as was the hearing of 27 people who sat in court on Tuesday. These 56 will be back in court in late April.
Court officials said that the reason for postponement was a two-hour delay due to false information, delays identifying some of those arrested and the lack of a translator to fulfil the right of the accused to understand the court process.
The court arranged for a translator from Cape Town to be in Hermanus because local translators were unwilling or afraid to work on the case. The crowd cried out when community leaders told them the bail hearing had been postponed.
According to community leader Sicelo Gxamesi, the protesters had not been expecting the court to postpone. "Tomorrow we need to be here. We're not going to work. We're going to stay and support our loved ones."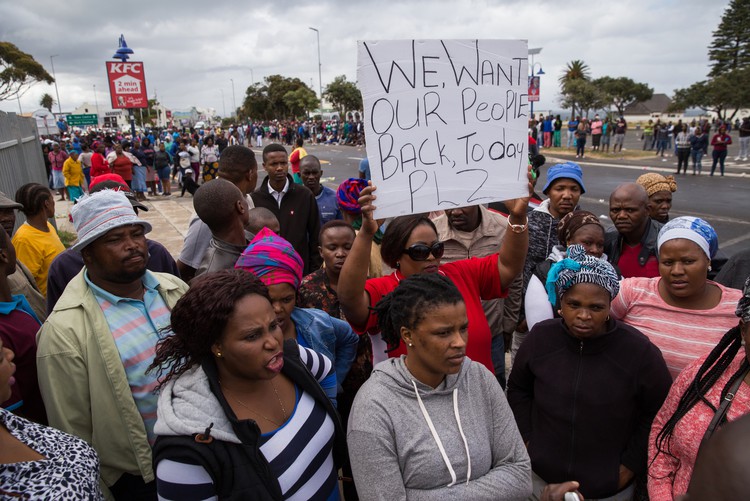 Dodgy people are suing us. Please support us by contributing to our legal costs and helping us to publish news that matters.
© 2018 GroundUp.


This article is licensed under a Creative Commons Attribution-NoDerivatives 4.0 International License.
You may republish this article, so long as you credit the authors and GroundUp, and do not change the text. Please include a link back to the original article.