Township homeowners complain about land occupiers
They "are living in comfort because they have houses of their own, while we don't have" responds occupier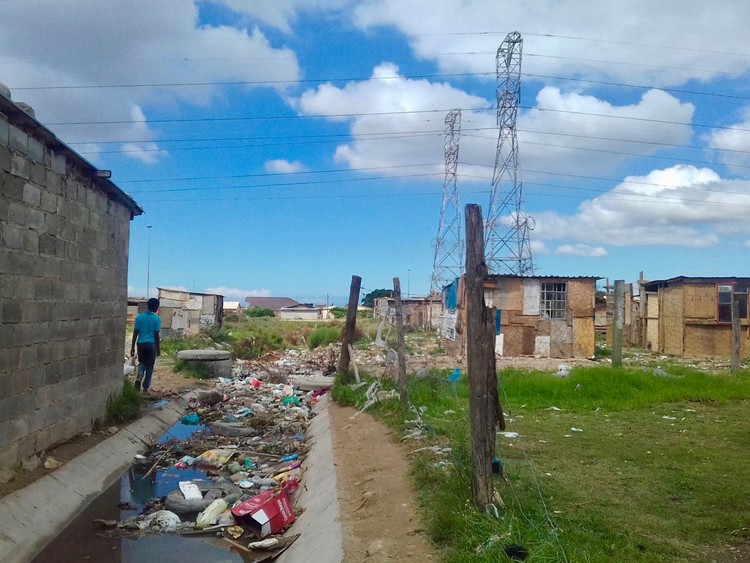 Tensions are on the rise between land occupiers and people in formal housing in Port Elizabeth. A number of informal settlements have sprouted up in various parts of Nelson Mandela Bay Municipality – in Wells Estate, Ikamvelihle, Ramaphosa and Motherwell.
In Motherwell NU 10, homeowners on Mahambane Street, bordering on the "Powerline" informal settlement, complain about human waste, garbage and the danger of illegal electricity connections.
A resident, who said she feared reprisals if named, said, "Ever since the 'squatters' came … we are facing a torrid time … The sewage drain in Mahambane Street has been clogged with rubbish … There is a river of sewage everywhere because the pipeline is overwhelmed with foreign objects. This is not good for our health."
She has built a brick wall around her house.
But Nombulelo Wara, who lives with her three children, one of them disabled, in a two-roomed shack in the informal settlement, says, "I throw my garbage outside at a nearby illegal dumpsite because we are far away from the designated one."
Wara said she registered in 2006 for a house. "I got tired of tracking my application … We have been given various reasons [for the wait] by our councillors."
Another homeowner on Mahambane said he is afraid of illegal electrical connections lying on the ground. "I am afraid that if our children step on them, they will be killed," he said.
"People who are saying this [complaining about informal settlements] are living in comfort because they have houses of their own, while we don't have," says Thamsanqa Jantjies. He is 62 and lives in Ikamvelihle informal settlement in Addo Road, where the line of shacks start, stretching to Ramaphosa and then to Powerline in Motherwell.
Jantjies said the problem was that there is no sanitation provided; there are no pit toilets and no bucket system. "There are people who wrap their faeces in plastic bags and throw it away. This is not good for the health of all of us," he said.
Jantjies moved from Elliot to Port Elizabeth in 2008. He rented a room in Walmer for R800 a month but it was too expensive for him.
"I applied for a house in 2011, but each time I check on developments with my application, I am told that my name does not appear on the list. This makes me angry, and this is the reason I am living here," said Jantjies.
Mayoral spokesperson Sibongile Dimbaza said, "Land invasion remains a challenge for the City as this habit defies the laws that govern the Metro."
Municipal spokesperson Mthubanzi Mniki said, "Rubbish accumulating in places that have been illegally occupied is always cleared. I will inform the relevant department so that they restore the burst manhole in Mahambane Street."
Mniki said, "How can we supply sanitation to illegal land occupiers? These people are there illegally".
But without the provision of basic services to the land occupiers, tensions seem set to continue.
Dodgy people are suing us. Please support us by contributing to our legal costs and helping us to publish news that matters.
© 2018 GroundUp.


This article is licensed under a Creative Commons Attribution-NoDerivatives 4.0 International License.
You may republish this article, so long as you credit the authors and GroundUp, and do not change the text. Please include a link back to the original article.