Dozens of children have to cross the river where Angel drowned
Six-year-old died on her way home from school in Diepsloot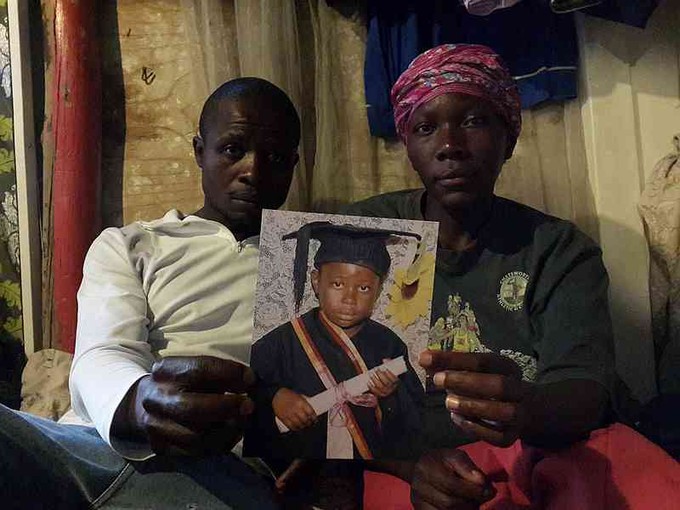 Every day, dozens of Diepsloot children on their way to school must cross the stream in which six-year-old Angel Sibanda drowned during a flash flood last week.
A security guard working on a new bridge across the Jukskei River saw the child being swept under the bridge last Thursday. Three days later her body was found 10km away by a man fishing in the river
On the route Angel used to get to Diepsloot Primary School, there is no bridge, just two small concrete slabs in the river which is a tributary of the Jukskei. The shacks in the area have electricity and communal taps and toilets, but the dirt roads are eroded, with potholes. There are puddles of dirty water everywhere and boulders strewn about. The area around the shack where Angel lived has no pavements for pedestrians to walk on, and no storm water drains.
Residents say when it rains the streets turn into rivers.
Angel's parents want the City of Johannesburg to erect footbridges over the river where their child slipped, so that no other parent loses a child as they did.
Siboniso Sibanda, Angel's mother, said she was worried when at 2pm last Thursday the child had not returned from school.
"I called my neighbour to ask her if Angel had gone to her house. She said no. Then, I went to her school to look for her, but her classroom was already locked. I saw a group gathering at the bridge, so I went there to see if anyone had seen her. Someone told me a body had floated down the river. I described what Angel was wearing that day (a white shirt and grey skirt) but nobody had seen her."
Sibanda said she held out hope that her child was still alive until police phoned on Sunday to say Angel's body had been found.
As as rule, Angel's father, Thabani Tschume, walked her to school and picked her up in the afternoons. But on Thursday morning Tschume had received a call about a garden job in Honeydew. He told GroundUp that after months without work, he had taken the job and that's the day Angel died.
Sibanda said she wished the school had kept the children back and called for parents to walk them home that day because of the rain.
Angel had just started grade one.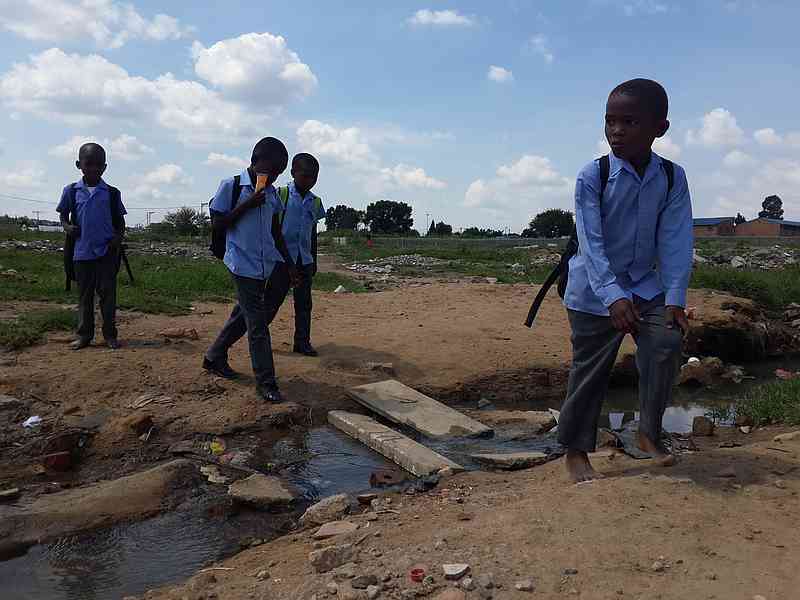 The security guard, Sibusiso Nhleko, told GroundUp that Angel had let out a scream and he had seen her hand as she floated beneath the new bridge, which is not yet open to traffic.
City of Johannesburg spokesperson Nthatisi Modingoane said that in the 2014/15 financial year more than R67 million was spent on infrastructure in Diepsloot including roads, maintenance, storm water drains, housing, bulk water infrastructure, clinics, and recreation facilities.
"… Diepsloot is sometimes jokingly referred to as a 'community under construction' due to the number of infrastructure projects being undertaken in the area by both the City of Johannesburg and the Gauteng Provincial Government to improve the residents' quality of life," Modingoane said.
Describing the day Angel died, he said: "Unfortunately at that moment three school kids were swept by the flash floods trying to cross the shallow earth channel from school."
Is it precisely that "shallow earth channel", or tributary, that the community want secured with fixed structures.
Diepsloot DA councillor Refilwe Mathebula echoed calls for a footbridge, hand rail or some form of structure to help pedestrians cross the river. She described Angel's death as "a tragedy waiting to happen".
The tragedy could have been prevented if the needs of the community had been been properly assessed and addressed, Mathebula said.
Children living in an area where there were flash floods should be taught water safety, she said.
"We also need to question why Angel was sent to a school so far away from her house. The whole schooling district system needs to be properly assessed and adjusted in line with the financial barriers parents in the community have," she said.
Mathebula said with Diepsloot's new police station only a few kilometres away, it should not have taken as long as 30 minutes to reach the scene where Angel was last seen alive.
Diepsloot police spokesperson Warrant Officer Daniel Mavimbela would not comment immediately when GroundUp asked about police reaction time.
Tschume said he could not bear to think about the fear Angel must have felt as she slid down into the water or how he could continue living without ever seeing her again.
Angel's funeral is set to take place on Sunday at 10am, in Diepsloot. She will be buried in a nearby cemetery. Angel's parents have requested the assistance of the community to host her funeral service.
Correction: The article originally said Angel was found four days later. It was three.
© 2016 GroundUp.

This article is licensed under a Creative Commons Attribution-NoDerivatives 4.0 International License.