Controversial land deal comes back to haunt Hermanus
Madikizela promises protesters a piece of Schulphoek land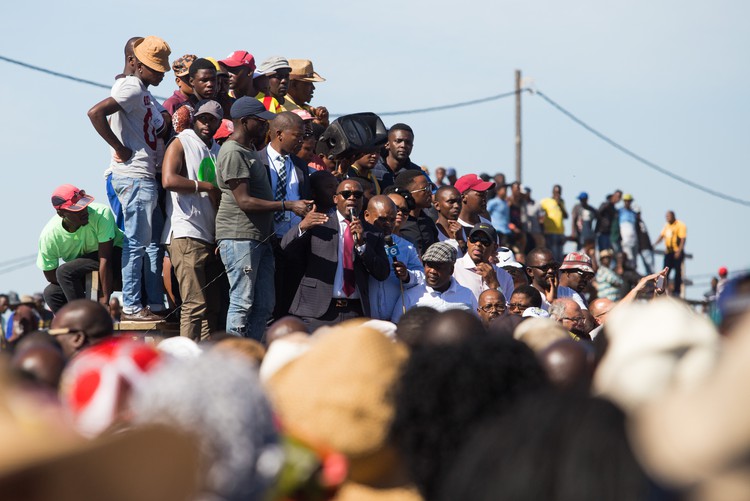 As calm returned to Zwelihle in Hermanus on Tuesday afternoon, Western Cape MEC of Human Settlements Bonginkosi Madikizela told furious residents he had identified a plot of land to be developed for backyard dwellers.
The land, which is in neighbouring Schulphoek, is the subject of bitter controversy in the area. In 2010 land nearby was sold by the Overstrand municipality to property developers Rabcav. As part of the deal, the developers were to have built housing for tenants in Zwelihle and the nearby township of Mount Pleasant. More than 4,000 houses, shops and community centres were to be handed over to Zwelihle and Mount Pleasant residents as part of the agreement.
Bobby von During, the Zwelihle Community Development Trust manager, said when the land was bought by the development group Rabcav, there was no mention of any provisions for Zwelihle in the contract. And when upmarket houses were developed on the land, none of the municipality's promises to the residents of Zwelihle came through.
"When the land was sold and the land was given over, they abandoned all the promises that they made," Von During said.
ANC member of the Western Cape Legislature Cameron Dugmore said there had been "a number of particular irregularities in regard to that sale".
Dugmore blamed municipal mismanagement and corruption for the lack of adequate housing for residents of Zwelihle. "There is a lot of public land available," he said. "But this municipality, for eight years has not acted on the order and I think that that has contributed to the crisis."
Though Von During has attempted to negotiate the Schulphoek land sale in the past, the municipality still hasn't delivered on any of the community's original demands.
"What we want is to ask some questions directly to the minister," Von During said. "But the minster only comes now when [protests] happen."
For Zwelihle residents like Lulama Prike, this week's protests have been the only way citizens have been able to provoke a response from the government.
"The only language that they understand is protest," Prike said. "They only listen when people are doing the things that people are doing here."
Prike, who was born in Zwelihle, has been waiting for an RDP house for six years. She lives in her mother's home with her two children. "My question is, how long will I wait for a house?"
In the coming weeks, community leaders will be meeting with government officials to devise a housing plan for backyard dwellers and those in informal settlements in Hermanus.
Dugmore hoped that a collaboration between national and provincial governments to review the housing issues and mismanagement in Hermanus would finally put the housing issues in Zwelihle to rest.
"We don't trust this municipality on its own to deal with this issue," he said.
Von During also worried that bureaucracy would further delay the transfer of the land to those to whom it has been promised. He was sceptical that the municipality had any record of the Zwelihle backyard dwellers who have applied for housing.
"The municipality did not take care of the backyard dwellers," Von During said.
Von During was also concerned that the allocated Schulphoek land was unlikely to be immediately developed due to environmental concerns.
The land is partially occupied by the world's twelfth largest milkwood forest and before any houses are built, the municipality will probably have to conduct a new environmental impact study, which could take up to three years.
Nevertheless, Von During hoped that the new land allocations would mark a new era of land agreements in Hermanus.
"If the municipality keeps their word, I think they will be able to help us. If they don't, [protests] will happen again and it will be much worse."
As for Zwelihle residents like Prike, the waiting game ticks on. " As they promised, we will wait and see," she said.
© 2018 GroundUp.


This article is licensed under a Creative Commons Attribution-NoDerivatives 4.0 International License.
You may republish this article, so long as you credit the authors and GroundUp, and do not change the text. Please include a link back to the original article.