Clashes in Khayelitsha following land occupation
"I have no source of income because I'm jobless but I have to pay R500 to my landlord monthly"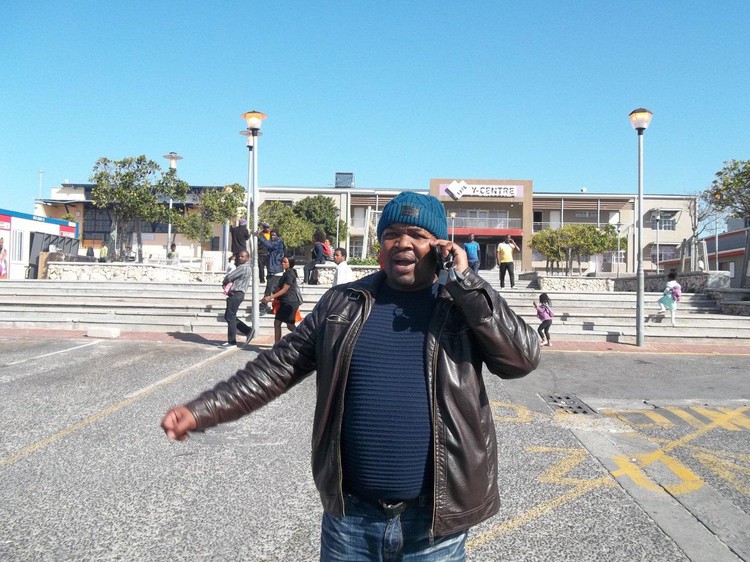 Disputes over housing in Khayelitsha spilled over on Sunday when people set alight and vandalised a community centre that contains the local ward councillor's office. They also vandalised the councillor's house. These acts were in response to the Anti-Land Invasion Unit attempting to stop a land occupation near Monwabisi Beach in Endlovini by several dozen people.
The occupiers are fighting to be part of an upcoming housing development.
The ward councillor, Anele Gabuza, told GroundUp that he held a meeting with the occupiers a week ago about the allocation of the houses that will be built: "They said they want to be part of the development because they are backyarders and also deserve houses. I told them that I cannot give them houses because the houses have already been assigned to beneficiaries by the City of Cape Town. I also told them to give me a list with their complaints and their names that I would take to the City and hopefully we would come up with a solution."
After the occupation on Sunday the Anti-Land Invasion Unit began demolishing the shacks that were being erected. Gabuza said the demolitions began before he had a chance to talk to the City. He said that out of anger, the occupiers burned and vandalised his office and house.
The housing development will apparently accommodate 6,000 beneficiaries from Endlovini, and it would be divided into two phases. Phase 1 will be next to the False Bay College and Phase 2 would be in Endlovini.
Occupiers who GroundUp spoke to said they could not afford to carry on living where they were. Khauta Tsiboli, 32, said he had been living in a shack that belongs to his friends who are living in the Eastern Cape. "The owners of the shack say I must now move out because they are planning on coming back," he said.
Tsiboli, who lives with three teenage children, was shot with a rubber bullet while the Anti-land Invasion Unit clashed with the occupiers. "A young policeman confronted and ordered me to leave with my shack. I refused point blank and he shot me here," said Tsiboli, pointing to a wound on his back.
Tsiboli continued to rebuild his demolished shack while police watched from their vehicles some distance away. "I must get my own place to stay now," he said.
Amanda Kobo, 40, said she built a shack on municipal land because she was fed-up with staying in a shack with her young brother who has a wife and children. "I want to have my own place and fend for myself," she said. Kobo said she relied on jobs such as cleaning houses and looking after children for a living. "I have sacrificed money to buy bread and instead bought building materials, so the Anti-Land Invasion Unit broke my heart when they tore down my shack," she said. Hammer in hand, Kobo said: "I have no choice but to rebuild the shack so I can have my own place to stay."
Another occupier, who has three young children was attempting to rebuild her demolished shack. "I have no source of income because I'm jobless, but I have to pay R500 to my landlord monthly. Sometimes I char in Wynberg, but work is scarce and the money I earn can't pay rent," she said. "I have nowhere else to go, so I'm forced to rebuild the shack so that I can have a roof over my head."
Other residents said they built shacks on the land for their "mature children" so they could have privacy at home. "My kid has turned 18 and he now needs to have his own place where he can have fun with his girlfriends far away from me," said a 37-year-old woman. She said: "We both need privacy as I can't sleep with a man in one room while he is also sleeping with his girlfriend in another room in the same shack."
"I don't want him to see me date one boyfriend today and another tomorrow because he will have a low opinion of me," she added.
Simphiwe Mzalwane, 38, who built a shack for his brother on the municipal land, blamed Gabhuza for mishandling the occupation. "The ward councillor should have left the Anti-land Invasion Unit behind and addressed the residents," he said. "He angered the residents by bringing the Anti-Land Invasion Unit."
The occupiers damaged chairs, windows and doors and dirtied the community hall. Gabuza said they destroyed windows and frightened his family at his house. He said: "Two police vans were already here when the mob came and torched the hall." But the police ran away, he said.
Gabuza said he was willing to talk with the residents together with the City to come up with a plan about how they can be accommodated.
The area is bushy and it will be difficult for the Anti-Land Invasion Unit to stop the occupation. As of Sunday evening, it was ongoing.
Western Cape police spokesperson Noloyiso Rwexana said two suspects aged 31 and 36 were arrested for public violence. They are expected to appear at the Khayelitsha Magistrates' Court on Tuesday.
Dodgy people are suing us. Please support us by contributing to our legal costs and helping us to publish news that matters.
© 2017 GroundUp.

This article is licensed under a Creative Commons Attribution-NoDerivatives 4.0 International License.
You may republish this article, so long as you credit the authors and GroundUp, and do not change the text. Please include a link back to the original article.