Imizamo Yethu community welcomes police probe into death of protester
"We only hope that we get justice and that the community gets what he died fighting for"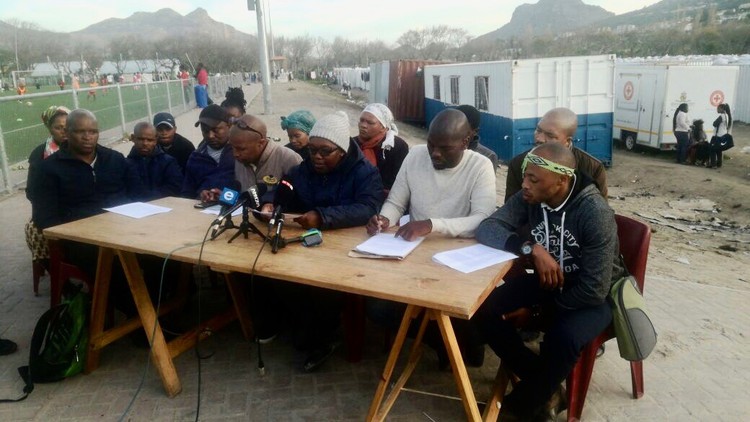 Community leaders in Imizamo Yethu have welcomed an investigation by the Independent Police Investigative Directorate (IPID) into the death of a 30-year-old protester this week. This was expressed at a press conference held on the Hout Bay sports field late on Wednesday afternoon.
Songezo Ndude was shot in the head on Monday during clashes between police and residents. Protests were over living conditions on the sports field where residents were relocated after a fire in March devastated the informal settlement.
Ndude died in hospital on Tuesday.
Ndude's brother, Mkhululi Ndude, said, "We only hope that we get justice and that the community gets what he died fighting for."
A press statement read out by community leader Ziyanda Phandle listed the following complaints: the temporary relocation areas (TRAs) were meant to be for three months; the slow pace of the reblocking; decisions are made without consulting community leaders; the City's failure to implement an interdict (to stop people rebuilding on the land which is to be reblocked); and the living conditions of people in the TRAs.
Phandle said, "History has taught us that the Temporary Relocation Areas became permanent housing solutions for our community. The fear is that the current inhuman conditions will become permanent, seeing that residents are here for four months when they were meant to be here for three months."
The community leaders distanced themselves from the violence during the protests and the destruction of property.
The leaders have also asked the South African Human Rights Commission to investigate the manner in which metro police and public order police responded to the protests. Police fired stun grenades, rubber bullets and teargas. Protesters threw stones.
Dodgy people are suing us. Please support us by contributing to our legal costs and helping us to publish news that matters.
Letters
Dear Editor
I have a feeling you need to get your facts straight! Mkhululi Ndude was caught on camera instigating and partaking in the violence. Including flipping over cars! Caught on CCTV footage and arrested! Out on bail obviously thanks to our lovely justice system.
© 2017 GroundUp.

This article is licensed under a Creative Commons Attribution-NoDerivatives 4.0 International License.
You may republish this article, so long as you credit the authors and GroundUp, and do not change the text. Please include a link back to the original article.