Yet another devastating fire in Imizamo Yethu
Yesterday's fire follows the ones of 12 November and 26 December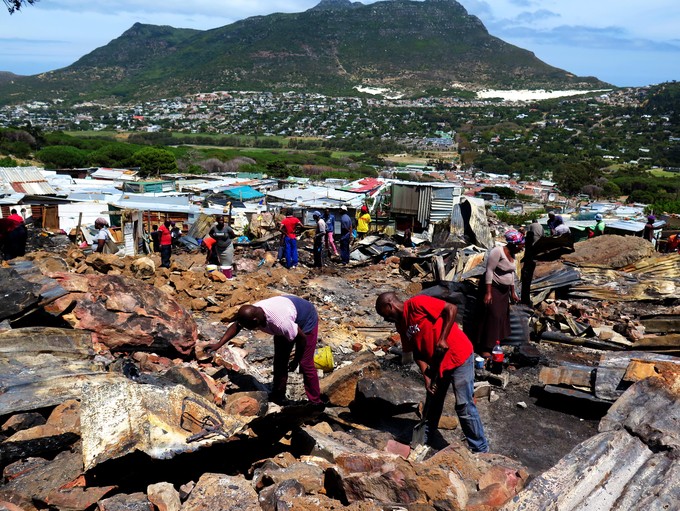 Imizamo Yethu was beset by fire on Monday afternoon, this time leaving about 240 people homeless. On Tuesday morning, residents whose homes were destroyed were clearing away the burnt remains so that they could begin to rebuild.
Many residents lost almost everything in the fire, leaving them with just the clothes on their backs. The fire occurred at the very top of the settlement in an area with many illegal electricity connections and very little space between houses. The City has not established the exact cause of the fire yet.
Bongiswa Ntsomothi was cleaning up the remains of her home this morning, wearing a friend's clothes. She was at work when the fire began. By the time she made it home, everything was gone except for her fridge.
Zukile Kholobile was also at work when he was told there was a fire. When he and his wife returned home, it was already burnt down.
"Everything was burnt," he said. All he and his wife have left are the clothes they were wearing.
Last night he, his wife, their baby and two small children slept at his aunt's house in Imizamo Yethu. He said that his children were "very upset" as they "didn't know what was happening".
His wife is traumatised by the fire. "It was very painful. She was crying," he said, adding that she will "take a long time to recover".
"We are waiting for material from the city, and then we will start rebuilding," he said.
His friend from Imizamo Yethu had come to help him clear away what used to be his home and his wife was on her way back from work to help.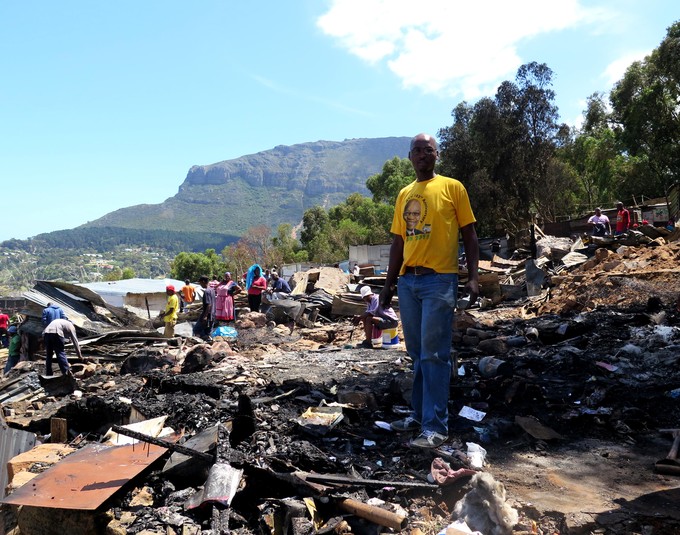 Samkelo Krweqe, SA National Civic Organisation chairperson for the area, said that mechanisms such as reblocking and creating firebreaks were needed, but that this requires the City to move people, which he said they wouldn't do.
"They [the City] don't want to do anything. They only come [after the fire], with food and blankets," said Krweqe. "They are useless."
One of the main demands is for electricity to be provided. A prominent feature in Imizamo Yethu is "spaghetti wire", the thin, illegally connected cables that people living in shacks connect themselves in order to power their houses. These dangerous connections can lead to both electrocutions and fires.
Krweqe said that there was a meeting planned for tomorrow where the need for electricity in the whole of Imizamo Yethu was going to be discussed. He said if the City did not come up with a solution, then residents would protest and "no City vehicles" would be allowed into the area.
Lovers Magwala, Chairperson of the Hout Bay Local Youth Development Forum, said that the only thing that could prevent fires was for the city to provide brick houses. He also agreed that "spaghetti wires" created a fire risk.
Resident Vuyo Nqayi said that many people did not keep their homes one metre apart, but built right up against another shack. If all houses were one metre apart, fires could be more easily contained and firefighters could access the fires better. But, he said, there were "too many people" in Imizamo Yethu.
Official guidelines advise homes to be three metres apart, not one metre.
When GroundUp visited the area on Tuesday morning, the South African Red Cross Society was delivering food to the displaced residents and there were various teams from the City aiding in the cleanup process. Residents expect the City soon to deliver the material to begin the rebuilding process.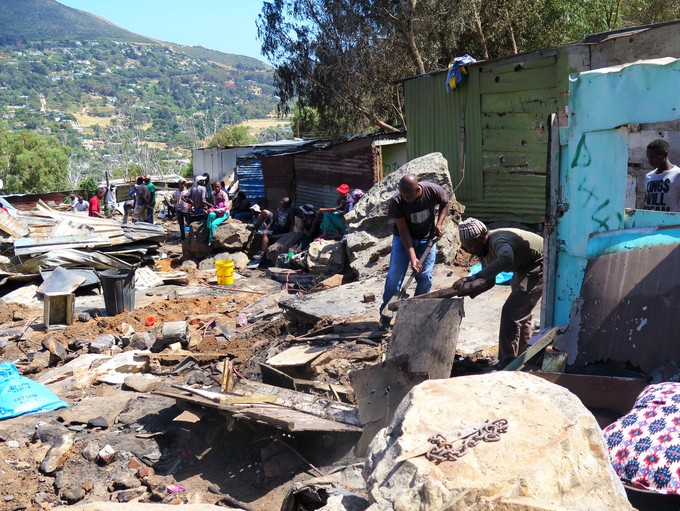 © 2016 GroundUp.

This article is licensed under a Creative Commons Attribution-NoDerivatives 4.0 International License.