Metropolitan Cup's scorching kick-off
This year's tournament got underway on Saturday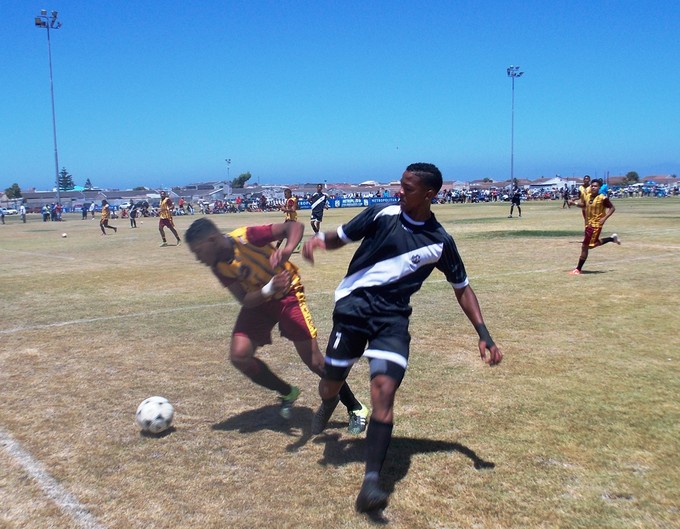 Every team that participated in this year's Metropolitan u-19 soccer tournament playoffs at Rocklands sports field over the weekend gave their best performances as they kept their fans on the edge of their seats. Scorching weather could not deter the young and aspiring footballers from displaying their talent.
Maties FC u-19 gave one of the finest performances in this tournament when they thrashed Vasco da Gama 4-1 and hammered Silver Spurs 3-0 to book their place in the quarter finals. Maties FC midfielders, particularly Verno Petersen and Dean Masiza, were in a mean mood as they orchestrated the downfall of their opponents with their killer passes in the middle of the park.
Vasco da Gama tried as much as possible to contain their opponents, but Maties were in an unforgiving mood from the first whistle as they scored a brilliant goal within ten minutes of the game.
Vasco appeared to be demoralised for the most of the first half as Maties FC made them chase their shadows. Vasco got a penalty in the second half and that made the game one goal apiece and boosted their confidence.
But their joy was short lived. The goal seemed to awaken Maties FC, who quickly responded with a goal when they were awarded a penalty minutes later. Maties FC had more ball possession and created more scoring opportunities.
It was only a matter of time before Maties FC cracked the slow moving defence of Vasco and when it did, the sluice gates opened. Maties FC scored another goal to seal the game. Team manager for Vasco, Patrick Nelson, said they allowed their opponents to have a lot of space and that was their biggest mistake.
"We never really played as the team. My players gave Maties a lot of respect and we never created a lot of scoring opportunities and our strikers never really came to the part. And it is no gainsaying the fact that their midfielders were just fantastic as they cracked our defence line," he said.
Maties FC coach, Ricardo Isaacs heaped praise on his side, saying they played as a unit and they converted the scoring opportunities they had created. They controlled the game well and that frustrated Vasco.
"The confidence from the camp is high and the players have a winning mentality. I have to acknowledge that the players gave their best and everyone was up to the task," he said.
They are going to start preparing for the quarter finals and they believe that with the current squad at his disposal they can clinch the tournament.
Metropolitan cup media liaison Roger Clayton said the tournament started in 1989 with the aim of unearthing new talents and giving upcoming footballers an opportunity.
"This is the tournament that has produced players like Matthew Booth and Benni McCarthy just to name a few. The ultimate winner of this tournament will walk away with R30,000; quarter finals and finals will take place in Belhar next month," he said.
Another crunch encounter was between Juventus FC and Cape United FC. The game left Cape United FC coach George Easthen red faced after the poor performance they had displayed. Juventus snatched the game in the last minutes when they scored two quick goals to be beat Cape United 2-1.
"We defended badly and our players never looked as if they wanted to win the game and I just don't know what to say to them," he said.
Juventus coach, Leonard Wynne said they played very badly in the first half and gave away a lot of free kicks, which resulted in conceding a goal.
However, he said they regrouped in the second half and he instilled confidence in players, and that yielded the desired results
 Amongst other teams that managed to proceed to next around are Juventus FC, Maties FC, Hellenic FC, Old Mutual Academy, Greenwood Athletic, PPG Langa, Cape United, MPCE Football Academy,Southampton FC and Stephanian Ottery FC.
© 2016 GroundUp.

This article is licensed under a Creative Commons Attribution-NoDerivatives 4.0 International License.