Yashoda Ram, NUMSA's insurance company's curious curator
Why did she suddenly change her mind about 3Sixty Life's future?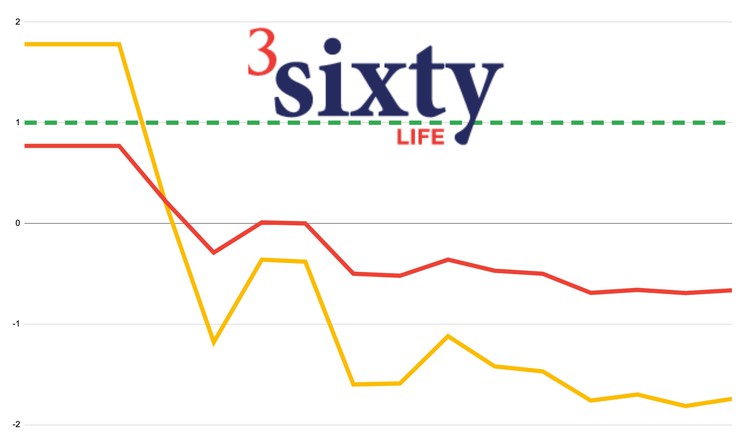 The provisional curator of NUMSA's insurer 3Sixty Life, Yashoda Ram, had been running the insurer's business for two months when she suddenly changed her mind about its future.
Ram's appointment was opposed by management including CEO Khandani Msibi, which mounted arguments that she was not a suitable curator.
As curator she paid the insurer's claims and planned the return to solvency.
But investigations prompted by Msibi's complaints showed that she had misled the Prudential Authority about her qualifications.
On 15 February the regulator applied to have her removed on 22 February. But this application failed.
But in the meantime she completed her report, in which she suddenly said she didn't think the company should have been placed under curatorship at all.
The provisional curator of insolvent insurer 3Sixty Life, which is owned by the National Union of Metal Workers of South Africa (NUMSA) doesn't believe that the insolvent NUMSA-owned insurer should have been placed under curatorship. This is the confusing story of how this confusing conclusion came to be.
In late December 2021, the Prudential Authority launched an urgent application in the Johannesburg High Court to place 3Sixty Life under curatorship. The Prudential Authority argued that this was needed to prevent the collapse of the insurer and secure the claims of policyholders. The authority made an ex parte court application — meaning without the input of 3Sixty Life, to "avoid the risk of 3Sixty taking steps to misappropriate funds, or otherwise act improperly or unlawfully upon gaining knowledge that a curator is on her way".
Acting Judge Allyson Crutchfield agreed and the Prudential Authority was granted the order on 21 January.
From that point, a curator — BDO Advisory Services' Head of Actuarial, Predictive Analytics and Insurance Innovation, Yashoda Ram - was in charge of the insurer's business. Through her, claims were paid, and a return to solvency planned.
The curatorship did not go down well in the ranks of NUMSA's commercial empire. Khandani Msibi, acting CEO of 3Sixty Life and grandee of NUMSA's investment company, launched a court attempt to regain control, taking exception to Ram's appointment as curator.
In the Prudential Authority's founding affidavit, Ram was presented to the court as their proposed curator — a person with 16 years of experience in the insurance sector. She is described as a "member of the Actuarial Society of South Africa (ASSA)", and the court is directed towards a brief CV in the annexures.
Here, Ram is represented as a member of ASSA, since 2009. She is also listed as a Certified Enterprise Risk Actuary, since 2016. Ram provided a confirmatory affidavit to the founding affidavit confirming that she has seen the contents of the application, that they were true and correct, and repeats that she is a member of ASSA. This satisfied Acting Judge Crutchfield and she was appointed.
But Msibi's lengthy criticism of Ram's experience and performance as curator required a response from the Prudential Authority, which was submitted to the court on 31 January.
Here, the Prudential Authority presents Ram's experience in the financial sector more fully, and places an emphasis on the team from BDO that was chosen to surround and support her.
Ram busters
But behind the scenes, certain events during the drafting of this affidavit had rattled the Prudential Authority's confidence in Ram. On 29 February 2022, according to five people who submitted confirmatory affidavits to the court, Ram had stated in a meeting held to finalise the Prudential Authority's reply to Msibi that she held an undergraduate degree in Actuarial Science from the University of Pretoria.
But Ram did not hold a degree in actuarial science; she did not hold an undergraduate degree of any sort. It was also not the case that Ram was a member proper of ASSA, nor that she was a certified actuary.
According to the Prudential Authority, Ram only corrected this mistake in the afternoon of 31 January, as the Prudential Authority was finalising its affidavit.
She had, by the Prudential Authority's estimation, seven opportunities to correct her claim to possess an undergraduate degree, before finally doing just so hours before the submission deadline for the affidavit. Further, contended the regulator, Ram could on several occasions have corrected the assertions that she was a fully-fledged member of ASSA and a certified auditor.
According to an affidavit by BDO's Head of Financial Services Pierre Jacobs, he and a manager in BDO's financial services division Dylan Bywater, began putting together a presentation on BDO's suitability to assume the role of curator in early October 2021.
In Jacobs's account, which is supported by emails, Ram provided them with an updated CV for the presentation, which now contained the claim that she held ASSA membership and was a certified auditor. This CV was then sent to the Prudential Authority as part of BDO's pitch to take over the curatorship, and was then used in the founding affidavit. Ram, in her affidavit, called this "an easy spelling error to mistakenly overlook, being the difference between 'completed' and 'completing'".
Jacobs's affidavit makes it clear that BDO was aware that Ram did not have an undergraduate degree when they hired her in August 2021. But this was not communicated to the Prudential Authority clearly. In a now-removed webpage, Ram's resumé on the BDO website, present from 13 January 2022, stated that her qualifications included a BA in Actuarial Science and a BSc in Psychology.
In the days that followed the 31 January affidavit, Msibi and 3Sixty Life's team continued to target Ram's suitability for the curatorship.
Ranti Mothapo of Matlotlo Group, 3Sixty Life's First Line Actuarial Function, corresponded with BDO actuary Tinashe Mashoko, and strongly suggested that Mothapo would report Ram's breaches of ASSA code.
In February Ram forwarded the correspondence, which had been copied to her by Mashoko, to the Prudential Authority's legal team. The Prudential Authority's in-house legal counsel offered Ram some reassurance, saying that there is no statutory requirement for a curator to also be an actuary.
But 3Sixty Life's claims that she was not fit for office clearly caused the Prudential Authority to reevaluate Ram - a candidate that they had promoted and defended at length in two separate affidavits.
On 9 February, it became clear to the regulator, after making inquiries with ASSA, that Ram had not completed the coursework to qualify as a certified auditor and that Ram was a so-called "student member" of ASSA, rather than a member proper. By ASSA's conventions, Ram could not call herself an actuary.
Ram had, in the Prudential Authority's eyes, misrepresented herself and her proper qualifications. Further, it appeared that 3Sixty Life was eyeing this apparent weakness in the curatorship as a way to restore control over its operations. The work of Ram and the BDO team had raised serious questions over the recapitalisation plans proposed by Msibi, and had revealed mismanagement and many worrying breaches of regulation.
On 13 February, the Prudential Authority contacted BDO to formally raise their concerns about Ram's qualifications. In its papers, the Prudential Authority argued that at this point it had little choice but to seek her removal as curator, and replace Ram with a BDO actuary with unimpeachable actuarial qualifications and standing.
On 15 February, the Prudential Authority served Ram with papers seeking to have her removed as curator, and replaced with Mashoko. Mashoko, unlike Ram, was, in fact, an actuary, and had been working on the curatorship since the beginning.
On 16 February, BDO served Ram with a letter of suspension. But Ram had been appointed as provisional curator of 3Sixty Life by order of court, and her suspension did not change her status or responsibilities.
U-turn
On the same day, at quarter to 2 in the afternoon, Ram sent an email to Msibi and other executives. She said would be "offline for the next few days" and that her colleagues would complete the report to the court which was due five days later, on 21 February. The following day, on 22 February, the application by the Prudential Authority to have her replaced as curator was set down to be heard by Judge Denise Fisher in the Johannesburg High Court.
But Ram did not hand over report writing duties to her colleagues. Instead she completed the report without discussing it with the BDO team that had been working on the curatorship alongside her, and without considering their inputs. On 21 February, Ram released her interim report which included no input from BDO's teams of actuaries, accountants, or lawyers.
As late as 11 February, Ram had written that Msibi and 3Sixty Life management's "disregard for curatorship is merely a symptom of their chronic lack of risk management and proper governance and of roles and responsibilities". Ram had on several other occasions raised concerns about 3Sixty Life's proposed recapitalisation plan, dire financial state and the company's disregard for regulations.
But now, in this report, Ram claimed that 3Sixty Life should never have been placed under curatorship. Ram wrote that if the regulator had "considered the transaction prior to placing the licence under curatorship in all its merits, the curatorship would not have been deemed necessary, based on solvency alone and the outcomes of the Internal Recapitalisation Plan proposed at this time."
The internal recapitalisation plan was the last-ditch proposal made by Msibi in early December to transfer over R100-million of property owned by 3Sixty Life's parent company Doves to the embattled insurer to boost its capital.
Ram's report continued to say that "based on this report alone", "curatorship may have not been appropriate and notwithstanding other allegations put forward by the Prudential Authority, should be opposed".
The Prudential Authority saw this as spite.
"It seems she was reacting with vengeance and only wanted to try to embarrass the Authority," wrote the Prudential Authority about Ram in a 12 March supplementary affidavit.
The Prudential Authority's urgent bid to replace Ram was not successful.
Following the 22 February hearing, Judge Fisher ruled on 3 March that the approach taken by the Prudential Authority to remove Ram as curator was not the correct one, and that the application failed for lack of urgency. Fisher said that the matter would be more properly addressed at the matter's next hearing on 22 March, when Judge Fiona Dippenaar would hear arguments on whether the curatorship should remain in place.
Fisher noted that further written and oral submissions would be needed to determine whether Ram was in fact suitable to remain as curator.
Breakdown
The Prudential Authority's 12 March affidavit details the total breakdown of the relationship between Ram and her BDO colleagues and the regulator.
On 24 February, Ram instructed 3Sixty Life's IT provider — the NUMSA-owned UIPlay — to revoke the BDO team's access to 3Sixty Life's emails. This is followed the next day by the repeal of their access to 3Sixty Life's payroll and secure file transfer service.
According to a 4 March lawyers' letter from BDO to Ram, Ram also forbade 3Sixty Life employees from contacting any member of the BDO team.
She demanded that the team from BDO that was working on the curatorship be replaced.
The team continued to try to work with her, to no avail, but without success. The terms of her suspension allowed her to continue to freely contact BDO employees, work from BDO's offices, and access BDO's internal computer systems. She also had a direct line to BDO's CEO, Mark Stewart, if she encountered any obstacles to discharging her work as curator.
In early March, BDO offered Ram the use of a conference room at a hotel — and made explicit mention that this cost would be borne by the firm –- as a neutral location for Ram and the team to work from. Ram declined.
On 7 March, Ram "had a black out at home", was admitted to Sandton Mediclinic, and discharged on the same evening. Unable to work, and booked off until 14 March, she handed over curatorship duties to Marnus Fourie, a partner at BDO and head of their insurance desk. Fourie had been processing claims for 3SixtyLife since late January and had had access to the email system until it was blocked by Ram.
On 8 March, Fourie tried to get back his access to 3Sixty Life's email server to perform his new duties. This was blocked by Ram, though she was on sick leave. She said Fourie should send any request for emails through Ronelle Brits, head of UIPlay, 3Sixty Life's IT provider and fellow member of NUMSA's stable of companies.
Following a visit to her doctor, Ram's sick leave was extended from 14 March to 31 March, "as a result of a seizure disorder which onset was caused by these proceedings", according to Ram's 18 March affidavit.
However, Ram was well enough to provide the court with her final report just after its 15 March deadline had passed. This again argues that curatorship is not needed and that the internal recapitalisation plan — the transfer of property from parent company Doves to 3Sixty Life — was sufficient to restore the insurer to a solvent position. BDO's own findings were not included in Ram's report, but attached, with her comment that she disagreed with them.
Ram's secret releases
On 11 March, the BDO team that had been working on the curatorship case came across emails sent from Ram's BDO email account to Micah Reddy, a journalist at AmaBhungane.
Ram had used her company email to forward a number of confidential documents related to the curatorship to Reddy between 1 and 11 February. These emails all related to malfeasance at 3Sixty Life that Ram had been discovering during her term as curator. The picture she painted then was of a company in crisis.
The discovery of the emails prompted BDO to take further disciplinary action against Ram. The leaking of confidential documents to the press by a person entrusted with the rescue of a company in distress was, in BDO's view, an unacceptable breach of ethics. She was suspended by BDO on 16 March.
On 22 March, Judge Dippenaar heard arguments in the curatorship matter. Judgement was reserved.
Next:
How does Ram's report compare to BDO's?
Has 3Sixty Life been ripping off its clients?
© 2022 GroundUp. This article is licensed under a Creative Commons Attribution-NoDerivatives 4.0 International License.
You may republish this article, so long as you credit the authors and GroundUp, and do not change the text. Please include a link back to the original article.
We put an invisible pixel in the article so that we can count traffic to republishers. All analytics tools are solely on our servers. We do not give our logs to any third party. Logs are deleted after two weeks. We do not use any IP address identifying information except to count regional traffic. We are solely interested in counting hits, not tracking users. If you republish, please do not delete the invisible pixel.