Women's Assembly holds sit-in after funding cut
Tshisimani Centre apologises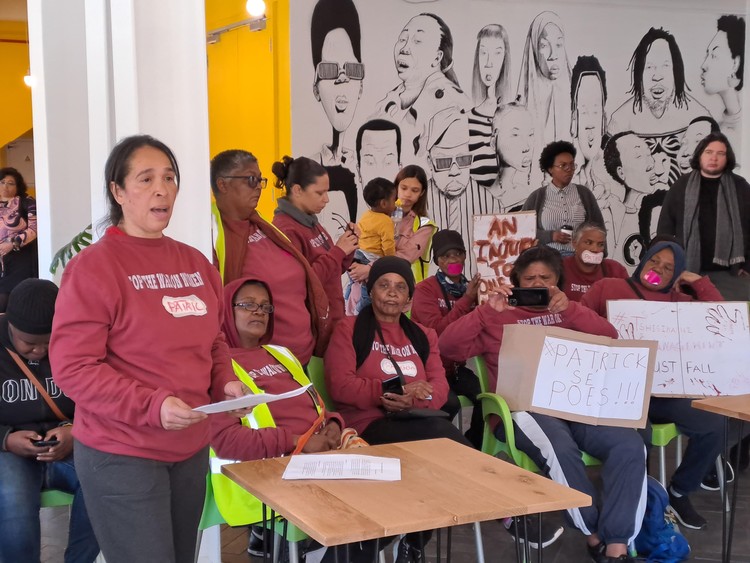 The Women's Assembly held a sit-in at Bertha House in Cape Town on Tuesday to protest against their funding from the Tshisimani Centre for Activist Education being cut.
The organisation is made up of activists from the Cape Flats, including the Bonteheuwel Development Forum, Hope for the Future, Housing Assembly, and the Delft Safety Forum. Members picketed in Constantia earlier this month.
About 40 members of Women's Assembly handed over a memorandum to Tshisimani staff, demanding why funding they had been promised until December had been cut. They threatened to occupy Bertha House, where Tshisimani is a tenant, unless they got a response.
Vanessa Nelson of the Women's Assembly and Hope for the Future said to GroundUp that she took offence to Tshisimani calling the Women's Assembly a "social group".
She said the educators in the group held counselling sessions and workshops with members about gender-based violence and rape. Kashiefa Achmat, chairperson of the Housing Assembly, said that the education the members get is about their daily struggles. She said they talk about gender-based violence, inequalities, patriarchy, and gangsterism in their communities. "This is the space where we talk about these things. This is a form of education," she said.
Zelda Holtzman, executive director at Tshisimani, and other staff members explained to the protesters that Tshisimani's funding from its sole funder, the Bertha Foundation, had been withdrawn. Holtzman said Tshisimani initially had a three-year contract but in April had been informed that this year it would not be funded. The organisation had to cut programs by 35%. "Some we were able to keep, others were cut completely," she said.
She said support had been provided for the Women's Assembly education team when it was announced that the organisation's funding as a whole would be cut. "The intention was not to abandon the movement," said Holtzman.
But Nelson said that all or none of the team must be funded.
In a statement issued on Wednesday, Tshisimani apologised. Tshisimani said the decision to support only the education and learning team was not in line with its commitments to the Women's Assembly for 2022 and had been taken without consulting Women's Assembly members. A further meeting with the Women's Assembly would be held where its members could plan the way forward.
Dodgy people are suing us. Please support us by contributing to our legal costs and helping us to publish news that matters.
© 2022 GroundUp. This article is licensed under a Creative Commons Attribution-NoDerivatives 4.0 International License.
You may republish this article, so long as you credit the authors and GroundUp, and do not change the text. Please include a link back to the original article.
We put an invisible pixel in the article so that we can count traffic to republishers. All analytics tools are solely on our servers. We do not give our logs to any third party. Logs are deleted after two weeks. We do not use any IP address identifying information except to count regional traffic. We are solely interested in counting hits, not tracking users. If you republish, please do not delete the invisible pixel.