We'll keep fighting, say Port Elizabeth protesters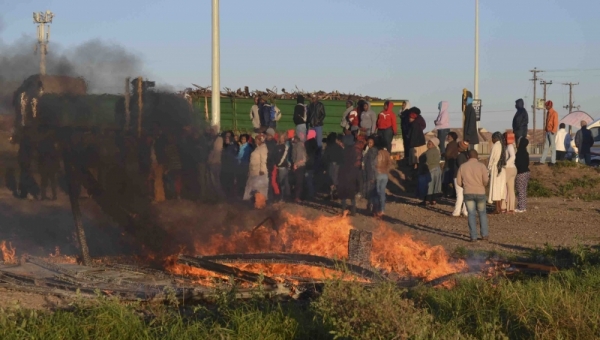 Angry residents of an informal settlement in Port Elizabeth who took to the streets on Monday have vowed to continue with their protests until they are moved to better housing nearby.
Vastrap residents torched an Algoa bus on Monday and damaged two others in a protest against the Nelson Mandela Bay Municipality's housing plans.
Situated just next to Booysen Park, where services are available, Vastrap informal settlement has no running water and the roads are inaccessible when it rains.
It is also one of the few settlements in Port Elizabeth where the bucket system is still used.
One of the organisers of the protest, Queen Swartbooi, 48, said she had been living in Vastrap for more than ten years.
"I live with my four-year-old son who has asthma. We don't have electricity of our own. If we connect electricity from Booysen Park, the police and municipality disconnect it and arrest us," she said.
Swartbooi said the municipality wanted to move the Vastrap residents to Khayamnandi in Despatch but they wanted to move to Chatty, nearby.
"We have held several peaceful meetings with the municipality but nothing concrete has so far happened," she said.
Khomani Cele, 60, left his home in Mt Ayliff seven years ago after he got a job as a packer at a local citrus exporting company. He lived in Motherwell but when his contract was terminated he came to Vastrap. "A local councillor told us to build shacks so that we will have our names on the RDP database.The councillor is nowhere to be found," he said.
"This settlement is marginalised.There are no jobs and the health service is poor. Crime is very high here with drug lords ruling the area."
Municipal officials say the Vastrap residents will be moved to Joe Slovo West and Khayamnandi where clearing and servicing of the stands is at an advanced stage.
Spokesperson Mthubanzi Mniki said: "There is no space in places they want to be moved to. We have 1,060 cleared sites in Chatty but there are roughly 5,000 families in Vastrap … They all want to be relocated to Chatty."
Dodgy people are suing us. Please support us by contributing to our legal costs and helping us to publish news that matters.
© 2016 GroundUp.

This article is licensed under a Creative Commons Attribution-NoDerivatives 4.0 International License.