Delft residents march to Premier Winde's office
"We have been staying in Tsunami for 15 years, but we still don't have electricity"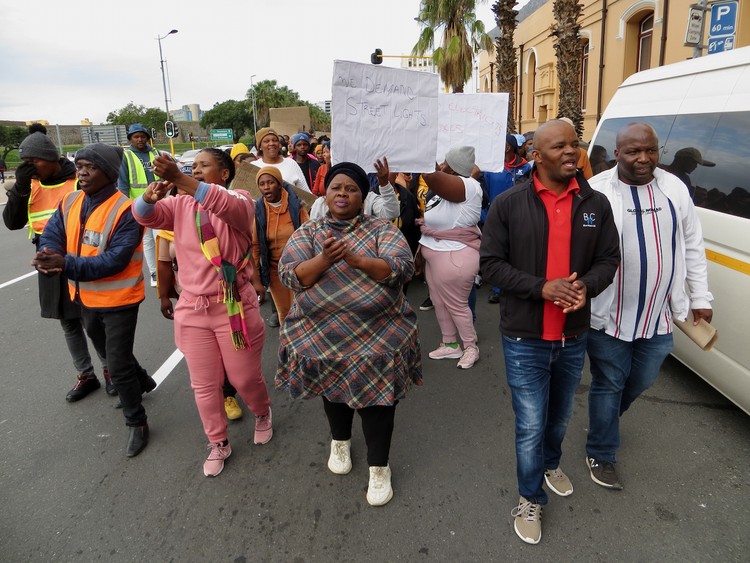 About 100 people from Tsunami informal settlement in Delft marched to the Western Cape Premier Alan Winde's office in Cape Town city centre to demand their area be developed.
Community leader Anele Mcaleni said about 3,300 families lack basic services in Tsunami.
"We have been staying in Tsunami for 15 years, but we still don't have electricity. Illegal connections cause fires," said Mcaleni. "We want the government to install electricity so that we can get it legally."
He said their streets are flooded and in a poor condition. Police and emergency vehicles cannot enter the settlement. Sick people are "loaded" onto trolleys and taken to ambulances waiting on the peripheries of Tsunami.
The lack of police patrols and street lighting meant people are robbed on their way to work or school in the dark winter mornings.
Lindikhaya Maxongo, a resident, said his children are too scared to use the communal toilets at night in the dark and have to use a bucket in their shack.
Mcaleni said the City of Cape Town last fixed damaged standpipes in 2015.
"We don't have a single water tap in Tsunami now. Residents have to dig up underground municipal water taps in order to get water," he said.
The protesters also want flush toilets to replace their chemical toilets. "We want the government to allocate one flush toilet for five families," he said.
Community leader Melikhaya Mqulwana said they want to be relocated nearby temporarily while Tsunami is developed.
A protestor explained that the residents although these are issues for the City to address, they were taking their demands to the provincial government because the City has not helped them.
Francois de Wet, Chief Financial Officer for the Western Cape Department of Human Settlements, received the protesters' memorandum on behalf of the premier.
"We are planning huge projects that will make a difference in your lives," he said.
De Wet said he would meet the Tsunami leaders to discuss the plans.
Mcaleni responded, "We are tired of talking. We need action. Not even dogs can live in the conditions we live in."
Dodgy people are suing us. Please support us by contributing to our legal costs and helping us to publish news that matters.
© 2022 GroundUp. This article is licensed under a Creative Commons Attribution-NoDerivatives 4.0 International License.
You may republish this article, so long as you credit the authors and GroundUp, and do not change the text. Please include a link back to the original article.
We put an invisible pixel in the article so that we can count traffic to republishers. All analytics tools are solely on our servers. We do not give our logs to any third party. Logs are deleted after two weeks. We do not use any IP address identifying information except to count regional traffic. We are solely interested in counting hits, not tracking users. If you republish, please do not delete the invisible pixel.