Trial that's more important than Pistorius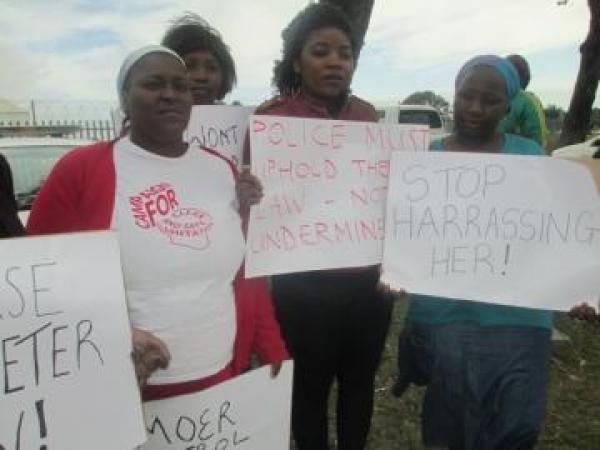 While Oscar Pistorius's trial is one of the most watched in history, the trial of Angy Peter and Isaac Mbadu has been running at the same time. It tells us far more about crime, policing and justice in South Africa than the Pistorius one.
Early on the morning of 14 October 2012 Rowan du Preez was found by police in a deserted area known as Blueberry Hills in Kleinvlei, thirty five kilometres from central Cape Town. Du Preez had been severely burnt. After slipping into a coma he later died in hospital from his injuries.
On the same day Angy Peter and Isaac Mbadu were arrested and charged with the murder and kidnapping of du Preez. They spent six weeks in Pollsmoor Prison. Peter was pregnant during this time. They were granted bail by the Kuilsriver Magistrates' Court in December 2012.
The State alleges that Peter and Mbadu, a married couple, and two other men, kidnapped du Preez, beat him and then 'necklaced' (placing a tyre around a person's body and setting it alight) him. The State further alleges that du Preez gave a 'dying declaration', telling police that Peter and Mbadu were responsible.
Before their arrest Peter and Mbadu lived in Bardale, Mfuleni and knew du Preez who lived close to their house. Du Preez was a well-known criminal in the area. The pair's bail hearing had to be transferred to Kuils River because all the magistrates at Blue Downs had presided over proceedings in which du Preez was an accused.
Two months prior to du Preez's death he had stolen a television from Peter and Mbadu's house. At that time it emerged that du Preez was a police informant and was also working with a police officer who allegedly bought his stolen goods. Peter and Mbadu opened a case at the Mfuleni police station for their stolen television and lodged a complaint against the officer.
Peter and Mbadu say that they are innocent of all charges and played no part in du Preez's death. They maintain that they are being maliciously prosecuted and framed because they exposed a corrupt South African Police Service (SAPS) officer.
Both work at the Social Justice Coalition (SJC) and are long-standing activists in their communities. For years Peter was the public face of the SJC's criminal justice campaign and in particular the O'Regan/Pikoli Commission of Inquiry into Policing in Khayelitsha. Peter monitored criminal cases and assisted victims and families dealing with the police and the courts in Khayelitsha and Mfuleni.
Following the initial charges related to du Preez, Peter was wanted by the police in connection with three further charges of kidnapping, said to have occurred in Khayelitsha. One of these resulted in her incarceration in Pollsmoor for a further two weeks in August 2013. To date the SAPS has not pursued any of these three cases. The reason provided is that the complainants cannot be traced.
Peter says that these cases, as with the murder and kidnapping, are pure fabrication by corrupt officials to intimidate and silence her. After their initial arrest, Peter, Mbadu and their young family were subjected to constant police harassment and threats. Search warrants (that according to Peter's lawyers were unlawful) were executed in the middle of the night, including the searching of their young children and new born baby. After staying in safe houses for extended periods of time, the family moved out of Mfuleni.
Eighteen months after they were arrested, their trial for murder and kidnapping began on 17 February 2014 at the Western Cape High Court where it continues. The case is before Judge Robert Henney. For the past two months —with a two week recess at the start of April— the State has been presenting its case. To date only six witnesses have testified.
The first three witnesses who testified live in Bardale and were relatives and friends of the deceased. The first witness was du Preez's grandfather. All three testified about events leading up to his death, but none claimed to have seen the accused necklace the deceased.
The following three witnesses were SAPS officers, two from Blue Downs, and the other from Kleinvlei. All three were present on the scene where du Preez was initially found. The two officers who arrived on the scene first, Captain Kok and at the time Student Constable Barnado, testified that when du Preez was asked what happened to him, he replied that Peter and Mbadu were responsible.
Under cross examination by Advocate William King, counsel for Peter and Mbadu, witnesses have provided various accounts of their stories that at times contradict both themselves and the evidence of other witnesses. King has requested many vital documents from the State – such as occurrence books from the relevant police stations and diaries and pocket books belonging to the officers. While the State has produced some of these, they claim that a number are missing and cannot be found.
Judge Henney has at times expressed incredulity at the way the initial investigating officer conducted his investigation. Perhaps most noteworthy is that the detective had one witness translate for a second witness, and then failed to read the statement back to either. He also commissioned a statement that he himself had taken.
The trial continues today. At least three more witnesses are expected to give evidence before the State concludes its case – the ambulance attendant, the doctor at the hospital, and the physician who conducted the post-mortem. Before the State finishes its case the all-important admissibility of the alleged 'dying declaration' will be decided.
The author is an employee of the Social Justice Coalition. He has attempted to provide a "neutral" description of a case that has been ignored by most publications.
Dodgy people are suing us. Please support us by contributing to our legal costs and helping us to publish news that matters.
© 2016 GroundUp.
This article is licensed under a
Creative Commons Attribution-NoDerivatives 4.0 International License
.