The President came, the President went, and nothing changed
15 months after the Harrismith N3 protests, the people of Intabazwe say they remain forgotten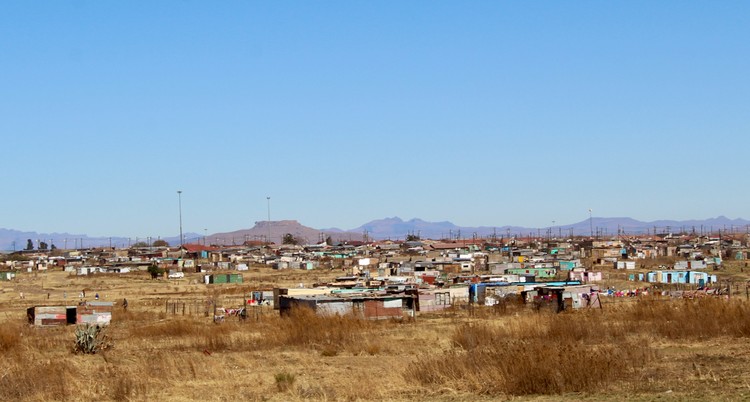 In May 2021 protesters from Intabazwe shut down Harrismith and blocked the N3.
They appealed to the President to intervene as the Maluti-a-Phofong Local Municipality was failing to provide basic services.
In October 2021, President Ramaphosa came to Intabazwe stadium for a campaign rally and promised change if the ANC was re-elected.
15 months after the protests, no progress is visible in the living conditions of 20,000 people in Intabazwe.
In May 2021, protesters from Intabazwe closed down all shops and schools in Harrismith, and for a week stopped traffic at various times on the busy Free State N3. Police waged running battles for days, and scores of protesters were arrested.
The demonstrators said the Maluti-a-Phofong Local Municipality had failed to provide basic services and government had forgotten them. They lacked water, electricity, toilets and passable roads.
At the time, the protesters appealed to President Cyril Ramaphosa to intervene.
On 17 October 2021, the President visited the area and held a campaign rally at Intabazwe stadium.
Residents reportedly picketed on the sidelines, and they complained that they had been barred from entering, and that ANC supporters had been bussed in from elsewhere.
Ramaphosa was quoted acknowledging that Maluti-a-Phofong municipality was failing. He told the crowd: "Elect the ANC back into office to turn things around. We shall no longer tolerate incompetence."
But absolutely nothing has changed in Intabazwe, says community leader Mbuyiseli Disten, who has been a community leader for ten years in Skwata Camp, informal settlement in Intabzawe.
Based on our previous visit, we could see no improvement since May 2021.
Intabzawe has thousands of people, mostly from KwaZulu-Natal, living in shacks. Only two of its five wards are electrified, have toilets and passable streets. The other three wards – Matoding, Emikhukhwini, Emakhosini – are home to about 20,000 people. Only half of these have "legal stands", according to ward 22 community leader Maseko Philip.
Linah Selepe, who attended the presidential speech, said, "The way we were dancing and chanting songs welcoming him we never thought it would just be talks. Even after the speech, we left the stadium happily feeling that our father has been here and things would fall into place. Little did we know."
Selepe said they understand that electricity installation might take time, but all they are asking for right now is water. If they are not provided with RDP houses, then they should be given lawful stands so that they can build for themselves, said Selepe.
A 71-year-old ANC women's league member, who has lived in Skwata Camp for over 25 years, said there are still no proper toilets or water provision, the streets are inaccessible, and they rely on illegal connections for electricity. She did not want to be named.
"A proper shelter with running water, electricity and a toilet is the only thing I am asking for in my age,'' she said.
She said vehicles can't enter the settlement and they have to take ailing people by wheelbarrow to meet the ambulance. She said it was distressing that the deceased also have to be wrapped up and carried by wheelbarrow for about two kilometres to get to a hearse or undertaker.
Municipality spokesperson Thabo Kessah said Intabazwe was included in the Integrated Development Plan of 2022/27, adopted by the Council on 28 June 2022.
Kessah said there are currently two projects underway – roadworks of R8.8-million for the 2022/23 financial year, and sewer works to service 1,370 stands at a cost of R41-million in the next two years.
But Disten said the only thing they knew about these projects was the three kilometres of road linking Skwata Camp to the N3 that was graded.
"It didn't even reach our shack streets," he said. "While we were still watching, the contractor left us without notice. We don't know what happened'.'
As for the sewer works, Philip referred us to "a big sewer hole they left last year".
Spokesperson Kessah said that the sewer project stopped when the previous service provider left the site, leaving the sewer pit open. He said the necessary legal process had been completed and a new service provider appointed.
We saw vehicles of a construction company on site, but they were standing idle on Thursday. We saw channels dug for laying pipe and a fresh open pit. The original "big hole" had been covered, after ten-year-old Lungelo Hlongwane drowned there.
His mother, Nhlanhla Eunice, told us: "I had all my hopes on Lungelo as he was a good boy. At school, teachers would always welcome me warmly because my boy was very smart. He obtained three certificates and we were looking forward to his school prize giving, because I was sure he was going to get a trophy."
Eunice said she had believed that he was the one who was going to take them out of shack life.
Dodgy people are suing us. Please support us by contributing to our legal costs and helping us to publish news that matters.
© 2022 GroundUp. This article is licensed under a Creative Commons Attribution-NoDerivatives 4.0 International License.
You may republish this article, so long as you credit the authors and GroundUp, and do not change the text. Please include a link back to the original article.
We put an invisible pixel in the article so that we can count traffic to republishers. All analytics tools are solely on our servers. We do not give our logs to any third party. Logs are deleted after two weeks. We do not use any IP address identifying information except to count regional traffic. We are solely interested in counting hits, not tracking users. If you republish, please do not delete the invisible pixel.