Racial tension over housing project
Residents from Arla Park have occupied RDP houses built for people in Snake Park informal settlement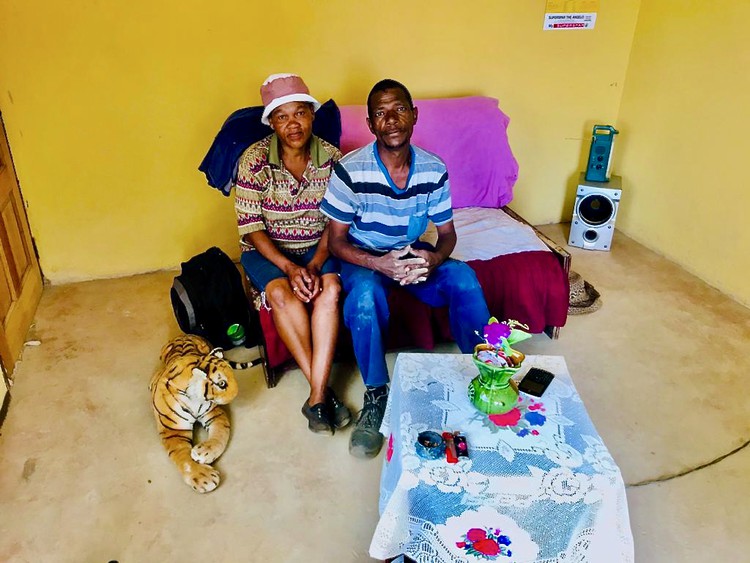 Racial tensions have arisen over a housing project in Mackenzieville extension 2 in Nigel.
Several hundred partially built RDP houses earmarked for residents living in shacks in Snake Park informal settlement, have been occupied by residents from Arla Park in what they term a "hostile takeover". The Snake Park residents are black African and the Arla Park residents are coloured.
The occupiers accuse the Ekurhuleni municipality of racially discriminating against them and giving houses to shack dwellers.
At the centre of the occupation is the Greater Nigel United People's Parliament, an organisation led by Miles Bhudu.
"We did not need to seek permission from anyone. Occupation of the houses was long overdue. We are trying to contain the situation to avoid conflict " said Bhudu.
"We have taken the houses illegally," said Elsebe Fisher, one of the occupants. "That's why we call it a hostile takeover. It was peaceful and there was no bloodshed. The coloured community has been having problems applying for houses. That's the reason why we took it upon ourselves to take the houses."
"We feel that the coloured community was left out because we do not believe in squatting to get houses," said Zill Rittles of the Greater Nigel United People's Parliament. "The norm is that people must live in the squatter camps to get a house and they are allowed to jump the queue of the housing waiting list. Coloureds who desperately want houses and do not believe in squatting are being left out in the allocation of RDP houses. We want to put an end to the belief that people should squat in order to get houses."
"The houses have been vandalised for over two years and we've done the municipality and ourselves a favour by moving in. It is a simple occupation. All you have to do is write your name on the house and it's yours," she said.
According to the occupiers, Snake Park residents have tried several times to make them leave. However, the occupiers keep returning and some have been in the houses for two months.
The occupiers got a protection order against residents of Snake Park on 6 January. The shack dwellers in turn have been appealing to the Ekurhuleni municipality to fix the situation.
RDP project abandoned
The Mackenzieville RDP project has been a work in progress since 2014. Frustrated residents protested and burnt Arla Park Satellite police station after they clashed with police during an attempt to occupy houses in March 2019. Snake park informal settlement then held a march following the protest demanding answers about the RDP houses.
Lindiwe Mofokeng, a community representative for Snake Park, has tried to get the occupiers to vacate the houses but to no avail. She and others feel helpless as the protection order prevents them from going near the RDP houses. Mofokeng and other people in Snake Park have been waiting years to move into the houses. She worries that the municipality may not succeed in moving the occupiers out.
"We do not understand why there is now a conflict between us and the coloureds. There is nothing racial about the situation but only people who are on the housing list should be allocated houses. We are very worried because we and the elderly in our community want houses. The situation should be resolved and due process followed," she said.
Both sides are desperate. When we visited the housing project, Wanda and Lucas Bates were sitting on a couch inside the house they had occupied. Lucas is disabled. The couple say they have been renting backyard rooms in Arla Park for 14 years.
Wanda says she was the first person to hang curtains inside the houses. However they have been pushed out several times by Snake Park residents. "I was doing all the fighting because my husband is disabled. I was willing to die for this house," she said.
Meanwhile in Snake Park Maria Mhlabi, who is 75, has been waiting to move into a house. However her health is failing and she can no longer look after herself. "I'm told that people have moved into my house. Now l may never get a house," she said.
"Young people have moved into the houses while elderly people like myself do not have houses. My feet hurt because l have been going there everyday to see if l can get a house for myself," said 74-year-old Doy Zwane.
Her shack is collapsing. She says whenever it rains she stays awake at night because every corner of her house leaks.
Ward councillor Wollaston Labuschagne published a statement saying: "It appears that the Ekurhuleni Human Settlements Department or the Gauteng Housing Department have allowed certain people to move into a few of the houses. I find this very peculiar, as I am yet to see the housing beneficiary list.
"Furthermore, I have not received an invitation to any handover ceremony, despite being the ward councillor. I have also submitted numerous questions to council regarding this project, and the Mayoral Committee has not been forthcoming with answers. My suspicion is that both the Ekurhuleni and Provincial Human Settlements Departments have run out of funds, as both contractors have abandoned the RDP project site."
The Ekurhuleni municipality said that it is taking legal action to evict the occupiers. "The housing allocation policy and procedures are non-discriminatory on the basis of race, colour and background," said spokesperson Themba Gadebe.