Protesters from Khoisan occupation picket on N2
Knoflokskraal residents want to be allowed to repair their homes and be allowed to farm the land.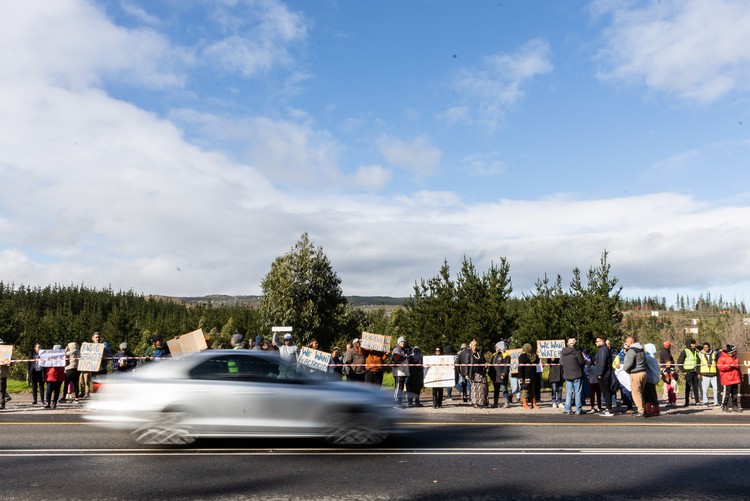 About 100 residents of the Knoflokskraal Khoisan occupation protested next to the N2 close to Grabouw in the Western Cape on Saturday morning.
They want the Department of Public Works (DPWI) provide them with basic services and lift the containment order preventing them from fixing their damaged homes.
The United Knoflokskraal Khoi Council sent a letter to the department outlining their demands
About 100 members of the community of Knoflokskraal outside Grabouw protested next to the N2 on Saturday morning. They are demanding the Department of Public Works allow them to continue building their damaged houses and provide them with basic services.
Protesters held placards that read: "Sanitation now" and "We want water".
United Knoflokskraal Khoi Council (UKKC) chairperson Omar Sadien said families had not had access to water, sanitation, or electricity since they first started occupying the land in 2020. The settlement has since grown to about 4,000 people.
Speaking to GroundUp before marching to the N2, Sadien said: "We belong here. And we've got nothing. We've always had nothing. We're not asking for much."
This year the Department of Forestry, Fisheries and the Environment handed the 1,800 hectares of land now known as Knoklokskraal back to the Department of Public Works (DPWI).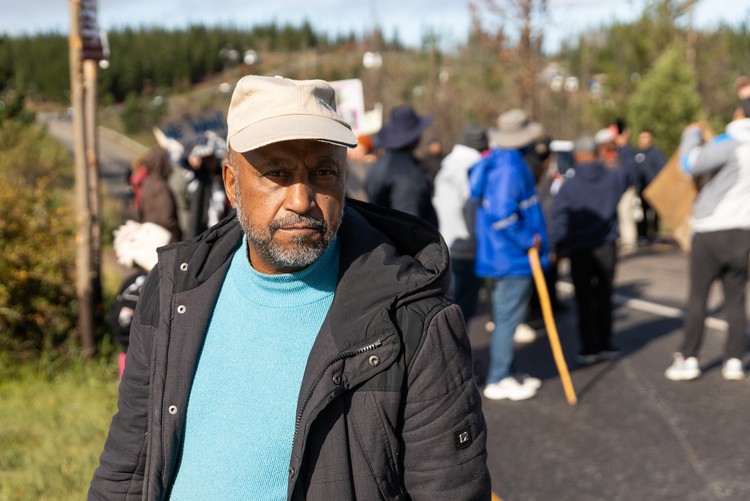 Sadien said protesters had two demands.
First, they wanted the containment order which prevents them from building further structures on the land to be lifted. Sadien said many houses are in need of fixing and maintenance since a big storm damaged their homes a few weeks ago. But people at Knoflokskraal are not allowed to take building materials through the entrance which is manned by security guards employed by DPWI.
Second, Sadien said they wanted the DPWI to stop cancelling and postponing meetings with the people of Knoflokskraal.
"It doesn't look like they know what they want to do with us," he said.
The Theewaterskloof municipality has said in Parliament that it doesn't have the funds to provide the people at Knoflokskraal with water or toilets. The community wants these services to be provided by the DPWI as the owner of the land.
A letter to the DPWI from a coalition of different groups and tribes at Knoflokskraal which outlined these demands, read: "We understand that a legal and political process needs to be followed… We are gatvol and reaching the end of our patience…. Your delays are causing our people untold suffering from hunger, sickness and unemployment. Our homes are leaking and incomplete."
The letter was emailed to the DPWI and also given to members of the South African Police Services (SAPS) at the protest on Saturday.
Many of the people living at Knoflokskraal consider themselves to be "reclaimers" and not "squatters". They believe they have an indigenous right to the land. GroundUp has previously reported that they want to create a self-sustaining Khoisan community.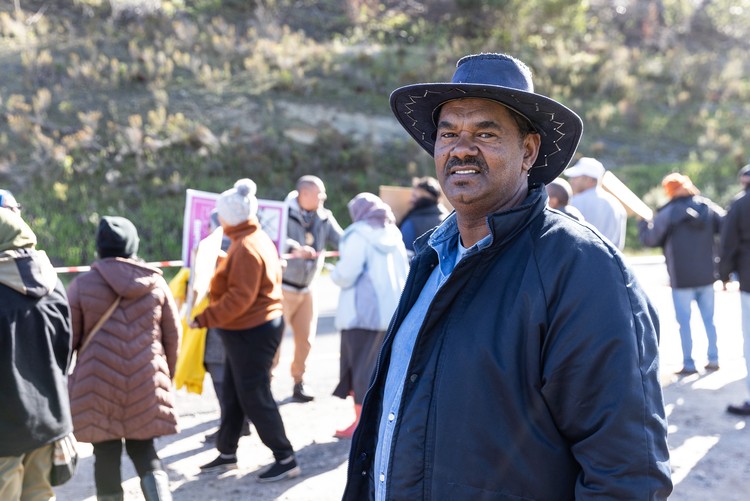 Julius Maree, a small-scale farmer and chairperson of the group Emerging Farmers, said they need the land to grow produce and farm cattle. There are many people already farming at Knoflokskraal but they have no access to water and are dependent on the rain, rainwater tanks, and gutters to use for irrigation, he said.
"We want to farm and plant here so we can service our community. There are people who are struggling a lot here," said Maree.
He said they are not allowed to bring any machinery, tractors, or other apparatus used for farming past the entrance because of the containment order.
Another resident, Abe Abrahams, said the people at Knofloksraal are in desperate need of water.
"People hit with Covid-19 came here seeking refuge," said Abrahams. "All we are asking, leave us in peace, and at minimum give us some water."
Abrahams said that they really thought that the DPWI would help them.
Resident Jasmina Rawood, who lost everything when a fire broke out at Knoflokskraal in 2022, said despite the hardship the community is quite close-knit. "The little bit that we have we share with each other, said Rawood. She said a weekly soup kitchen feeds about 100 people at a time.
The DPWI had not responded to GroundUp's queries by the time of publication.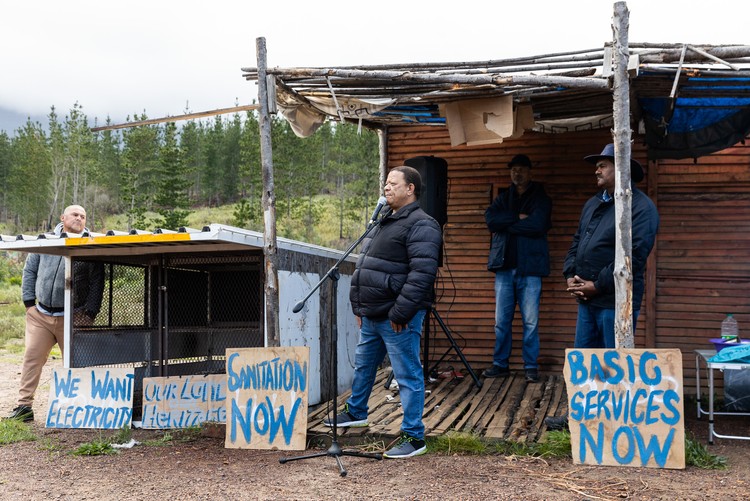 © 2023 GroundUp. This article is licensed under a Creative Commons Attribution-NoDerivatives 4.0 International License.
You may republish this article, so long as you credit the authors and GroundUp, and do not change the text. Please include a link back to the original article.
We put an invisible pixel in the article so that we can count traffic to republishers. All analytics tools are solely on our servers. We do not give our logs to any third party. Logs are deleted after two weeks. We do not use any IP address identifying information except to count regional traffic. We are solely interested in counting hits, not tracking users. If you republish, please do not delete the invisible pixel.