PRASA had no leg to stand on in Siyaya matters, tribunal on Makhubele hears
Siyaya lawyer testifies on how R56-million settlement was reached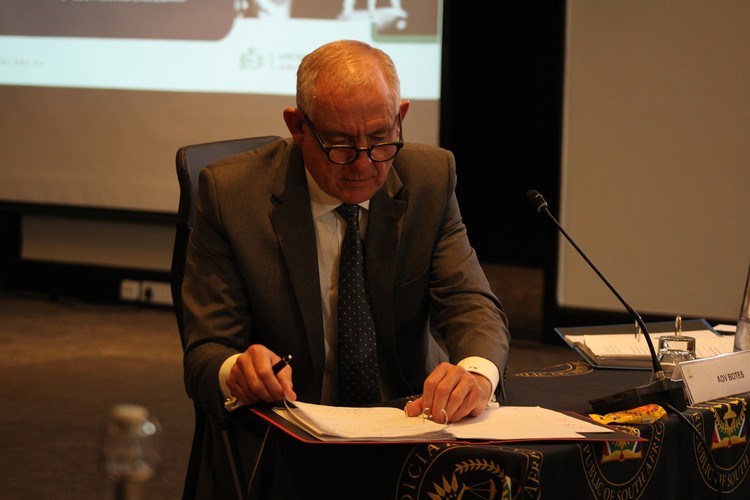 The Judicial Conduct Tribunal, which is considering allegations against Judge Tintswalo Annah Nana Makhubele, continues this week.
Judge Makhubele's actions in relation to Siyaya, a company accused of corruption that invoiced PRASA for tens of millions of rands, was the focus on Monday.
Advocate Francois Botes told the tribunal that PRASA had "no leg to stand on or a valid defence in law" in the Siyaya matters.
Botes said PRASA employees conceded that the Siyaya group of companies had rendered services and that money was due to them for those services.
The Passenger Rail Agency of South Africa (PRASA) "had no leg to stand on" in the Siyaya matters, advocate Francois Botes told the Judicial Conduct Tribunal of Judge Tintswalo Annah Nana Makhubele on Monday.
Botes was the fourth witness before the tribunal in Rosebank, Johannesburg. The tribunal is deciding on the conduct of Judge Makhubele. The tribunal is a result of a complaint lodged by commuter activist group #UniteBehind, against Makhubele, with the Judicial Service Commission (JSC) in 2019.
In the complaint, Makhubele is accused of breaching the separation of powers principle, and of improper conduct while she was PRASA's chairperson. #UniteBehind claims she negotiated and entered into a confidential settlement agreement with Siyaya, a corruption-accused company. The activist group argues that in doing so, Makhubele sidelined PRASA's internal legal team.
Mathopo Attorneys and Krause Attorneys enlisted Botes's services in May 2017 to represent Siyaya DB Consulting and Siyaya Rail Solutions in the litigation proceedings referred to as the Siyaya matters.
The Siyaya matters relate to the receipt of summonses from the Siyaya group of companies by PRASA between 2015 and 2016 for outstanding payments for services rendered. The tribunal previously heard that PRASA's legal team believed they could defend the matters because of inconsistencies in the contracts and claims of services rendered by the Siyaya group of companies.
But, according to Botes, PRASA did not "have a leg to stand on or a valid defence in law". This, he said, became evident during the inquiry into Siyaya DB Consulting's liquidation in August 2017. Some PRASA employees appear at this inquiry and PRASA's attorneys, Diale Mogashoa, kept a watching brief. Botes said he was the counsel that led witnesses' evidence at the inquiry.
Botes said concessions made by the PRASA employees during the inquiry made it clear that the Siyaya group of companies did, in fact, render services, and payment for those services was due to the companies. "There were no real or meaningful disputes, as far as I understood it," he said.
Following the inquiry, Botes said Makhubele reached out to him in November 2017 "to ventilate the Siyaya matters", soon after her appointment as chairperson of PRASA's interim board in October 2017.
According to Botes, Makhubele contacted him because she felt that "personnel within the legal department of PRASA undermined the authority of … board members, including herself".
Botes said he and Makhubele had a long-established relationship and that his communications with her regarding the Siyaya matters "were bonafide". He told the tribunal that he had submitted a report to Makhubele regarding what happened at the insolvency inquiry and "whether matters were capable of being settled".
Botes said that before Diale Mogashoa sent a settlement offer to Mathopo Attorneys and Krause Attorneys, he had communicated with Makhubele on WhatsApp and was "under the impression that PRASA was prepared to settle on capital amounts and interest".
When the letter sent to Mathopo Attorneys and Krause Attorneys only indicated a settlement offer based on capital amounts, Botes said he told the attorneys acting on behalf of the Siyaya companies to question why Diale Mogashoa's offer was not in accordance with PRASA's instructions, as he heard from Makhubele.
According to Botes, Diale Mogashoa Attorneys resent settlement offers which were inclusive of interest and these were then accepted and signed. The settlement was finalised in February 2018.
Because the payment was not forthcoming following the settlement, the attorneys representing the Siyaya group of companies resolved to make the settlement an order of court, which was due to be heard in March 2018. It was at this point that suspended PRASA head of legal risk and compliance, Martha Ngoye, intervened to stop the payment of about R56-million to Siyaya.
A public outcry prompted the Minister of Transport to permit a rescission of the settlement, leading Ngoye to successfully apply for an urgent interdict to stop the payment.
During cross-examination, advocate Vincent Maleka, representing Makhubele, said the document before the tribunal showed that Botes was the person to initiate contact between himself and Makhubele, and not the other way around as Botes had testified. Botes said he did not recall initiating contact but would accept what was included in the documents.
Maleka then posed the terms of reference of the tribunal to Botes, which outlined the charges against Makhubele. He asked Botes if he had any information that Makhubele "terminated or caused to be terminated the appointment of Diale Mogashoa Attorneys" to which Botes responded "No".
On the allegation of a confidential agreement, Maleka asked Botes whether he shared all the documents in his possession with PRASA's legal counsel and attorneys. He also asked if there was anything to hide regarding the settlement, and who the settlement was negotiated by, to his knowledge.
Botes responded said he shared all documentation as he believed the process should be guided by "total transparency and honesty … that's why I disclosed everything". He said he negotiated the settlement and the process was "transparent" with "no secrets".
The Tribunal resumes on Tuesday at 10am.
© 2023 GroundUp. This article is licensed under a Creative Commons Attribution-NoDerivatives 4.0 International License.
You may republish this article, so long as you credit the authors and GroundUp, and do not change the text. Please include a link back to the original article.
We put an invisible pixel in the article so that we can count traffic to republishers. All analytics tools are solely on our servers. We do not give our logs to any third party. Logs are deleted after two weeks. We do not use any IP address identifying information except to count regional traffic. We are solely interested in counting hits, not tracking users. If you republish, please do not delete the invisible pixel.