Police shoot child in mouth
Hout Bay residents protest against shrinking lobster quotas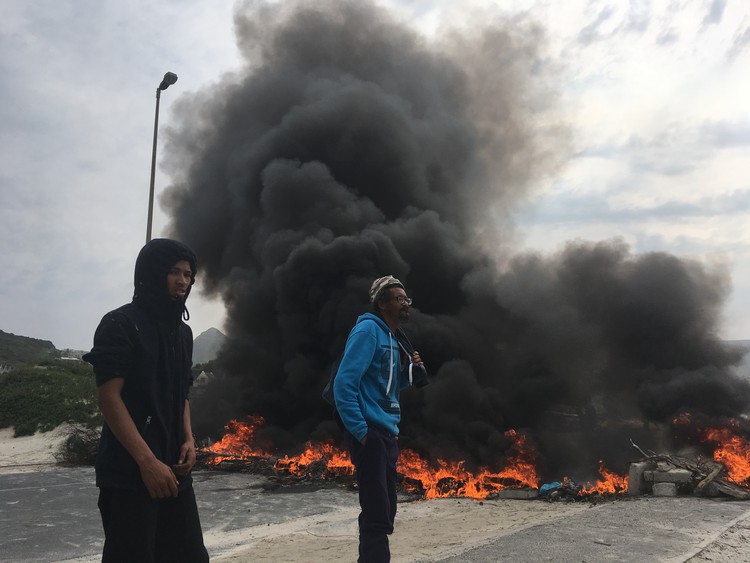 Public order police shot a young boy at point blank range in the mouth while dispersing a protest at Hout Bay harbour on Tuesday afternoon. The boy was hiding beneath an upturned wooden table behind a line of burning debris strewn by residents of Hangberg infuriated by looming fishing quota cuts.
The protest was sparked by an announcement by the Department of Agriculture, Forestry and Fisheries (DAFF) last week that rock lobster quotas would shrink further this season. The residents also vented at systemic service delivery problems and a breakdown in communication between their community and the City of Cape Town.
"Why do we have to do this to be heard?" asked Zaida Arendse, 38, who lost her job when a fishing factory closed in the harbour in 2010. Her husband had been unsuccessful in a recent quota application that had cost R400 and taken hours, Arendse said.
On Monday, several Hout Bay fisher representatives joined a delegation at DAFF offices in Cape Town. When their requests to meet with Minister Senzeni Zokwana were denied — Zokwana is currently in China — they returned to Hangberg and brewed plans for a demonstration, community leaders said.
The protest began with several dozen residents standing behind a barricade of burning Port Jackson bushes gathered from the adjacent dunes. A dreadlocked fisherman who declined to be named yelled grievances at police beyond the flames. "We watch tourists spend millions in this harbour but nothing comes to us," he shouted. "This land belongs to our people but we cannot fish."
The fire grew, fuelled with petrol and rubber tires, as more residents streamed downhill from Hangberg. Within an hour there were more than 200 people in the road, separated from the police by a curtain of thick smoke.
With no exit from the harbour, motorists drove from the Mariner's Wharf parking lot onto the beach. At least one vehicle got stuck in the sand.
Residents helped evacuate more than 150 stranded tourists, walking them down the beach. A breakaway group of protesters had earlier attempted to rob two tourists outside their busses. They attempted to snatch cameras and threw a woman wearing a headscarf to the ground.
Protest leaders quickly denounced the violence, calling for order. "We don't hurt anybody. They are here to witness our struggle," one man said.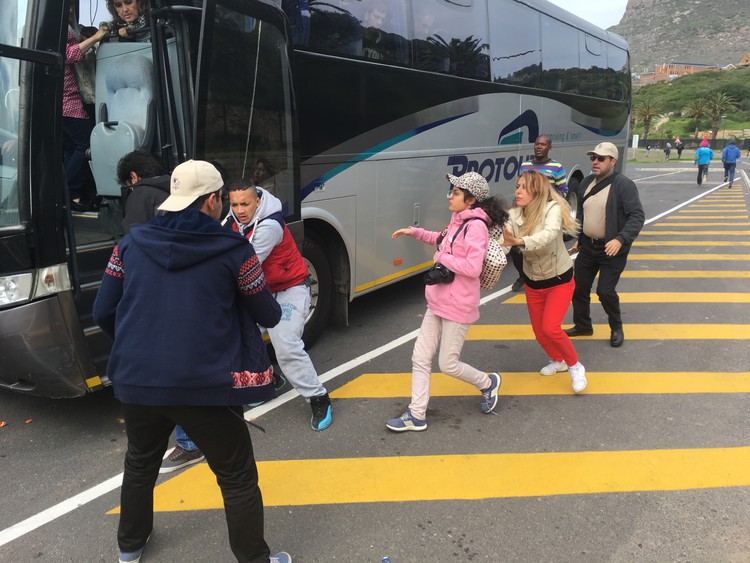 Old tensions over housing, dating back to attempts by the City of Cape Town to evict shack dwellers in 2010, rose once more as protesters loudly denounced the Hangberg Peace and Mediation Forum (PMF), the controversial body mandated to negotiate with the city.
After protesters blocked the same road last month a new delegation of leaders, not affiliated with the PMF, reportedly met with city officials, but a community meeting last week disintegrated, said a Hangberg representative who declined to be named.
"That's what led to this," he said, gesturing towards the angry crowd.
A new upmarket housing development on the slopes opposite Hangberg has added to resentment among community members who continue to face chronic housing shortages. Residents say that the estate, to be built behind a newly constructed fence that splits the mountainside above the small fishing harbour, contravenes a 2011 peace accord drafted when the PMF formed.
"There was supposed to be no development until we received low-cost housing," said Darrel September, a harbour security guard from Hangberg who helped evacuate a group of tourists.
Police moved on the protest after men tossed wooden tables from Mariner's Wharf onto the flames. A last-ditch attempt to negotiate by protest leaders failed. "You have two minutes to clear," one of the policemen warned. "On my signal," he said to his men.
They advanced in front of a water cannon, firing rubber bullets and lobbing stun grenades. The protesters scattered onto the beach and towards the harbour. Fifteen meters behind the barricade a wooden table lay tilted at an angle. Three people — the young boy and two women — crouched beneath it. A policeman fired at least three times at them from less than two meters away. People watching from the dunes beside the road screamed at the officer to stop.
The boy looked younger than ten. He staggered to the pavement and fell to his knees, spitting thick mouthfuls of blood. He appeared to have been shot directly in the mouth. The police did not stop but continued walking towards the harbour, pursuing the protesters. Onlookers hung back, perhaps afraid of being shot, but eventually ran to the boy's aid. More than five minutes passed before a policeman loaded him into the back of his vehicle and drove him away for treatment. He spat blood and sobbed, bewildered, occasionally reaching into his mouth, the entire time.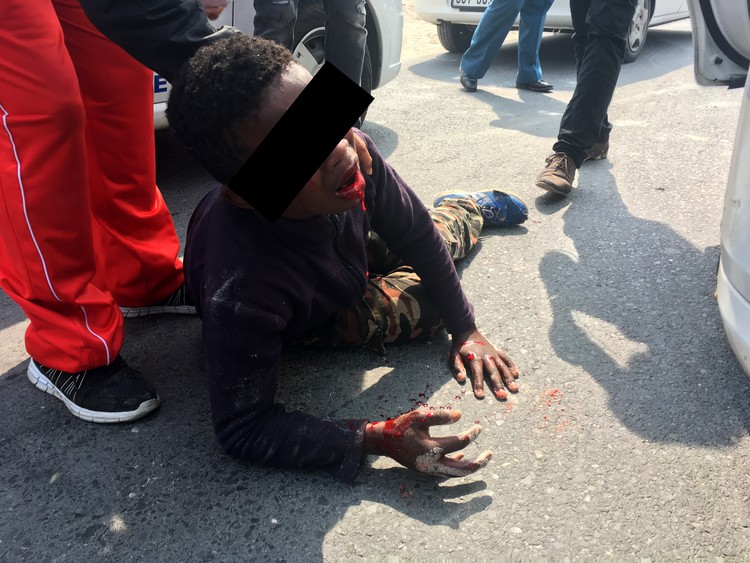 Dodgy people are suing us. Please support us by contributing to our legal costs and helping us to publish news that matters.
© 2017 GroundUp.

This article is licensed under a Creative Commons Attribution-NoDerivatives 4.0 International License.
You may republish this article, so long as you credit the authors and GroundUp, and do not change the text. Please include a link back to the original article.