Hout Bay protest turns violent after poaching death
Hangberg residents accuse law enforcement of shooting Durick van Blerk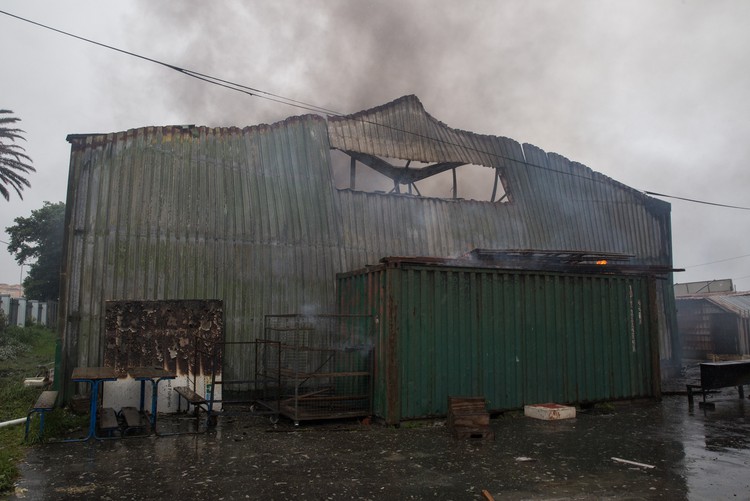 Believing that members of an anti-poaching patrol had killed a fisherman from their community, protestors shut down Hout Bay harbour on Sunday 12 August, setting alight two government buildings and the home of a local fisheries official.
By 3pm police had cleared the area, but unrest seemed set to continue into the evening.
The protest was sparked by the disappearance of Durick van Blerk, 25, after a boat chase in the early hours of Saturday morning, Hangberg residents said. Van Blerk and two other men had been illegally catching crayfish off the Cape Point nature reserve but were intercepted on their return by a patrol vessel belonging to the Department of Agriculture, Forestry and Fisheries (DAFF).
Officials had shot out the engine of van Blerk's semi-inflatable boat, or rubber duck, arresting the other two men, residents said. Van Blerk had gone missing, and more than a day later he had still not returned.
Photographs of van Blerk's rubber duck, taken at Table Bay police station after the incident, show multiple bullet holes through the engine and pontoons. Friends and family of the suspected poachers, including van Blerk's girlfriend, who is eight months pregnant, had driven through to the cells on Saturday morning.
There they heard from the surviving men that van Blerk had been struck by a bullet "and then shot on purpose again," said one of the visitors. He asked not to be identified as he currently has an abalone poaching case against him.
By the time of writing DAFF had not yet responded to questions. This story will be updated with their comments.
A protest that began with fewer than twenty people in Hout Bay harbour on Sunday morning grew quickly after several men broke into a DAFF shed, doused several derelict boats inside with petrol and set them alight. Choking black smoke spread across the water as tourists and traders quickly evacuated. Within an hour more than a hundred residents had gathered, some filling glass bottles with petrol and shooting flares at the police.
As the shed burned, protesters smashed the windows of a nearby DAFF office and set it alight, threatening firefighters when they attempted to douse the flames. Soon afterwards the home of a local DAFF official was petrol bombed. According to JP Smith, the City of Cape Town's Mayoral Committee Member for Safety and Security, the official's wife and child were indoors at the time. Later in the afternoon, a cold storage facility in the harbour was set alight.
Throughout, protestors screamed at the police, demanding to know why van Blerk had been killed. "We don't go to sea to kill you guys, so why do you shoot us?" yelled one man, a friend of van Blerk's who identified himself only as Ras Judah. "He went out to feed his family and you killed him!"
Van Blerk had never been arrested for poaching previously, four separate residents said, and had only begun going to sea within the last two years. "He was new at this game. So why would he have jumped overboard? No, they fucking killed him," Ras Judah said.
Hundreds of people in Hangberg derive income from abalone and crayfish poaching, supporting hundreds more dependents. Few fishers have legal quotas sufficient to survive on, and protests regularly flare up over fisheries disputes.
In Gaansbaai, another fishing settlement where endemic poverty has contributed to a rise in illegal fishing, an abalone poacher named Mortimer Booysen died after being chased by DAFF officials in May. Booysen's accomplices claimed that DAFF officials had rammed their boat, though DAFF denied the allegations. On Sunday, protesters in Hout Bay made frequent reference to the incident. "They're killing us again," one man said.
A two-day search for van Blerk's body by NSRI rescue craft, a helicopter and at least seven boats belonging to other poachers had by Sunday afternoon returned no trace of him. The sea had turned rough, and large waves thudded the cliffs below Chapman's Peak. It began raining as police fired rubber bullets to disperse the crowd, who retreated towards Hangberg. By evening, a group of men had dragged debris into the road and set it alight.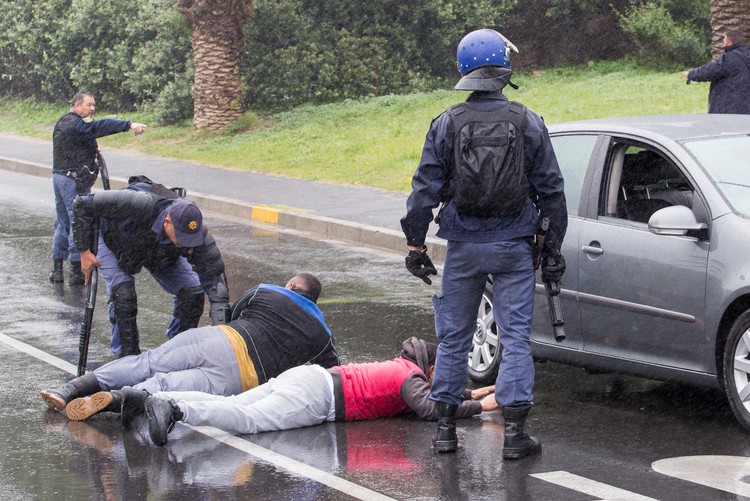 #HoutBay protesters are shooting flares at police. Situation incredibly hostile. @GroundUp_News pic.twitter.com/tgifsZgVtz

— Ashraf Hendricks (@AshrafRSA) August 12, 2018