Order collapses at Metrorail station
Some commuters are refusing to pay for tickets until the service improves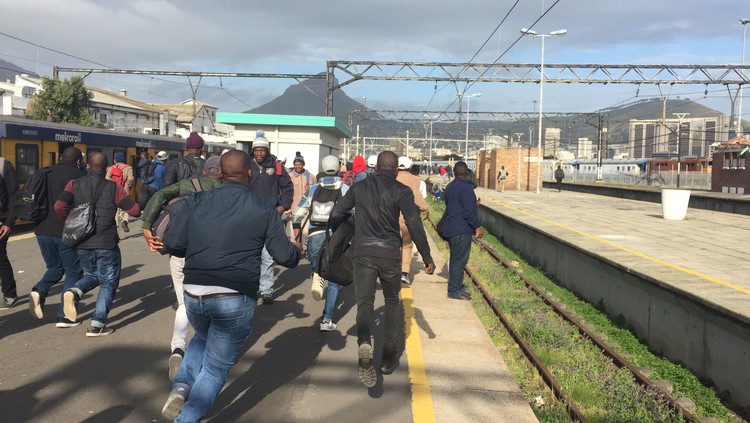 On 20 October, a Friday, GroundUp witnessed Metrorail passengers fleeing Esplanade Station in Cape Town. Commuters were avoiding paying for tickets. Officials failed to stop them. The video below was taken at 8:04am.
One of the passengers, who did not want his name revealed, told GroundUp he had not bought a ticket for two years. He said he refuses to do so until the service improves.
The spot fine for being caught without a ticket is R40.
Dodgy people are suing us. Please support us by contributing to our legal costs and helping us to publish news that matters.
Letters
Dear Editor
Over the past two weeks, I have used Metrorail between Diep River and Rondebosch during the morning and late afternoons/evenings. I am doing so because of extensive repairs being carried out on my vehicle.
The carriages are packed to a degree that people can barely move. The windows are closed; the ventilation is terrible. Viewed from the outside, numerous individuals stand between the carriages and even hang on the back on the last coach. Over these two weeks, I have bought a ticket each day R21 return fare and not once has my ticket been checked.
Trains are never on time and clearly several shown on the timetable often include cancellations. What sort of idiocy is this - no system, no will to check tickets? Too many people - too few trains - no visible effort by the Metrorail management to improve their shocking service.
On the southern suburbs line, Metrorail are operating a dirty, careless, dangerous and unreliable service. What are the names of the people who manage this mess? What are their qualifications? How did they get their positions? Who are they accountable to? What are their salaries?
When I used trains 35-40 years ago on the same line everything about the service was better. What a mess the railways have collapsed into.
© 2017 GroundUp.

This article is licensed under a Creative Commons Attribution-NoDerivatives 4.0 International License.
You may republish this article, so long as you credit the authors and GroundUp, and do not change the text. Please include a link back to the original article.