Dodgy liquor sold in townships
Labels do not conform with alcohol laws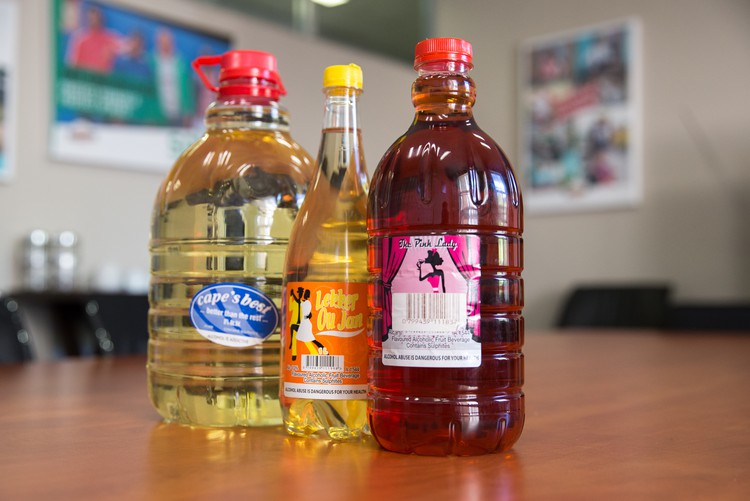 Cheap alcoholic drinks with vague labels and unspecified contents are being sold in townships in violation of liquor laws.
A licensed off-sales outlet called White House Place on Dabula Crescent in Gugulethu sells large plastic bottles of alcohol labelled "Cape's Best", among other liquor products. When GroundUp visited during school holidays, two children were selling the alcohol through a small opening in the iron-gated door.
The label on the "Cape's Best" bottle, which claims that the contents are "…better than the rest…" does not say what kind of alcohol it is, though the contents are described as 8% alcohol. There are two flavours, white and red. The bottle, which did not list its volume, costs R40.
Two men sitting outside the shop told GroundUp some people bought the bigger bottles and resold the drink in smaller bottles in shebeens or private houses for R7 or R10 a bottle. One man said the liquor tasted like box wine.
According to the Western Cape Liquor Authority and the national Department of Agriculture, Cape's Best is made by Nuwedrift Wine Farm in Northern Paarl, which was previously licensed for micro-manufacturing of wine. They are now licensed as a macro-manufacturer under the trading name "Bestmade Wines".
The requirements for content, labelling, and packaging of liquor are laid down in the Liquor Products Act No. 60 of 1989 and its amendments. The Department of Agriculture regulates the content of liquor products.
The Department told GroundUp that it was the responsibility of producers and sellers to ensure that liquor products complied with all the regulations of the Act which governed the composition, production, labelling and sale of liquor products. "The Department ensures compliance in the local market by working on a complaint basis."
Under the Act, wines, alcohol-based fruit beverages, grape spirits, and other liquors have distinct requirements relating to their alcohol, sugar, and volatile acid contents. Different kinds of wine have different alcohol content guidelines. Natural wine, for instance, must have an alcohol content between 6.5 and 16.5%. There are also limits on the volume of certain substances such as lead, mercury, sodium, sulphur dioxide, and methanol, among others.
Cape's Best liquor products do not meet the labelling requirements of the Act. The bottles' labels do not say what class of liquor – wine or other liquor – they are. The labels do not say where the alcohol was produced or bottled. According to its manufacturer, Cape's Best is a wine.
Other products also contravene the labelling laws. "Lekker Ou Jan" and "The Pink Lady", bought in Stellenbosch, are labelled as "Flavoured Alcoholic Fruit Beverages". According to the Department and the Western Cape Liquor Authority, both are produced by a manufacturer of wine and alcohol fruit-based beverages called Skywalker Distribution Services in Strand. Skywalker is licensed, according to the Western Cape Liquor Authority, but the Department of Agriculture says there is no such class as "flavoured alcoholic fruit beverages".
A 2005 study by UCT's School of Public Health and Family Medicine, DOPSTOP Association, the Department of Chemical Engineering, and the Medical Research Council found illegal levels of toxins in several wine products sold in the Western Cape. The chemical analysis of 51 bulk wine products contained in papsaks, plastic sacs, and plastic bottles from liquor outlets in 17 towns across Western Cape found levels of mercury and ochratoxin were above "maximum permissible levels" in 20% and 28% of the wines respectively. The maximum permissible level of mercury is 0.05 mg/L. Levels of Di (2-ethylhexl) Pthalate levels were also above the allowed quantity in 86% of wines. This is a compound which is often added to plastics to make them flexible. The US National Toxicology Program has linked it to cancer.
Toxic substances in cheap liquor products are a concern on top of health problems associated with alcohol itself, especially in relation to fetal alcohol spectrum disorders, says Jo McLoughlin, who was involved in the 2005 study and has a Master's Degree in Public Health from UCT.
Of the study's results, she said: "We know that some of these toxins act on the nervous system, so we are concerned about how these toxins (even if present at low levels) may act in combination with each other and alcohol on the developing brain of an unborn baby, if a pregnant woman drinks contaminated wine."
The Department of Agriculture says that samples of Cape's Best "will be drawn and evaluated for compliance and the content analysed".
GroundUp emailed Skywalker Distribution Services on the 16 and 17 October and is awaiting a response. GroundUp telephoned Nuwedrift Wine Farm on 16 and 17 October and is waiting further details about "Bestmade Wines" by email.
Correction: The original photo used in this story included a brand that is not in violation of the law.
Dodgy people are suing us. Please support us by contributing to our legal costs and helping us to publish news that matters.
© 2017 GroundUp.

This article is licensed under a Creative Commons Attribution-NoDerivatives 4.0 International License.
You may republish this article, so long as you credit the authors and GroundUp, and do not change the text. Please include a link back to the original article.