Opposition parties unite in call to fire Zuma
Thousands of supporters march in Cape Town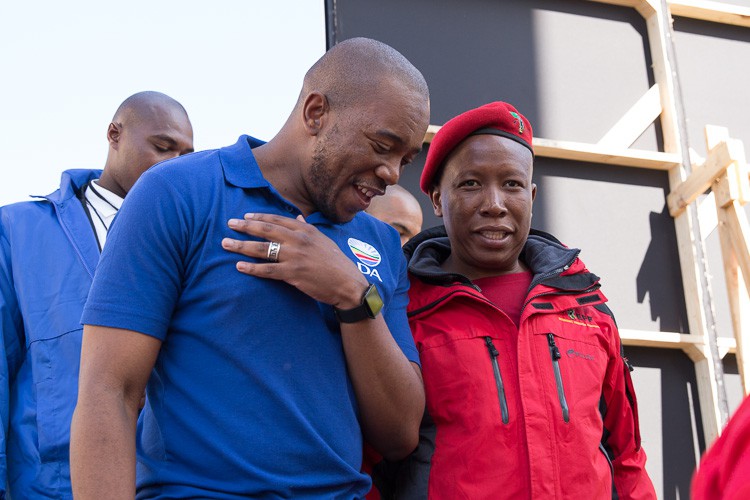 Thousands of protesters marched to Parliament today before the vote of no confidence in Jacob Zuma. Several opposition parties came together, calling on parliamentarians to vote Zuma out.
A much smaller counter-march was also held by ANC members. These protesters called for Zuma to remain president.
Julius Malema, leader of the EFF, thanked the protesters for putting their political differences aside and coming in their numbers to "protect" the country. "Our country has been sold to the Guptas and we are here to reclaim our country. This country does not belong to Jacob Zuma and his family. It belongs to us. This country belongs to us and if Zuma fails to preside over this country, we will take it from him and assign it to people who will respect the Constitution."
He said that if parliamentarians voted against the motion of no confidence "they cease to be honourable, they are fellow criminals with Zuma."
"We promise you we will do everything in our power to remove this man," said Malema.
Mmusi Maimane, leader of the DA, said that people with many differences had come together. He said Zuma was "a servant of the Guptas, he is no longer a servant of the people of South Africa".
"South Africans are losing work, industries are shedding jobs … How can one person hold the destiny of 58 million people to ransom all because he is selfish? That's not the only crime that he has committed. He is the greatest sell-out. We are here to say we will not sell South Africa out."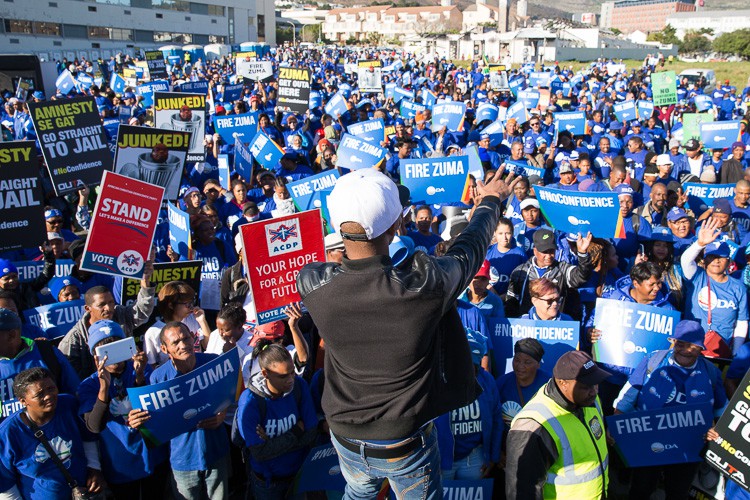 Zwelinzima Vavi, general secretary of the SA Federation of Trade Unions said that the President was "using the credibility of an organisation that played such a historical role in liberating South Africa" but had turned against "everything that unites us as South Africans".
"We are pleading with you, for the sake of the future of all of us as South Africans, ask the President to step down between now and 2pm and if he doesn't do so by 2pm, please vote against him and say goodbye and thank you for nothing, for almost destroying our country," he said.
Sipho Pityana, the leader of Save South Africa, said South Africa was on "a path to destruction". "This country, this great nation, this great inheritance from our leaders Nelson Mandela, Oliver Tambo, Desmond Tutu and many others, is being driven to hell by one person. We count on each and every Member of Parliament today to do the right thing, and the right thing is to say to say to Jacob Zuma: enough is enough."
Supporters came from different areas around Cape Town. While most were in DA colours, there were a number of EFF supporters, as well as supporters of smaller political parties such as Cope and the ACP.
Andile Masiza, a DA supporter from Mfuleni, said he supported the motion of no confidence. "We cannot be led by a man who is not capable of leading our country," Masiza told GroundUp.
Christine Hoedemaker from Delft said that Zuma was "corrupt" and must go. "He just gets richer," Hoedemaker told GroundUp.
Lilian Cilliers from Athlone told GroundUp that Zuma was "no good". "They must fire Zuma," she said.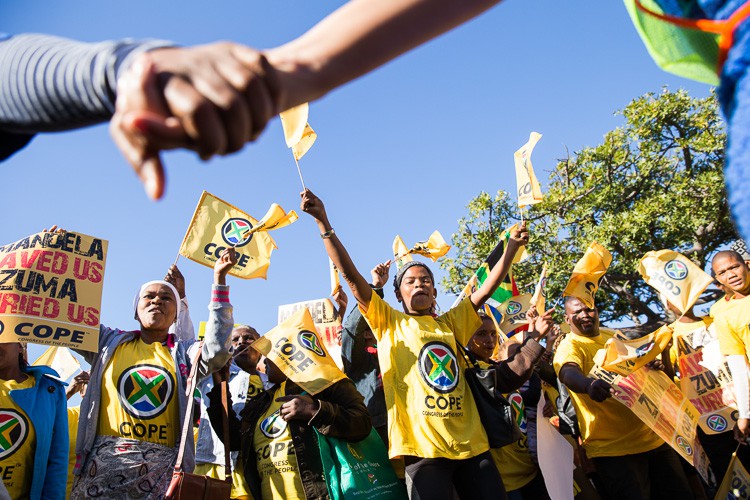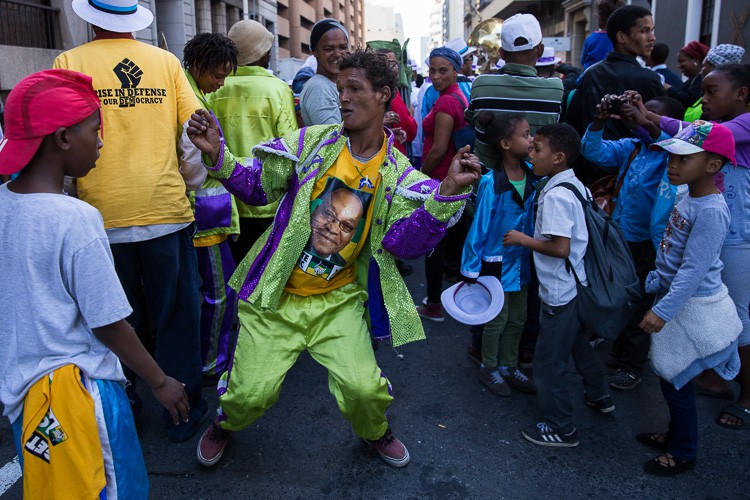 © 2017 GroundUp.

This article is licensed under a Creative Commons Attribution-NoDerivatives 4.0 International License.
You may republish this article, so long as you credit the authors and GroundUp, and do not change the text. Please include a link back to the original article.