Opposition parties march together in PE
"We cannot stand by and watch our wealth and our children's heritage being destroyed by Zuma and the Guptas"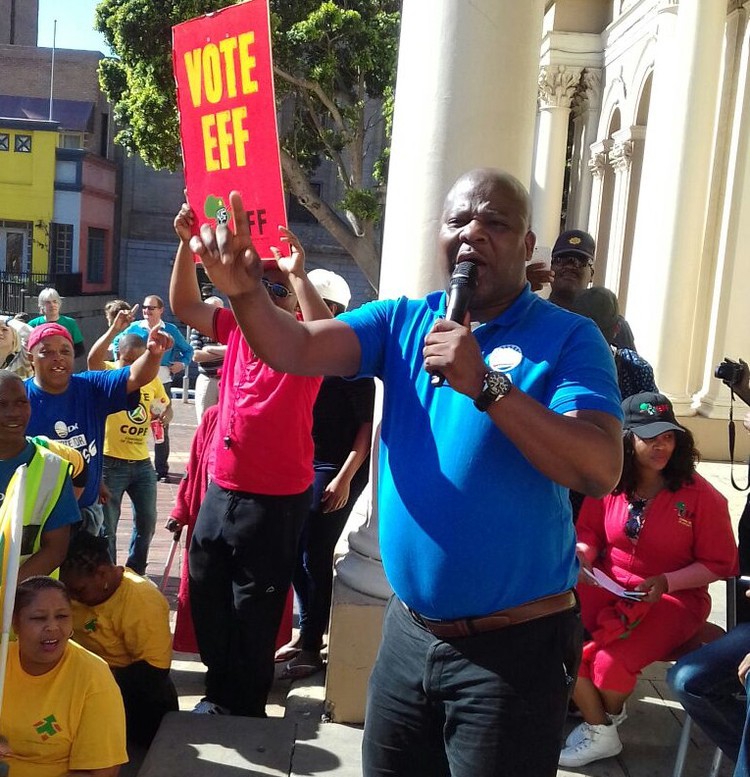 About three hundred members of opposition political parties gathered at Port Elizabeth's Magistrates' Court on Tuesday and marched to City Hall. There they delivered a petition to the mayor in support of the parliamentary vote of no confidence in President Jacob Zuma.
The political parties included, the DA, COPE, EFF and the ACDP. They were joined by Save South Africa, a civic organisation campaigning for a corruption-free South Africa.
Members of the church were represented by Bishop Bethlehem Nopece,of the Anglican Church.
Mongameli Bobani said: "It was the UDM, with the support of South Africans, that took the issue of a secret vote to court. We are all victorious in that regard. We have to remove Zuma and his corrupt friends. It is their children who are enjoying the riches of this country when our families are hungry."
Marianne Lotter of the ACDP said: "People of this city have said that they don't want Zuma anymore. We stand for people with integrity and good morals, not those who steal money meant to develop the country. We do not believe in criminals. Zuma must fall today."
Save South Africa's Mkhuseli Jack said "We cannot stand by and watch while our wealth and our children's heritage are being destroyed by Zuma and the Guptas. Today's vote is against corruption."
The DA was represented by Nqaba Bhanga, who is Nelson Mandela Bay Municipality Mayco Member for Human Settlements. He said: "There are people who believe in fighting corruption, and there are those who want corruption to continue. There are more than nine million unemployed people in South Africa. Unemployment stands at 47% in the [Nelson Mandela Bay Municipality] while the national unemployment rate is at a shocking 35% because there are some leaders who are corrupt and don't have the interests of the citizens at heart. "
EFF student commander, Siyaya Sigenu, said, "Zuma and the Guptas are stealing money meant for development, money that should create jobs for our mothers and fathers so as to educate us. … Zuma represents everything that we rejected as students. "
The petition was eventually delivered by EFF's Simpiwe Daku to Mayor Athol Trollip.
© 2017 GroundUp.

This article is licensed under a Creative Commons Attribution-NoDerivatives 4.0 International License.
You may republish this article, so long as you credit the authors and GroundUp, and do not change the text. Please include a link back to the original article.