Nkosinathi Ntuli's shack has been demolished four times since November
He keeps on rebuilding and the eThekwini municipality keeps returning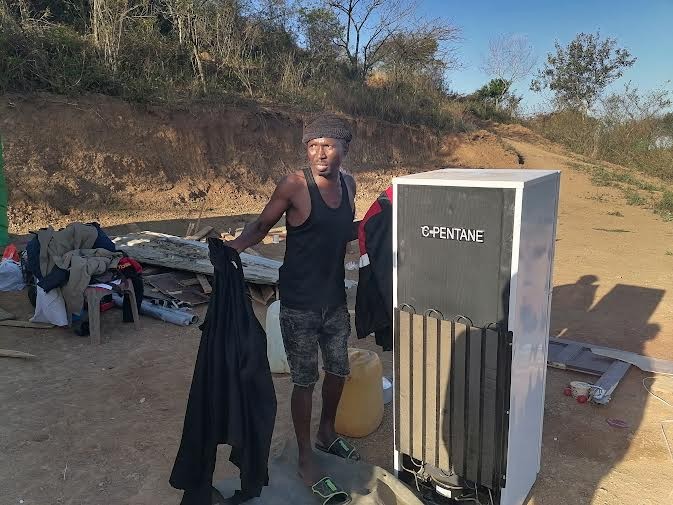 Nkosinathi Ntuli's home was one of about 35 shacks demolished on 29 August in Mhlasini, north of Durban.
For Ntuli, this was the fourth time his shack was demolished.
Yet each time he rebuilds because he has nowhere else to go, he says.
Nkosinathi Ntuli's shack in Mhlasini informal settlement in Verulam, north of Durban, has been demolished four times, most recently in August. Yet each time he rebuilds because he has nowhere else to go, he says.
Ntuli's home was one of about 35 shacks on municipal land demolished on 29 August by the eThekwini municipality.
For him, this was nothing new. In November 2022 his shack was demolished and his building materials, kitchen equipment and furniture, were all taken away.
Ntuli, who had worked a night shift as a security guard, was asleep when the officials arrived around midday.
"They took everything. I was told that I must take the things that I could manage to get," he said.
He rebuilt his shack. In March this year, his shack was demolished again.
"The sad part is that my three children were watching when all this was happening. That is why I decided to send them back home to eNkandla with my wife. My oldest daughter had just completed her degree at Durban University of Technology at the time."
His daughter, who returned from eNkandla to stay with him for her graduation ceremony, was present when his shack was demolished a third time in May.
"They arrived when we were busy preparing for my daughter's graduation ceremony. They demolished my shack and I had to ask my daughter to go and stay with my sister in Lindelani area."
Ntuli, who says he cannot afford to pay rent and has no where else to go, rebuilt his shack again. On 29 August, he was in town when a demolition team arrived.
"I received a call saying that my shack has been demolished by the eThekwini municipality without notice. They drive around and walk past here and we know once they have done that they will come anytime to demolish our shacks. They do not inform us."
When GroundUp visited, he was rebuilding the shack. But once again he had lost most of his possessions, including his television.
Community leader Zimisele Msizazwe said most of the people who had erected shacks had been renting in the area and had decided to move onto the vacant land in 2018. They cleared the bushes nearby, where he says people on their way to Canelands industrial park were getting robbed.
But not everyone who moved onto the land desperately needed a home, said Msizazwe. "Some just wanted to build some rooms to rent out."
Abahlali baseMjondolo president Sibusiso Zikode said the residents of Mhlasini were not united. "Some of the residents who have erected shacks have their own house in the nearby areas. They just want to build the rooms for rent. Most of the time when we ask them to be united, you hear many stories that it is not like they are desperately in need of a house."
But for Sphamandla Ndlovu, a street vendor, it was a matter of saving the R900 a month he was paying in rent. "I decided to join those who were erecting their shacks because paying R900 monthly was not easy for me. When I receive the message that the eThekwini municipality is going to demolish my shack, I always tell myself that I am to rebuild it again because renting is too expensive", said Ndlovu.
EThekwini municipality spokesperson Gugu Sisilana said, "Mhlasini people were previously warned several times, but they choose to continue erecting and rebuilding unlawful structures. Our teams were sent to demolish the structures."
"Land invasion continues to be a scourge that the City is working hard to eradicate," said Sisilana.
Asked whether the City had a court order authorising the evictions, she did not answer.
© 2023 GroundUp. This article is licensed under a Creative Commons Attribution-NoDerivatives 4.0 International License.
You may republish this article, so long as you credit the authors and GroundUp, and do not change the text. Please include a link back to the original article.
We put an invisible pixel in the article so that we can count traffic to republishers. All analytics tools are solely on our servers. We do not give our logs to any third party. Logs are deleted after two weeks. We do not use any IP address identifying information except to count regional traffic. We are solely interested in counting hits, not tracking users. If you republish, please do not delete the invisible pixel.