Mfuleni land occupied following dispute
Backyarders frustrated at delays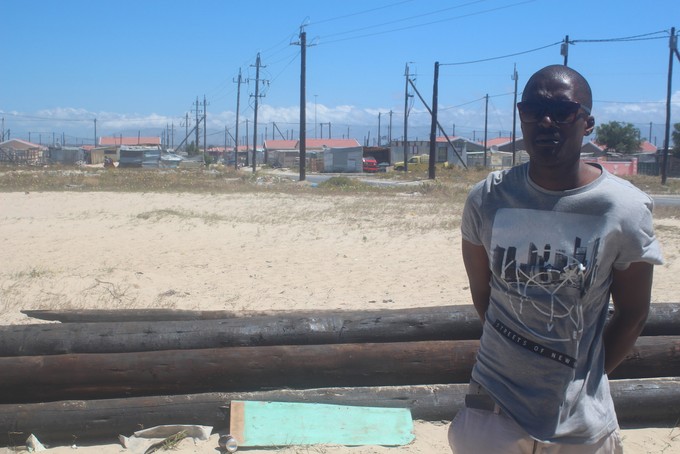 A combination of frustration over a long-delayed housing project and an anonymous letter has resulted in about 80 shacks being erected on plots earmarked for Mfuleni residents on a City of Cape Town waiting list.
Backyarders living in ward 108 in Mfuleni that GroundUp spoke to complained that it remains unclear how plots are being allocated. The current phase of the project in an area called Bardale dates back to 2014.
See: Mfuleni backyarders clash over land
See: Mfuleni backyarders march for housing
Two hundred plots are supposed to be allocated, but because of disagreements over who will receive them, no building of formal houses has begun. Instead more and more of the plots are being occupied.
Thandile Mbuyazwe lives in a backyard in Mfuleni. He is expecting to get one of the plots. He is frustrated by both the delays and the occupations. He says that people began occupying after receiving letters encouraging them to do so. "We have not seen the letters physically and we are not sure what was written in them or who the letters came from. Fortunately we managed to stop some of the occupations in [some parts] which is why the land is still empty," said Mbuyazwe.
Another backyarder, Sizwe Mkhulu, said: "They want to allocate other people to these plots except those from ward 108. This project does not even have a steering committee, and it was even stopped at one stage because of the differences between parties involved."
He said that ward 108 backyarders have marched and had meeting with their councillor and the City. "In August we had a meeting where some of our issues were discussed but nothing has changed. There were initially 275 plots, 200 of those were to go to backyarders, 34 for special needs and 41 for people that were left over in [previous phase of the] housing project. People are now occupying plots, some of them are not even backyarders and are not even from this ward. We've tried to stop some of them, but it is difficult."
We could not find people occupying the land willing to speak to the media.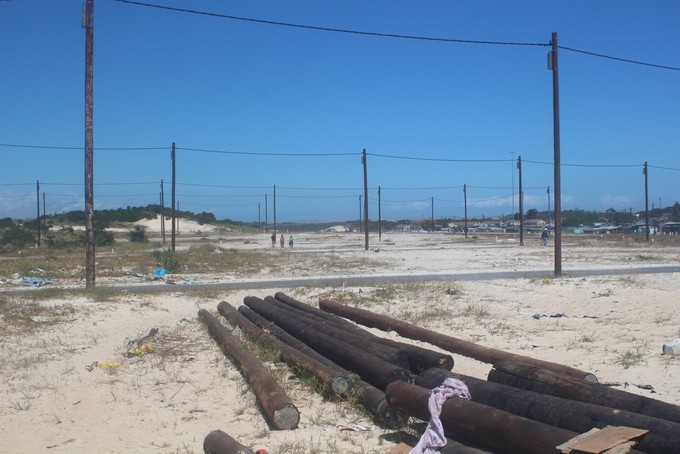 Councillor Benedicta van Minnen, the City's Mayoral Committee Member for Human Settlements said that "275 opportunities" had been created. "These opportunities are for serviced sites" … where the City provides basic services like water, refuse collection and electricity making it easier for people when they erect their structures.
She confirmed Mkhulu's facts: that 234 opportunities "are specifically and only for Ward 108 beneficiaries" and that 41 had been reserved for the balance of the Mfuleni backyarders left over from the previous phase.
Van Minnen said: "The group of backyarders have made their demands before, and many meetings took place. It has always consistently been communicated that the beneficiaries would be selected per City policy and from the City's database only and not from the backyarders' list. In August it was established that the backyarders group had an expectation that the beneficiaries would only be backyarders from Ward 108, and not generally from the housing database for Ward 108."
She said the process had been temporarily suspended to get "clarity and opinion". She said the backyarders' arguments were considered and that it was found that if the demands of the backyarders are met, then other beneficiaries from Mfuleni Ward 108 who have been on the waiting list the longest would have lost out. "It was then decided that the only fair and transparent way forward was to continue working only from the City's database."
"Finally, it is to be noted that services have already been installed to serve the properties. What remains is for the final beneficiaries to be confirmed and their subsidies approved, after which they will be able to take possession of their properties, at which point the final service connections will be established," said Van Minnen.
Letters
Dear Editor
Yesterday (18/10/2016) law enforcement and land invasion removed illegal structures that were erected overnight on the 17/10/2016 on the lowest sections of this 5A development in Mfuleni. Thandile Mbuyazwe was our representative to observe the situation.
People are invading due to desperation as well as the City delays that are accompanied by their flaws regarding potential beneficiaries that today they don't feel it's necessary to stick to the decisions.
Our community was regarded as violent. As a result it was suggested that we meet in Kuilsriver in Aug 2016. Our people are not violent; it is the living conditions that drives their recent behaviour on my understanding because if you talk to them, they will listen.
Mfuleni Backyarders Ward 108 list that we were waiting for their final consolidation is still outstanding from Andre and instead, he came back in writing to us after sitting with his director (Ryan Rugubar) excluding outcomes of the City screening on housing database.
Andre Van Niekerk's recent email to Mfuleni Backyarders has no way forward and he is ignoring our meeting request so we can address these concerns. We need this meeting in Mfuleni Ward 108 for all Mfuleni Backyarders in Ward 108 including informal settlements areas.
Until today, the City of Cape Town cannot distinguish and make sense between informal settlement and a Backyarder.
Benedicta Van Minen who was tasked by MEC Madikizela to oversee the success and transparent implementation of this project. For 7 months there has not been engagement with our structure.
If we built a shack in the Waterfront, it would be a matter of seconds for you to be arrested but in our place, it's a completely different version.
© 2016 GroundUp.

This article is licensed under a Creative Commons Attribution-NoDerivatives 4.0 International License.
You may republish this article, so long as you credit the authors and GroundUp, and do not change the text. Please include a link back to the original article.