Mayor's response to electricity rates protest fails to satisfy Swellendam residents
Swellendam mayor met residents on Tuesday, but issues remain unresolved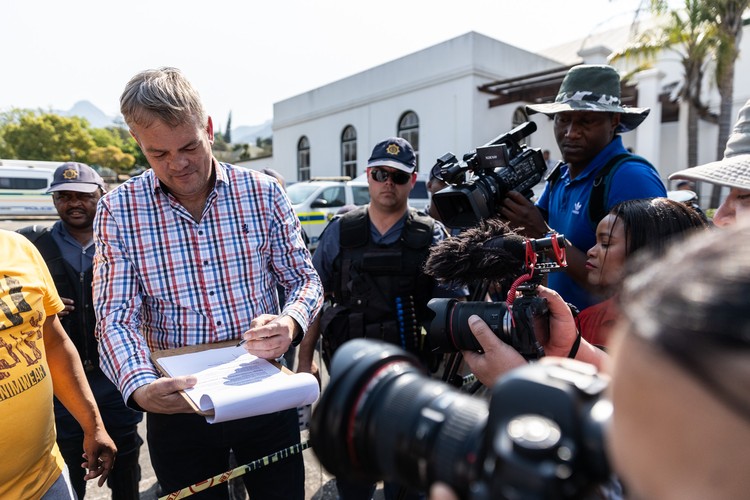 Protests over electricity tariff hikes and the indigent policy resulted in the Swellendam Local Municipality offices being torched last month.
A further, peaceful protest by hundreds of residents took place two weeks later.
The mayor met the residents to address their concerns this week, but residents say none of their demands have been met.
After weeks of tension in Swellendam over electricity tariff hikes and the municipality's indigent policy, the mayor met residents on Monday and Tuesday, but the issues remain unresolved.
The municipal offices were torched and shops looted by residents on 16 August, and then several hundred people peacefully marched to hand a memorandum to DA Mayor Francois du Rand two weeks later, on 30 August.
Residents want a set amount of free electricity units to be supplied to indigent households, with automatic rebates, including free units, for pensioners. They also want fixed electricity connection charges to be waived for pensioners, and electricity supplied to areas currently unconnected. But the municipality says households will have to reapply annually for the indigent subsidies.
"The goal is to demand that Swellendam municipality revise their entire Electricity Tariff Setting and Indigence Policy and their inadequate implementation of Public Participation," stated the memorandum handed to the mayor on 30 August.
"Over the years Swellendam acted in an aggressive, uncooperative and non-transparent manner which is aimed at excluding the wider public and serving only a few."
Included in the demands were the implementation of an incentive, such as additional free units, for using electricity sparingly; that streetlights be turned off during the day to save electricity; and abolishing the link between municipal rates and property value.
Du Rand had promised feedback to community representatives by Monday, 4 September, and addressed the community in the informal settlement of Railton on 5 September.
Mayor's response
Du Rand wrote a 10-page letter in which he defended the municipality's 18.49% electricity tariff hike effective 1 July 2023 - an increase higher than the City of Cape Town's 17.6% hike - arguing national electricity tariffs had increased by more than 600% since the start of the electricity crisis in 2007.
In his budget speech on 31 May 2023, du Rand said for an indigent household with a property value of R300,000 using 350kWh units of electricity (50kWh Free) and 20kl water (6kl Free), the average increase in tariffs was R112 per month, representing a 12.95 % increase.
Addressing the residents, he blamed the ANC and ESKOM for the tariff hikes, stating the fact people were moving to the Western Cape proved there was good governance under the DA.
Du Rand said indigent households would have to reapply for indigent support at least once a year, and he stressed that property values were not linked to indigent support and that the current policy would not be changed.
He added that in an effort to better service delivery, spending on staff salaries had been cut from 36.5% to 33% of the annual budget.
But residents were unhappy with his response, saying none of their demands had been met. "It wasn't well received by the community. He [the mayor] said nothing about the policy change," said resident Riaan Jonas
Jonas said residents were calling for intervention from the Co-operative Governance and Traditional Affairs Minister Thembi Nkadimeng.
Poor communication an issue
Resident Hennie Smit, who is consulting for the newly formed ratepayers association, said the communication from the municipality to residents was poor. "It's not open and clear what exactly they are going to do," said Smit.
"When you get your new account in July, everybody gets surprised. And then everyone only realised that their rates had gone up. It wasn't communicated properly to them."
He said the torching of the municipal offices could have been prevented. He said had requested a meeting with the mayor before the violence erupted but had received no response.
Municipal Manager Anneleen Vorster said the municipality follows an extensive public participation process in preparing the budget and Integrated Development Plan annually.
"With loadshedding keeping people from public meetings, the municipality even embarked on a concept of 'coffee breaks' where each department provides frontline staff to engage with the ordinary people at key points in the community. We literally go and explain policies, answer questions, collect service complaints," said Vorster.
In response to our questions, the municipality provided a document on qualification for indigent support. The municipality has four categories, and in order to apply for support, residents have to provide a certified copy of a South African ID, a copy of a municipal account or electricity meter number, as well as proof of income. For the unemployed, an affidavit declaring unemployment and a lack of other income is required.
Western Cape MPL and ANC provincial spokesperson Muhammad Khalid Sayed told GroundUp the issue would be raised at the provincial legislature next week. "The ANC has communicated through our national leadership to the Minister of Human Settlements and the Minister of COGTA. We have put them in touch with the leadership in Overberg and that process is underway," said Sayed.
Electricity tariffs have been a contested matter in a number of municipalities. Last month saw Cape Town residents march to the Civic Centre to call for tariffs to be reduced. The National Energy Regulator of South Africa (NERSA) granted Eskom an 18.65% tariff hike earlier this year to help it cover its debt.
Letters
Dear Editor
Electricity tariffs​​​​​​​​​​
• Swellendam Municipality uses the guidelines provided by NERSA to determine tariffs.
• NERSA approved the Eskom annual tariff hike, charging municipalities 18.49% more for electricity effective 1 July 2023.
• NERSA approved only a 15.10% increase, which municipalities can increase their electricity rates.
• Swellendam Municipality has to subsidise the difference of 3.39% for all households.
[Editor's note: Over 12 months of the Eskom financial year, commencing on 01 April, an 18.65% increase applies to Eskom directly supplied or non-municipal tariffs, which refers to Eskom's standard tariff customers. The Municipal increase of 18.49% is effective on 1 July 2023.]
© 2023 GroundUp. This article is licensed under a Creative Commons Attribution-NoDerivatives 4.0 International License.
You may republish this article, so long as you credit the authors and GroundUp, and do not change the text. Please include a link back to the original article.
We put an invisible pixel in the article so that we can count traffic to republishers. All analytics tools are solely on our servers. We do not give our logs to any third party. Logs are deleted after two weeks. We do not use any IP address identifying information except to count regional traffic. We are solely interested in counting hits, not tracking users. If you republish, please do not delete the invisible pixel.