Exams at Fort Hare disrupted by staff strike
East London and Alice campuses affected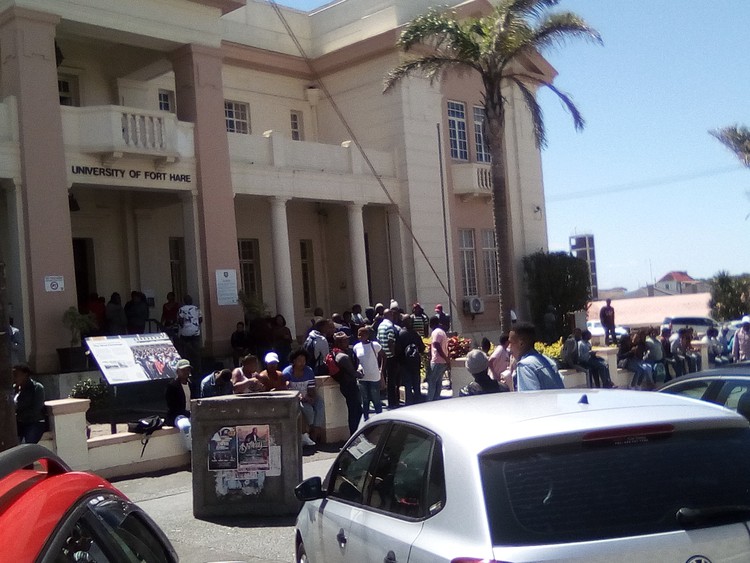 Mid-year exams at the University of Fort Hare's East London and Alice campuses were interrupted on Tuesday morning as staff went on strike for higher wages.
According to BSc agriculture student Simphiwe Vellem, staff switched off the electricity at the Alice campus.
"I was writing my third paper today, and the electricity went off way before I could finish writing. And then we were told to leave the examination room as the staff on strike were approaching and singing," said Vellem.
"As a final year student, I am expected to complete my in-service training from next month. This might halt my progress if there are any further delays with the exams."
Lecturers and other staff embarked on the strike from Tuesday morning after talks between university management and the workers' union deadlocked on Monday.
National Education Health and Allied Workers Union (NEHAWU) secretary, Mzi Lingela said, "The strike might continue throughout the week, if university management is not willing to accept the workers' demands. The staff want a 12% wage increase but the university is only offering 6% and does not want to negotiate. Staff also demand an increase in their housing allowances from R500 but the university is only offering them R100."
"The whole examination period will be affected if management is not willing to come to an agreement during the week," he said.
Student Representative Council president Xola Jaji said the staff had been complaining about salaries for a long time. "It is sad that this strike will now affect the examination process. If management had attended to the issue of wage increases at the beginning of the year, none of this would be taking place," said Jaji.
University spokesperson Khotso Moabi confirmed the strike was over wage increases. "The university will go back to the table with the union leaders during the week and try to work out an agreement. It is unfortunate that the strike is taking place during examinations and it will inconvenience the students the most," said Moabi.
Letters
Dear Editor
But now it's the staff at Fort Hare who are shuttering that vulnerable university. And, no surprise, NEHAWU is right in the thick of it, so Fort Hare needs to brace for what NEHAWU is best known for - trashing the place.
Yet again, my heart goes out to those students (and their families) who have sacrificed so much to gain a tertiary education, and the possibility of a better life for themselves and their families.
Regardless of whether student hooligans and thugs, or disgruntled staff, are the cause, South Africa's tertiary education continues to be eroded to the point that there will be no tertiary education in this country within several years.
It's not only heartbreaking, but, at the end of the day, the entire country is impoverished.