Land reform policies criticised at HRC inquiry
Most farm evictions are illegal, claims activist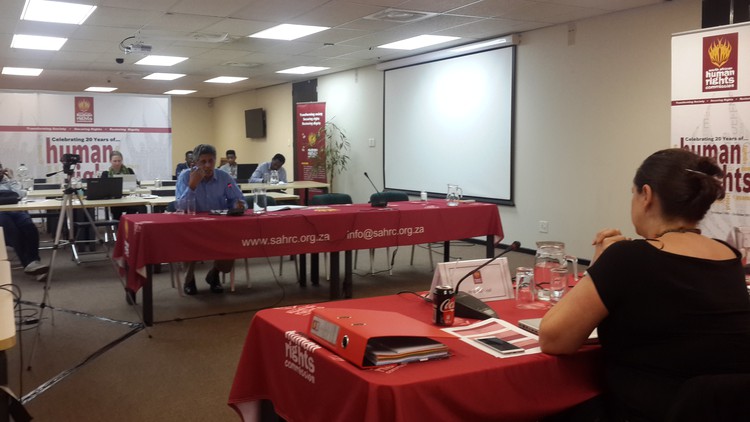 Most farm evictions are illegal yet no one has ever been convicted of an illegal eviction in South Africa. This is according to Hanif Vally, Deputy Director of the Foundation for Human Rights.
He was testifying at an inquiry by the South African Human Rights Commission (SAHRC) held in Johannesburg on Wednesday. The inquiry is a national investigative hearing into rural land use and ownership patterns. Oral submissions were made by the Legal Resources Centre, Nkuzi Development Association, and the Foundation for Human Rights.
According to the Extension of Security of Tenure Act (ESTA), a farm dweller's right to residence may not be terminated if they have resided on the land for ten or more years and have reached the age of 60; nor may occupation be terminated if an employee or former employee is unable to work due to ill health, injury or disability.
But, said Vally, the ESTA "has not helped [with the protection of farm dwellers] in any way". He said ESTA only allowed for "mediation", which is supposed to be a "win-win situation" but is often not a win for farm workers or farm dwellers.
"The mediator would come up with a strategy and say that the farmer will give the worker six months to get their things together and then they must leave, so an eviction would still take place regardless," said Vally.
He also said that under ESTA, family members over the age of 18 were not allowed to stay on the farm with their families. This ended up separating families.
Commissioner Chris Nissen, who chaired the inquiry, said that in most cases the relationship between the farmer and the farm worker ended once the employment contract was over, despite the stipulations in ESTA.
He said it might be useful to admit that ESTA is ineffective because farm dwellers are still being evicted and moved into tiny wendy houses. He said the farm workers are often moved to areas with poor living conditions, with no electricity or water.
Another panellist, Professor Ruth Hall, asked Vally about the 50/50 policy and the "one household, one-hectare" policy, which were both seen as victories for land reform in SA.
The 50/50 policy, first piloted in the Western Cape and Kwa-Zulu Natal, involves farm owners giving half their shares to their workers. The one household, one-hectare policy allocated a one-hectare portion to every household in need. Land-use plans would have to be developed for those plots and title deeds allocated to each household.
Last year, Parliament welcomed these initiatives claiming that it was a step towards "poverty alleviation, food security, tenure security and access to markets".
Hall asked Vally whether these policies had been implemented yet. Vally said the policies had not been gazetted so the private sector and government were under no obligation to implement these policies.
Hall said farm dwellers were being excluded from the policy-making process. She suggested that more "democratised engagement" should be the approach to understanding the issues of farm dwellers and drafting policies accordingly.
Nissen concluded the inquiry. He said a report will be released once the SAHRC has looked through all the submissions.
© 2018 GroundUp.


This article is licensed under a Creative Commons Attribution-NoDerivatives 4.0 International License.
You may republish this article, so long as you credit the authors and GroundUp, and do not change the text. Please include a link back to the original article.