Khayelitsha residents demand toilets, water and electricity
"We have had enough of living in squalor," says shack-dweller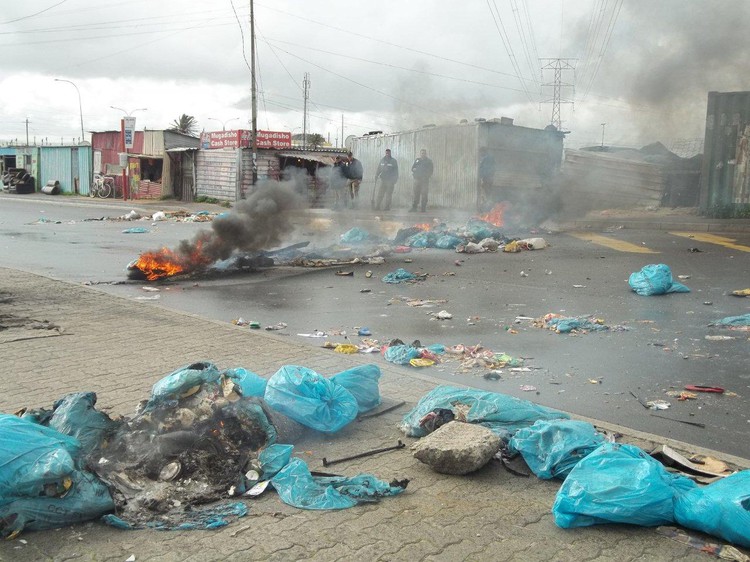 Shack-dwellers burned tyres and rubbish along Mew Way in Khayelitsha on Tuesday to express their anger about lack of basic services and poor living conditions.
The shack-dwellers stay in Island informal settlement and Madiba Square, which are situated on either side of Mew Way. Metro Police used spades to remove the burning rubbish and tyres that blocked the busy road throughout the morning.
"We are tired of not having toilets, electricity and water. We vote during every elections but we don't get basic services," said Bandile Mbuka who has been staying in his shack in Island for "almost 16 years".
Mbuka said he and hundreds of other shack-dwellers get water from one communal tap located in RR section, Khayelitsha. "There are no communal taps. We have to walk to another area to get water to drink and cook because the City of Cape Town is not giving us water taps," he said.
Mbuka said he uses candles when he has no money for his paraffin lamp and stove. "Candles are notoriously dangerous as they can burn the whole Island, but they are the only option when money is tight," he said.
Nomsikelelo Mabetshe, who has been staying in Island for "almost 18 years", said "flame stoves that we use explode and burn shacks, so we need electricity".
Mbuka said the ongoing heavy rains have flooded his shack. "Every time the rain pours I have to repair my shack and plug leaks, but water continues to filter through the floor."
He said he and other shack-dwellers want to be moved to a dry place, "where flooding doesn't occur and where toilets, water taps and electricity are available".
"We have had enough of living in squalor," said Mbuka.
Mabetshe said shack-dwellers struggle to get water. "Before I do laundry, I must carry a heavy 25 litre bottle to and from the communal tap in RR section and come back exhausted," she said.
Nomnikelo Mdekazi stays in a shack in Madiba Square with two children aged 7 and 4. "Our toilets have leaking pipes which allow human waste and urine to gush out," said Mdekazi. "During the three months in which the toilets have been blocked, we had to hire plumbers and welders ourselves to unblock them and fix the metal doors. City officials don't help us."
Mdekazi said she and other residents have placed a ply board and a big stone to keep faeces and urine behind the block of toilets. She said she has not seen development in Madiba Square since she arrived in 2004.
"We burn tyres and damage the roads to force the [City of Cape Town] to give us basic services, but it continues to neglect us," said Mdekazi.
City of Cape Town's spokesperson Luthando Thyalibongo said, "While the City respects the right of residents to protest and voice their concerns, this must be done in a peaceful manner."
"Any damage to private or City-owned property, which happens at the expense of service delivery and affects fellow-residents, is condemned in the strongest possible terms," said Thyalibongo.