Judge questions City's plan to send Woodstock families to Wolwerivier
"If you get sent to Wolwerivier, what is the chance you will be able to get out?"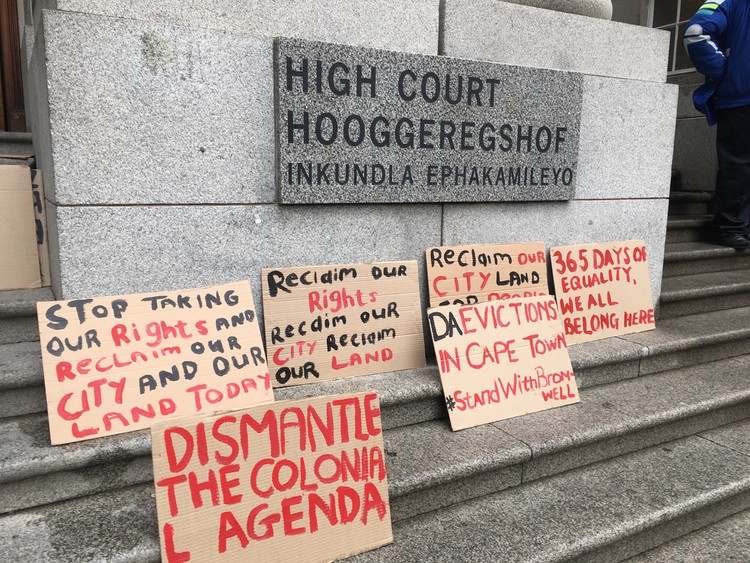 "If you get sent to Wolwerivier, what is the chance that you will be able to get out of Wolwerivier, or are you essentially going on a permanent basis?" asked Acting Judge Mark Sher in the eviction case of 27 residents of Bromwell Street, Woodstock.
The families returned to the Western Cape High Court today. They are facing eviction to Wolwerivier after the Woodstock Hub bought the property on which they live. Wolwerivier is a low-cost housing development by the City about 25km north of the city centre.
The City of Cape Town is arguing that the only available emergency accommodation for the residents is in Wolwerivier. The residents are calling for the City to provide them with emergency accommodation as close as possible to the area where they currently live.
The case was originally heard by Acting Judge Leslie Weinkove, but is being reheard as Weinkove recused himself from the case. His recusal came after Weinkove made "offensive comments" during the case, and residents felt that he might be biased against them.
Today, Weinkove's replacement, Sher, expressed concern that if the Bromwell Street residents moved to Wolwerivier as an emergency solution, they would never return to Woodstock.
Sher questioned whether there were schools, shops, jobs, places of worship or health facilities at Wolwerivier.
Advocate Sheldon Magardie, representing the residents on behalf of Ndifuna Ukwazi Law Centre, said that to access any of these amenities, they would need to travel out of Wolwerivier.
Sher calculated that if Bromwell Street residents needed to get to Woodstock from Wolwerivier, this would cost about R30 for a one way trip.
He said that he understood that the environmental authorisation for Wolwerivier had been granted on the basis that only people living in the West Coast area would be relocated there. He also said he understood that Wolwerivier had originally been intended for emergency accommodation, but residents who lived there seemed to be living there permanently.
"[There is a] real concern that people sent to Wolwerivier may have very little chance of getting back to where they come from," said Sher.
In his arguments, Magardie said that the there was a housing affordability crisis and that one of the areas hardest hit was the Woodstock and Salt River area. "One clear result of the crisis is that people who are poor and working class, such as the Bromwell Street residents, are being evicted and displaced from neighbourhoods where they have lived most of their lives," said Magardie.
He said the City had a duty to address displacement and to do so in a reasonable manner. There had been "no new affordable housing built in Woodstock or Salt River since the dawn of democracy," he said.
Magardie also repeatedly referred to an affidavit by Lauren Royston from the Socio-Economic Rights Institute, who said average property inflation was 10.6% a year in Cape Town, significantly higher than the national average of 6%. "To afford the average house in Cape Town, a Capetonian would have to earn more than three times the average household income," said Magardie.
Magardie made repeated mention of a transitional housing development planned by the City for those facing homelessness in the Woodstock and Salt River areas. But it appeared that this development would be filled with residents from Pine Road who are being moved to make way for a social housing development.
Magardie emphasised that in this case, the City was doing exactly what it had said it could not do for the Bromwell Street residents.
Sher said that it seemed that the City had recently realised the need for transitional housing. "Maybe they realised they can't keep taking people and dump them out of the city," he said.
Sher also took issue with the residents' request for accommodation "as close as possible to where they reside", questioning whether this would simply result in the City saying that Wolwerivier is the closest accommodation on offer.
He said while the City seemed to be developing a number of "exciting programmes", there seemed to be no space in them for existing applicants. He said the City might need to provide more information on Wolwerivier and how many residents ever left it.
However, Advocate Karrisha Pillay, for the City, was opposed to Sher's suggestion that they provide more information to the court without having heard their arguments. It was decided that Pillay would first present her arguments and then Sher would decide whether more information was needed.
The case continues tomorrow.
© 2017 GroundUp.

This article is licensed under a Creative Commons Attribution-NoDerivatives 4.0 International License.
You may republish this article, so long as you credit the authors and GroundUp, and do not change the text. Please include a link back to the original article.