Fort Hare student protests continue as talks fail
Nursing students enter second month of protest action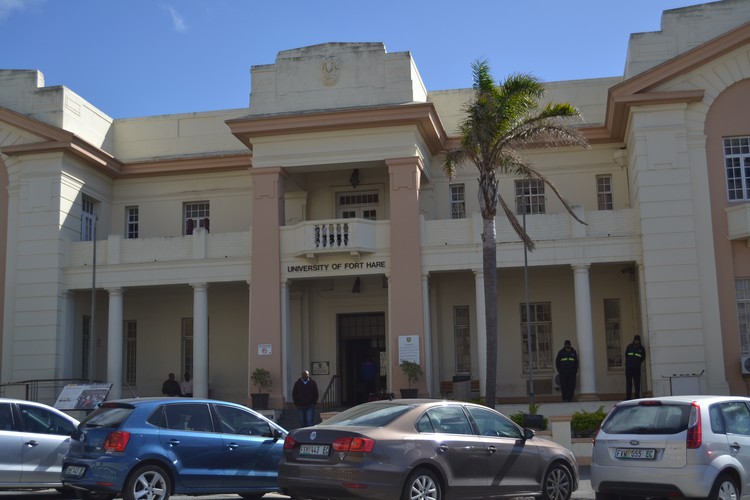 A meeting of student leaders and Fort Hare University management on Monday and Tuesday failed to resolve the nursing students' protest which has now entered its second month.
Nursing students at the East London campus are demanding the removal of acting head of department Ntombana Rala.
Rala de-registered students from the nursing science faculty who failed some subjects in the last semester and demanded that they re-register for the failed subjects until they passed.
The protest was later joined by students from other faculties in support of the nursing students.
On Tuesday police used stun grenades to disperse a group of protesting students who were approaching the East London campus.
Students who spoke to GroundUp anonymously said there was an agreement between them and their former head of department that students who failed subjects could continue to the following semester. But this had changed when Rala took over in July.
A student leader, who asked that his name not be used, said students had tried to meet Rala and had also tried to meet vice-chancellor Dumisa Ntsebeza without success.
The university had obtained an interim interdict in the East London High Court on 29 August preventing student leaders from coming onto the campus.
"Instead of listening to us the management decided to take some of us including the student leaders to court. The SRC no longer comes to the university because of the court interdict," he said.
University of Fort Hare Student Representative Council leader Kwanele Ntantala said after the meetings this week there was still no solution.He said a memorandum of demands had been submitted to the university management and students were waiting for management to respond.
There was no response to emails sent by GroundUp to Fort Hare management on Monday and Tuesday.
Dodgy people are suing us. Please support us by contributing to our legal costs and helping us to publish news that matters.
© 2017 GroundUp.

This article is licensed under a Creative Commons Attribution-NoDerivatives 4.0 International License.
You may republish this article, so long as you credit the authors and GroundUp, and do not change the text. Please include a link back to the original article.