Residents in Khayelitsha take on Big Five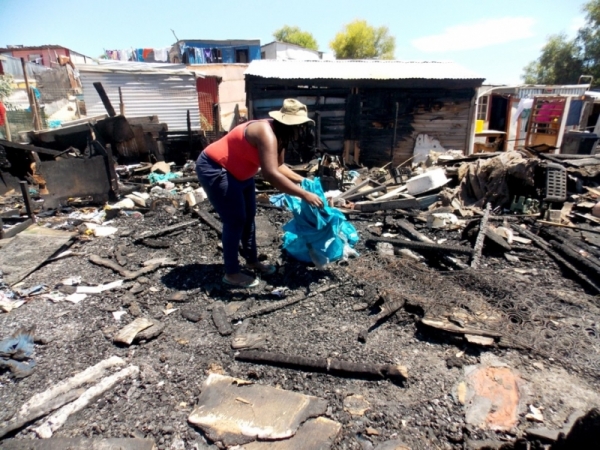 Tensions are high in Isiqalo informal settlement after violent clashes between residents and former community leaders who have refused to step down.
Fifteen shacks were burned down and 58 people were left homeless on 17 November during the clashes.
When Groundup visited the area on 19 November emotions were still running high, with residents patrolling at night to prevent further clashes.
At a meeting early in September, the community sacked their 15 community leaders following allegations of corruption against some of them. But five of them, including the chairperson, refused to step down. They have been labelled by the community as the "Big Five".
Thenjiswa Tshabile, one of the leaders who did step down, said the "Big Five" had demanded that residents pay them 10% of the proceeds from the sale of shacks. When shacks are sold in the area, the sale is witnessed by one of the community leaders who then signs a letter attesting that the shack has been sold.
They had also asked for a donation of R2,000 from Silver Solutions, the company which collects portable toilets in the area on behalf of the City of Cape Town. The "Big Five" had claimed the money was for a public address system, books, and a community rubber stamp. But the community had not been told about the donation which was requested on their behalf, she said.
Nothemba Ncoliwe, the owner of Silver Solutions, confirmed that she had made a donation of R2,000 to the former community leaders. "I'm surprised that the residents claim that this was never communicated to them because I heard from one of my employees in the area that this was announced in a community meeting," she said.
Mthandeni Mazambe, another former community leader who had agreed to step down, said the "Big Five" told him that if a resident came to him selling a shack, he should ask a fee of 10% of the sale price before endorsing the sale in writing.
"I asked them whether the community knows about this and they said no. That was when I informed the community."
He said they discovered that this had been happening since March.
Residents also accused the "Big Five" of hoarding corrugated iron sheets provided for families with leaking shacks and of stashing rubbish bags supplied by the City.
Mazambe said: "Ten of us stepped down peacefully because we were elected by the community and if they felt that we were not doing the job accordingly they have the right to sack us. For about a month, we never had community leadership, until the community decided to elect a new leadership on 15 November."
Mazambe said tempers flared when the community elected the new leadership. The shack of the incoming community chairperson had been burned down by the "Big Five", he said. Furious residents responded by demolishing two shacks and burning another three shacks that belonged to the "Big Five".
"The 'Big Five' retaliated by burning shacks belonging to residents and the fire engulfed other shacks, which resulted in 15 shacks being burned down," he said.
Vuyolwethu Mwande said he and another community member had been threatened by one of the "Big Five" with a gun. They had gone to Philippi police station the same day to lay a complaint, and to their surprise they had been arrested, on accusations that they had burned the shack of the former chairperson, he said.
"We were arrested on Tuesday, but we were released the following day." He had not been charged, he said.
City of Cape Town Special Projects and Community Engagement Manager Wilfred Solomons Johannes confirmed that there was a "power struggle between two factions" in Isiqalo community. Johannes said during a meeting facilitated by the City two weeks ago, both sides had agreed to an election on Sunday 15 November to choose a new leadership for the community. But both factions had mobilised supporters to disrupt the election process and had also held City staff under duress, prompting intervention by City Law Enforcement and Metro Police, he said.
Resident Zuko August said residents had chased the "Big Five" out of the community, saying they were no longer welcome. Meanwhile, he said, "all of the men in the community are doing patrols around the area because we don't know when these members will come for us and we have to be vigilant all the time."
Captain FC Van Wyk of the SA Police Service Media Centre said his office had no record of anyone who opened a case after being threatened with a firearm.
Numerous attempts to get comment from the previous community chairperson have been unsuccessful.
Dodgy people are suing us. Please support us by contributing to our legal costs and helping us to publish news that matters.
© 2016 GroundUp.
This article is licensed under a
Creative Commons Attribution-NoDerivatives 4.0 International License
.