I'm an ANC supporter but I didn't vote, says fed-up Hankey resident
Woman describes desperate plight while government fails to assist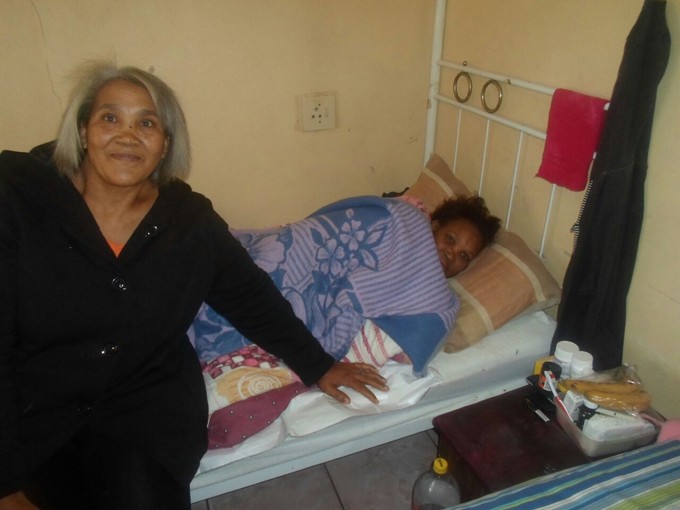 Disabled Hankey resident Johanna Joggem was too sick to vote in the municipal elections this month. Her aunt, with whom she lives, didn't vote either: she's an ANC supporter but she says she's tired of the ANC's neglect of this poverty-stricken little town.
When GroundUp first met Joggem, in June this year she was living in a cardboard shack in the informal settlement of Centerton, on the windswept hill above Hankey.
She was surviving on a disability grant, having lost her left leg to gangrene in 2009, and spent most of her day in bed. In the settlement which has no running water or toilets, Joggem struggled to fetch water and to relieve herself in the bush.
Since then her condition has deteriorated further.
When GroundUp visited her in the house in Hankey where she now lives with her niece, Rose Dolph, Joggem could barely speak or recognise people.
"A person who works next door told me last month that Johanna was seriously ill and staying alone. I hired a car and took her here," said Dolph, who had just returned from the clinic where she had taken Joggem for treatment.
"I pleaded today with the nurses that they should make home visits because I am also unemployed. I can't continue hiring cars to the clinic. Johanna's other leg is swollen and she cannot see properly now. She is losing weight and has no appetite. She has no memory."
Joggem had not voted in the elections, Dolph said, and neither had she.
"I am an ANC supporter but they don't give us good attention here in town. This is the reason I did not vote. We don't have services here in Hankey. The sewerage pipes are always broken, the street lights do not work and there's high unemployment in the area."
Most people in the area depend on seasonal work on the citrus farms in the valley.
Hankey is in the Kouga municipality, which the DA took from the ANC in this year's election, winning nearly 57% of the vote compared to the ANC's 41%.
Hankey itself was retained by the ANC, which scored 55% of the vote compared to 65% in 2011.
Dolph said she would be pleased if the municipality gave Johanna a house of her own. She said "I am not working. We are living off my husband's salary. He is a teacher in Patensie. We also have two children we adopted including Johanna' s 22 year old daughter. I have been living with her for the past 18 years. It would be good if Johanna gets a house and we help to look after her. I would have wanted her to live here but I'm also overwhelmed and burdened."
Kouga Municipality media liaison officer, Laura-Leigh Randall said: "This is the first time this is being brought to the attention of the municipality administration. Our Special Programmes Unit would first need to visit her and assess her situation in order for the municipality to apply for a house for her under the Destitute Housing Programme if she qualifies."
Incoming ANC councillor for Hankey, Sibongile Jujwana, who is expected to be sworn in later this week, said he was new and would not speak to the media yet.
Dodgy people are suing us. Please support us by contributing to our legal costs and helping us to publish news that matters.
© 2016 GroundUp.

This article is licensed under a Creative Commons Attribution-NoDerivatives 4.0 International License.
You may republish this article, so long as you credit the authors and GroundUp, and do not change the text. Please include a link back to the original article.