I was jailed for filming a police assault
How the cops locked me up for trying to stop police brutality and then carried out an even more vicious beating in front of me.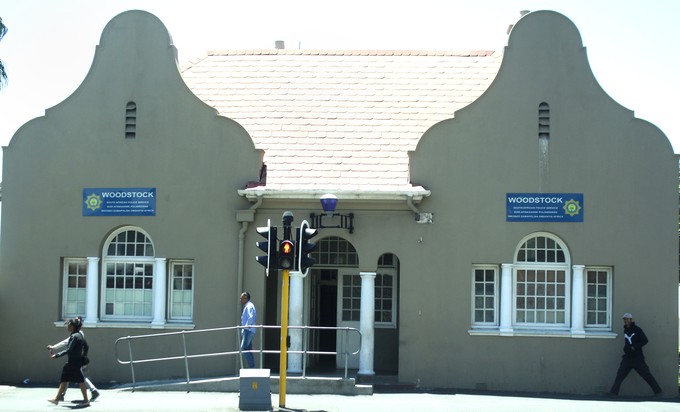 Late on Sunday night (3 January), I happened upon an arrest taking place in a street close to my home in Observatory, Cape town. The arrestee was pinned to the asphalt by two officers who were trying to cuff his hands behind his back, but he appeared to be offering some resistance.
As I watched, they attempted to force him to comply by punching him in the face and pulling his hair. He was crying out "Please, you're hurting me! I haven't done anything!" When I saw that one of the policemen was choking him with his hand, I decided that I needed to intervene. I could hear that the man was unable to breathe for long periods and he would gasp for breath when the policeman released his grip.

I took out my phone, moved closer and started videoing them pointedly. One of the policemen asked me what I was doing and I answered that I was filming them and that if they were acting within the law they should have no objection. Soon they had restrained the man, whose name I would later learn is Joseph, and turned their attention to me.

Constable Yoko tried to take the phone from my hand but I pulled it away and told him he had no right to take my phone. He told me that I was not allowed to take photographs of the police and that I should delete the recording in front of him so that he would know that it had been deleted. I refused. He then instructed me to get in the back of the police van. He refused to answer my repeated questions about whether I'm under arrest and of which crime I'm suspected. Without answering, they bundled me in next to Joseph and drove off, on several occasions braking hard and turning sharply in what appeared to be deliberate attempts to hurt the two of us in the back.

Inexplicably, my phone was not taken from me until we arrived at Woodstock police station, so I managed to let my friend Wilmien Wicomb, an attorney at the Legal Resources Centre, know of my predicament and send her a copy of the video. I was processed like an ordinary arrestee, my possessions carefully logged and placed in brown envelopes (but my phone logged separately, with no receipt issued). Constable Yoko again tried to persuade me to delete the video, offering to store my phone with the rest of my belongings so that I could receive it when I'm released if I complied. I was made to sign a "notice of rights in terms of the constitution". My insistence on reading it first was met by bemused looks. Throughout this process, I repeatedly stated that my arrest and detention was unlawful, which met with the reply that it was lawful because I "had interfered with an arrest".

In the meantime Wilmien had phoned the station and spoke to a senior officer. She also managed to call Constable Yoko directly. She told them that she had evidence that my arrest was unlawful and that they should release me immediately. The only apparent effect of this was that a senior officer — introduced to me by Constable Yoko as "my commander", and presumably the one Wilmien spoke to — came to berate me for having filmed the police officers instead of "helping them" and told me that "you are not a member of that community [in Observatory]." When I repeated to him that my arrest and detention was unlawful because I had committed no crime, nor am I reasonably suspected of having committed one, he replied with glee that I was welcome to lay a charge of unlawful arrest. It was clear that the law inspired no fear or respect.

After having my possessions logged and stored, and being searched, I was taken to a cell and the door was locked behind me. Only Joseph was in the cell. The stench of excrement emanated from the open toilet, which after a small struggle I managed to flush. I was grateful to discover an inset basin in the wall with a tap that worked (although it spilt water across the floor when used). Since I had no soap and my hands were filthy I stuck my head into the basin to drink directly from the tap.

I settled down and re-read my "notice of rights". I laughed when I saw they had written down "riotous behaviour" as the reason for my detention. The irony of handing a detainee a notice of his constitutional rights while knowingly holding him unlawfully — after openly trying to intimidate him into destroying the evidence of your own unlawful behaviour — was apparently lost on the police officers. The cell provided basic shelter, but made a mockery of the right, proclaimed in the notice, to be detained "under conditions consistent with human dignity, which shall include at least the provision of adequate accommodation, nutrition, reading material and medical treatment at state expense." When I had mentioned that I am supposed to take medication in the evening, Constable Yoko had dismissively told me that "it's one night, you won't die", without enquiring about the nature of the medication or condition. Later in the night additional detainees were crammed into the cell, resulting in eight people sharing a cell clearly marked with a sign stating "MAX 4 PERSONS".

My fellow detainees and I discussed why we were arrested and studied each other's notices of constitutional rights. The officers had told Joseph that he was being arrested for possession of drugs. But the only reasons I saw written for why people in my cell were arrested were "riotous behaviour" and "public nuisance". One man asked me if I could explain to him what a public nuisance is. I tried.

There were three mattresses and perhaps six blankets to go round. The blankets reeked of urine and body odour, but I was grateful to have one. There was not enough floor space for all of us to lie down, but some were even able to sleep on the hard floor. My companions seemed resigned to their fate and reasonably comfortable. I reflected on how luxurious my daily life probably was compared to those of my cellmates. Also that my burning sense of injustice and anger reflected my privileged position, in which being treated unjustly was unusual. I felt fearful — the arbitrary power of the police officers detaining us, and their lack of scruples, was by now abundantly clear and left me worried about what might happen.

The next morning we were called out of our cells and served a tiny polystyrene bowl of maize porridge and a boiled egg. We ate standing up and were put back in the cell. A short while later we were told that we were due in Court and escorted to a prisoner transport vehicle. We drove to what I thought was Cape Town Magistrate's Court, and I felt hopeful that soon I would leave this lawless twilight zone and become a citizen with rights and recourse once more. But after waiting for perhaps half an hour in a narrow alley (perhaps behind the Court), during which time the cramped and poorly-ventilated space we were in became unbearably hot, we drove off again and parked outside the Community Court, a short distance away. It was here that I witnessed a second, and more shocking, instance of police brutality.

Three of the detainees in the section of the truck that I was in attacked another detainee who had R3,000 in cash in his possession. Presumably he had had this money on him during his arrest, but why it was returned to him before the transport to Court I do not know. In retrospect it seems an irresponsible thing to do. He was pinned down and one of his attackers held his throat in an arm clench while his money was taken out of his trousers. Police officers that I had not seen before — I do not know whether they had travelled with us or were stationed at the Court — opened the door and broke up the melee.

The victim explained that his money had been taken from him and a Constable Khoza started interrogating those closest to the victim — slapping and punching them while asking where the money was. He strip-searched detainees one by one, and finally discovered the bulk of the cash in the trousers of one detainee. He then proceeded to viciously attack this man. He held on to the low ceiling to steady himself and kicked the detainee with as much force as he could.

He kicked him many times, on the arms and legs, on the chest and abdomen, with his heavy police boots. The man was screaming in pain and started sobbing loudly, crying for his mother. Constable Khoza did not stop, instead the man's wails seemed to inspire him to put greater and greater effort into his kicks. He stomped on the man's genitals in a moment of particular cruelty.

The assault lasted for what felt like many minutes. I sat there watching, white with fear and nauseous with disgust. I did nothing. In a few short hours the police had taught me to put my principles aside and keep my head down while the powerful brutalised the weak.

Eventually we were led into the Community Court building, placed in a makeshift cell and told to wait. Constable Khoza's victim lay on the floor groaning and complaining of the pain in his ribs and groin. An hour or two later we were led out of the cell. We were called one by one to be told that the charges against us had been withdrawn. We had our thumbprints taken and were released. I was left badly shaken. But it was my confidence in the rule of law that had been shaken most.
---
Police Response
GroundUp sent a draft of Eduard Grebe's article to Minister of Police Nkosinathi Nhleko, National Commissioner Khomotso Phahlane, Lieutenant Colonel Andrè Traut of SAPS Western Cape and Western Cape MEC for Community Safety Dan Plato. Lieutenant Colonel Andrè Traut and MEC Plato responded. Here are their responses.
Response by Western Cape SAPS
Thank you for bringing this matter to our attention and affording the us an opportunity to respond.
At the onset we would like to emphasize that we take such matters very seriously. We neither tolerate nor condone any behaviour by our members that is outside or exceeds the boundaries of the law.
The Acting Provincial Commissioner has instructed that a thorough investigation be conducted into these allegations which process has already begun.
The complainant is hereby advised to approach the management of Woodstock police station so that an affidavit can be obtained. Once our investigation has been finalized, this office will be in a far better position to offer you a further comment in this regard.
We have also copied our Centre for Service Excellence to look into this matter.
Response by MEC Plato's Office
Thanks for raising these very serious claims with Minister Plato's office. In terms of the Western Cape Government's oversight role over the police (as we have no operational control over the SAPS), Minister Plato immediately requested the Western Cape Police Ombudsman, Adv Vusi Pikoli to investigate the case. Community members are encouraged to come forward with any cases alleging police brutality so that they can be properly investigated and the necessary disciplinary measures taken. The Western Cape Police Ombudsman's office can be contacted on 021 483 0669.
Please read here should you require any additional on the Ombudsman's office - https://www.westerncape.gov.za/police-ombudsman
© 2016 GroundUp.

This article is licensed under a Creative Commons Attribution-NoDerivatives 4.0 International License.