Hundreds left homeless after shack fire in Dunoon
People have lost everything in the fire, but luckily there were no fatalities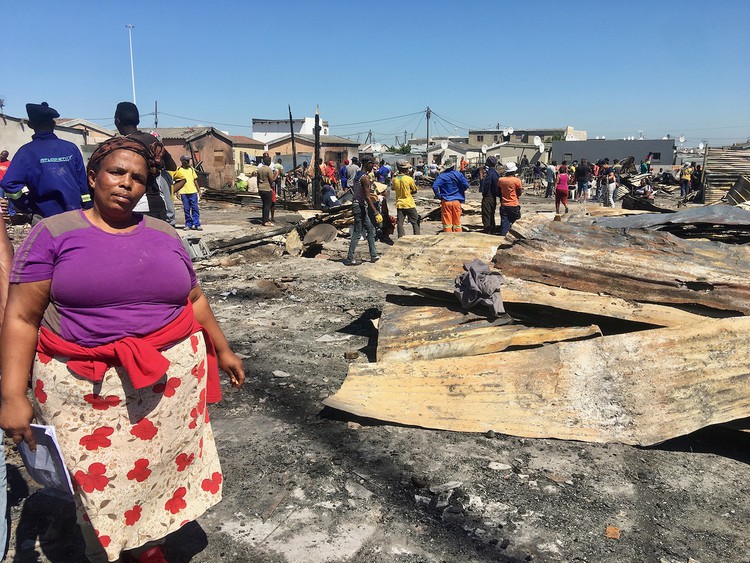 On Thursday victims of a devastating fire at West Beach Three informal settlement were rummaging through charred debris trying to salvage anything they could find. About 450 people were left homeless when the fire swept through shacks near Dunoon, Cape Town, on Wednesday. The blaze destroyed over 100 shacks, and about a dozen RDP houses. Luckily there were no fatalities. A woman who sustained second-degree burns narrowly escaped death. She was taken to a local hospital.
Many lost everything in the fire – furniture, television sets, clothes and crucial documents such IDs, SASSA cards and birth certificates for their children.
Xoliswa Mbetheni was at work in Epping when her neighbour called her and said there was a fire. When she returned home she found her three-room double-storey shack reduced to ashes. She had been sharing her home with 13 family members, including her seven children.
"I feel sick. I am devastated. To think that I have to rebuild and buy all the things I had, belongings worth over R20,000, makes my head spin," she said.
When Nyaniso Qinisile returned from work he also found only charred zinc materials left of his double-storey shack. He was left with only the overalls he had worn to work.
Thulani Mathiso had been helping his neighbour fix the roof of a shack when they heard people screaming fire. Residents tried in vain with buckets of water to contain the blaze.
"It was chaos. Everyone joined in trying to stop the fire, but it was so fierce … We lost everything," said Mathiso.
Ward 104 councillor Lubabalo Makeleni (ANC) blamed Eskom load shedding for the fire. He said he was told that when the power supply came back on there was a spark at an electricity box.
City of Cape Town Fire and Rescue said the cause of the fire had not been determined.
Bulelwa Mayende, assistant to Makeleni, said 108 shacks and 11 RDP houses were destroyed, and 447 people, including infants, had been left homeless.
Dodgy people are suing us. Please support us by contributing to our legal costs and helping us to publish news that matters.